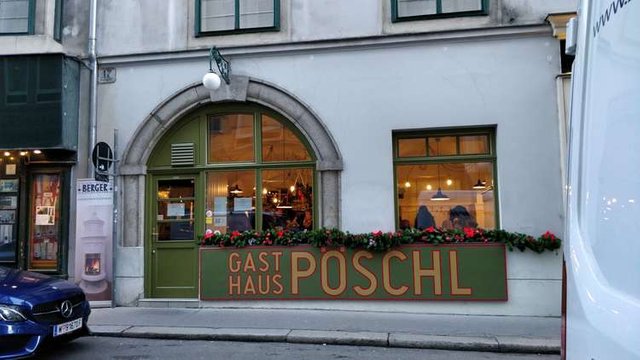 When you are in Vienna, you are pretty much obliged to try out the Pork (Weiner) Schnitzel! On this particular day, we had aimed to get to a pretty famous place for lunch before an afternoon rehearsal... however, when we reached that place... it was packed and there was a huge line waiting to be seated.
So, #TimeForPlanB! This Gasthuis was our fallback plan.... something that was recommended to us by a local and that meant that it might actually be better value for money than the famous Schnitzel place!

The Space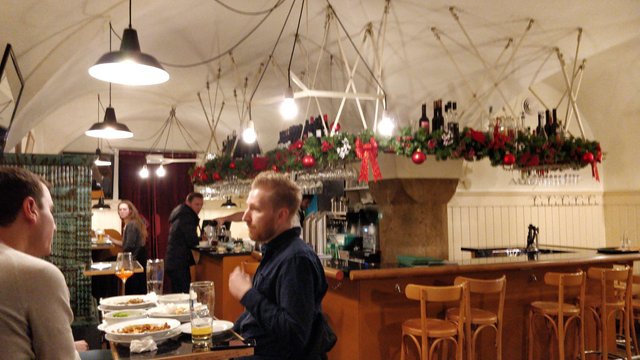 The Gasthuis is pretty low key... it is quite easy to miss from the street, but if you are following Google, you will find it. The gigantic sign is a giveaway... but the place behind it looks more like a cheap eatery or community hall instead of a proper restaurant!
Anyway, as you come inside... you do find that it is really quite a nice and cosy place to eat. Lots of wooden decor and a well stocked bar...
The lighting is pretty ordinary... and the tables and seats are really quite closely packed.. but somehow, this isn't so problematic here... it has more of the feeling of a comfortable local meeting place rather than a dining area. Most of the time, I don't like this sort of proximity... but this time, I thought it was quite nice!

The Menu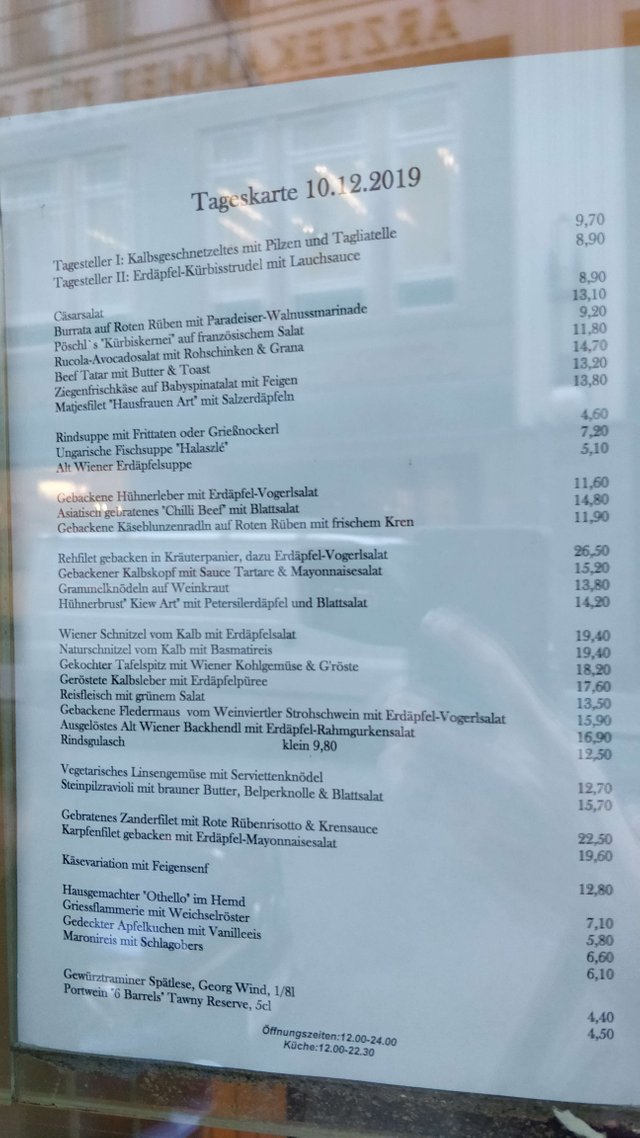 The menu (also in English inside the restaurant) is a daily menu... with most things seeming to change from day to day. I guess this has mostly to do with the availability of produce... and it also makes it easier to prepare larger amounts of known dishes.
It is an idea that is getting more popular as it does lead to less wastage as you know with better precision how much of each type of food you are going to need.
As you can see, much of the menu options are very much an Austrian sort of cuisine... Reading through it, it does sound pretty heavy... but in the end I was quite pleasantly surprised!

The Food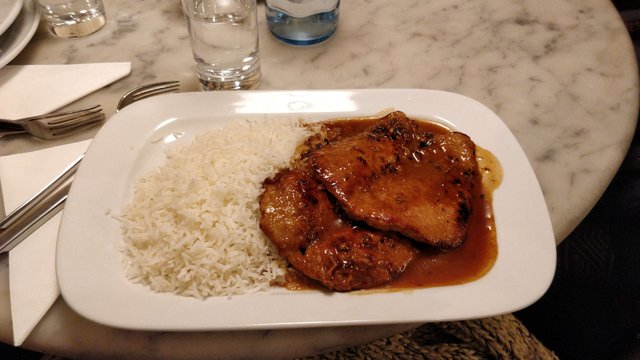 I know that I mentioned that you should really order Schnitzel when you are in Austria... but in the end, I was after something a little less heavy. The idea of rice with a some marinated fillets of pork was quite enticing. When I'm on tour, rice is always a good option to help settle a stomach that has been eating out too often!
I have to say, this was really a lot better than I had expected! The sauce was a perfect way to flavour out the rice, and the pork was perfectly done... still juicy and not at all overcooked!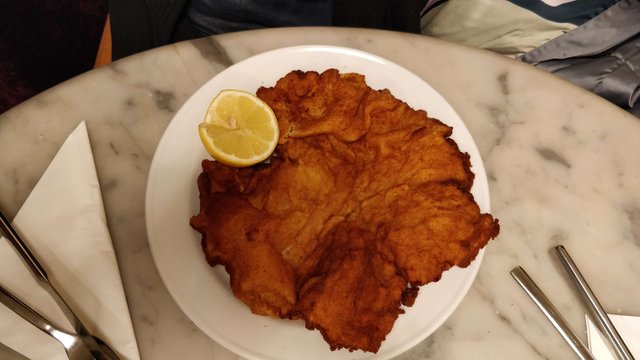 ... however, one of my colleagues DID order the pork Schnitzel! After all, it was all she was talking about for the whole day! As usual, it is a plate sized breaded filit of pork... beaten to a thin thin thickness and fried. Nice and crunchy, served with a slice of lemon... perfect!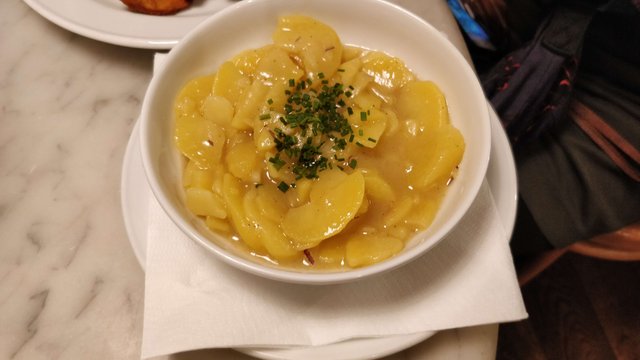 A side accompaniament of potato salad. You will have noticed that there were no green looking things at all in the entire selections that we made... so, this was going to have to do!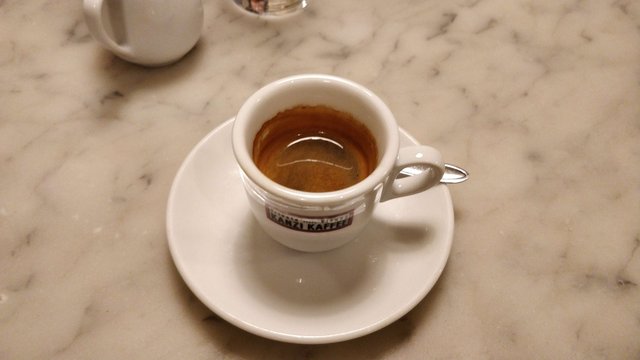 ... and the meal was finished off with a nice short shot of coffee! Perfect end to a nice lunch and nicely filled for the rehearsal to come! Pity we couldn't try out the brews though...

The Experience
This place is really a nice and decent place to eat... the food was great, the cost wasn't too high and the atmosphere was cosy.
There are many tourist haunts in Vienna, so it is quite likely that you will be pulled into a place that serves food that is mediocre and overpriced. Having a search around or asking a local is a great way of finding really good food that is affordable.
Although this was our second choice for lunch, I have a feeling that it was probably a lot better than the place that we were originally aiming for. Definitely will be visiting the Gasthuis Poschl the next time that I am in Vienna!

Opening Times
Monday 12–11:30pm
Tuesday 12–11:30pm
Wednesday 12–11:30pm
Thursday 12–11:30pm
Friday 12–11:30pm
Saturday 12–11:30pm
Sunday 12–11:30pm

Contact Details
Address: Weihburggasse 17, 1010 Wien, Austria
Phone: +43 1 5135288
Website: http://www.gasthauspöschl.com/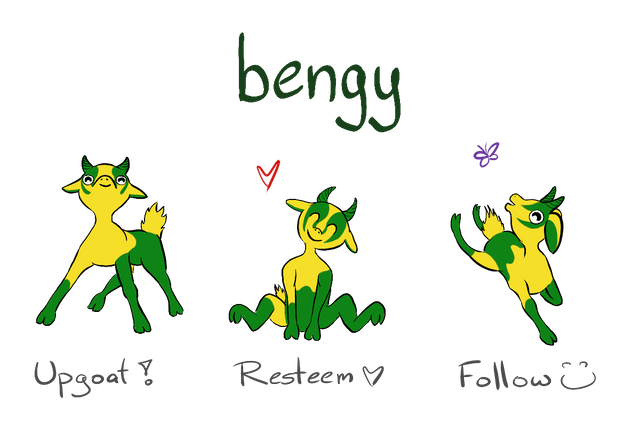 Upgoats by ryivhnn
Account banner by jimramones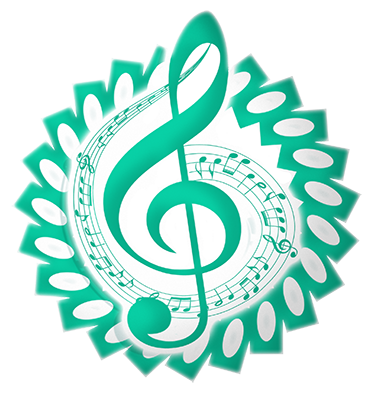 The classical music community at #classical-music and Discord. Follow our community accounts @classical-music and @classical-radio. Community Logo by ivan.atman

---
Restaurant Information

Gasthuis Poschl



Weihburggasse 17, 1010 Wien, Austria
---
Gasthuis Poschl (Vienna, AUSTRIA): A Tasteem Review
This post participated in the Tasteem contest Your weekly choice