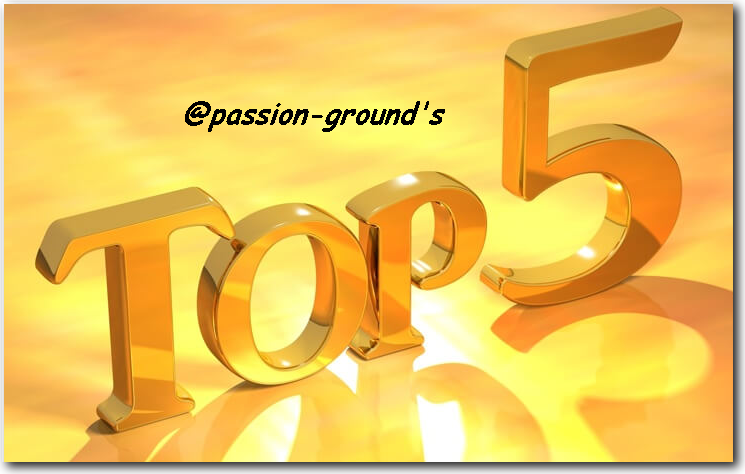 I've got some off-platform real-life fun scheduled for the next couple of weeks as such I'll be absent from judging in weeks 107 and 108. See you again in week #109! Before I begin, please indulge me with a few words about our esteemed Sponsors.

Please, VOTE for These WITNESSES...
IMPORTANT: Before we move on, please don't forget to vote for @Pfunk as witnesses! @pfunk is our biggest supporter, and plays a major role in helping to fund, the Open Mic contest each week.
After a temporary dip back down to the 21 level, @pfunk has fought his way back up to #18 on the witness list! Let's keep him there, shall we? Better yet, let's keep him climbing up the ladder toward number 1!

In addition to @pfunk, I am also adding @curie, @fulltimegeek, @helpie, @lukestokes, and @aggroed to my short list of "must-vote-for" witnesses who support the platform in general, and Open-Mic venue specifically.
---
You can vote for each of these witnesses right now by going directly to this link: https://steemit.com/~witnesses
With all of that said, following some further insights as to how I judge entries, let's get on with it, shall we?

My Process

As one of the esteemed Open Mic judges, it is my job to come up with (or "curate" as it were) a short-list of my top 5 entrants each week. With all of the great talent here, that is by no means an easy task. Sure, tossing in another 5 honorable mentions helps, but not when my weekly list starts out with 100 or more of my favorite entries... You guy's rock - I'm tellin ya!

Yes, I am a Libra – so I have an inherent drive deep within me to be fair and balanced – good qualities for a "judge" if you ask me. That being said, I'm still human – filled with emotion and subjective feelings – just like you. So, in order to mitigate my subjective tendencies to the best extent possible, I've come up with a method by which to narrow down my selections in a more objective vs. arbitrary manner.

Here's how I go about my personal judging process: I first start out with a list of 100 or more of my most favorite entries for the week, and score them (yes, subjectively) in six distinct categories via a spreadsheet. The categories I've selected for scoring are in general harmony with those explained by @luzcypher in his post titled How We Pick The Top 3 Entries, referencing such.

To get a more in-depth perspective as to how I personally go about selecting my artists, please refer to What I go through as an Open-Mic Judge.

Even though it's still a "subjective" process – diligently going through each scoring category to come up with a "total" score for each entrant helps to minimize any overzealous subjectivity that I may harbor with respect to any specific entrants.

Quite often, this exercise doesn't give me the exact results I would personally prefer to see – but that only means that my system of judging is working as intended and designed. With all of that said, here are...
My Top-5 Picks in Order
FIRST PLACE: @mariajruizb – Quedate - (Cover)
Maria is on fire! This week she takes my top spot with a wonderful rendition of "Quedate."
https://steemit.com/openmic/@mariajruizb/ilumw01n

SECOND PLACE: @moccamonica – Toxic - (Cover)
Monica and Abel grab my number two spot for a second week in a row with t his awesome cover!
https://steemit.com/openmic/@moccamonica/ac656h39
THIRD PLACE: @esthersanchez - Killing Me Softly - (Cover)
Esther and her partner did an incredible job covering this Roberta Flack Classic!
https://steemit.com/openmic/@esthersanchez/steemit-openmic-week-106-killing-me-softly-roberta-flack-version-by-esthersancehez

FOURTH PLACE: @k0wsk1 – Iron and Wine - (Cover)
K0W sure hooked us up with a fine cover here… Check him out!
https://steemit.com/openmic/@k0wsk1/btx0b7df
FIFTH PLACE: @dianakyv – Hurt - (Cover)
In my top five for a second consecutive week, Diana crushed it again with this awesome vocal cover of "Hurt."
https://steemit.com/openmic/@dianakyv/aaodxwu3


My Top-5 Honorable Mentions in Order:
First: @lostgalaxy – Love Song - (Cover)
https://steemit.com/openmic/@lostgalaxy/steemit-open-mic-week-106-adele-love-song-or-disabella-lostgalaxy-cover

Second: @abelfernandez – Incondicional - (Original)
https://steemit.com/openmic/@abelfernandez/px6g8oxm
Third: @trilumia – Cabide - (Cover)
https://steemit.com/openmic/@trilumia/steemit-open-mic-week-106-or-cabide-trilu-mia-martna-lia

Fourth: @juliolunar – Sympathy for the Devil - (Cover)
https://steemit.com/openmic/@juliolunar/gc9krrfe
Fifth: @davidcentenor – Te Bote - (Cover)
https://steemit.com/openmic/@davidcentenor/rrqzx91d

Thank you for reviewing my selections for this week's Open-Mic contest. If you find this content I've curated entertaining and of value to you, then please consider up-voting and/or re-steeming it.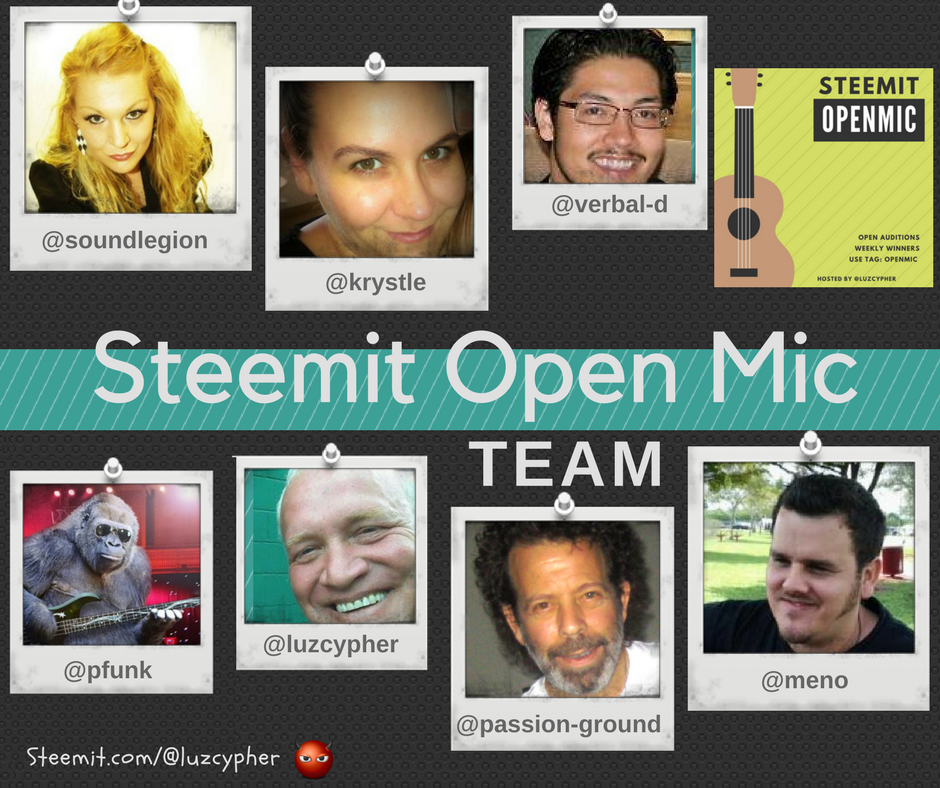 Peace, Love, and Justice for All
A Very Special Shout Out To:
The following artists who were very much on my radar, each within a splitting hair of making it into my overall top-10, and whose performances I loved, cherish and respect most assuredly. This special list is very much an extension of my most honorable mentions.

They are - in no particular order:

@ingridkorneelia, @sthela04, @alejandra23, @carlosrada, @yetxuni, @addiesworld, @wilins, @steemmatt, @tfeldman, @lk666, @rodrigo98, @yisusgtr, @enriquesalgadoc, @natvegas, @benjaminmora, @edwardstobia, @leomolina, @mayneth, @miguelblanco, and @elisonr13!


Much love and thanks to each and every one of you who have touched a part of my heart and soul - not only this week but forever!