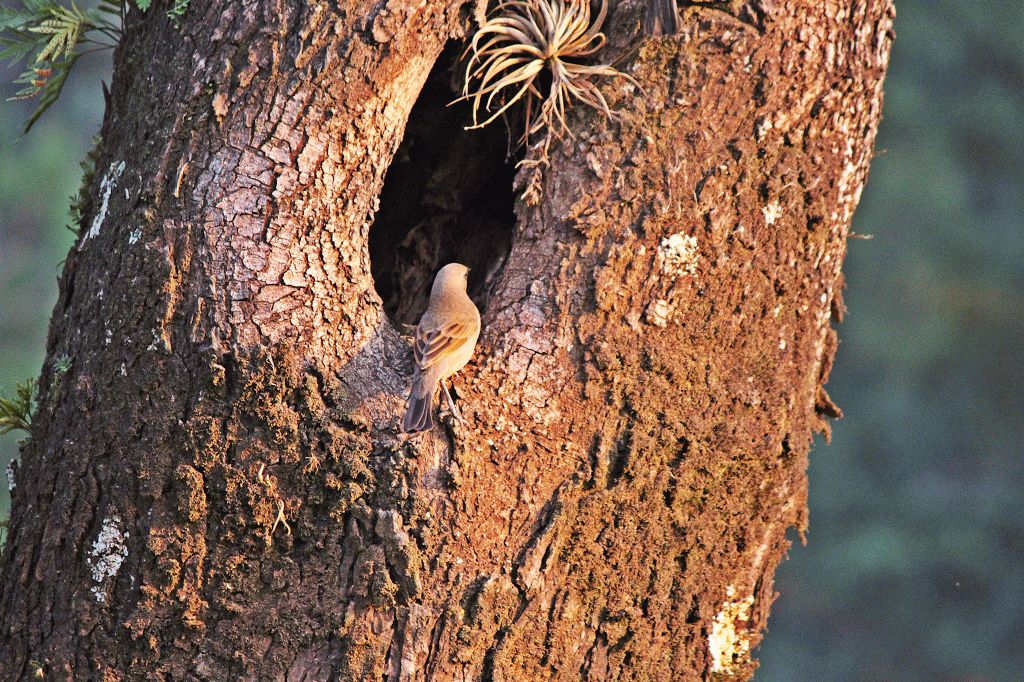 Reviewing and ordering the great chaos of photos that I have stored on my computer, I found some photos that I took on the way to Brazil in the province of Corrientes, very close to the border.
Revisando y ordenando el gran caos de fotos que tengo guardada en mi computadora, encontré unas fotos que tomé en el camino hacia Brasil en la provincia de Corrientes, muy cerca de la frontera.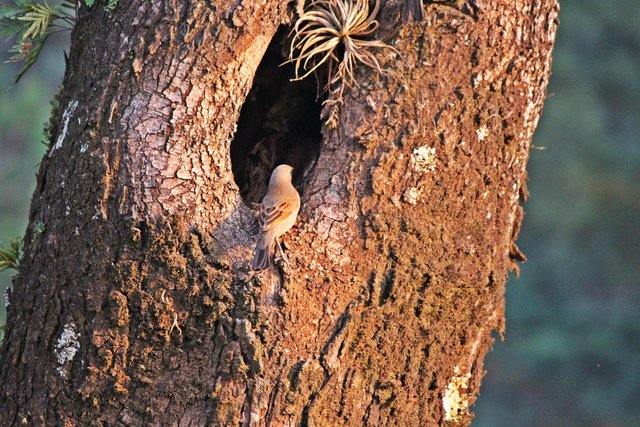 I remember that day as if it were today. That day the temperature was very high and after several hours of travel
We decided to make a stop to go to refuel, eat something and to take the opportunity to stretch our legs and take courage to make the long journey that lay ahead of us already in the lands of our neighboring country.
Recuerdo aquel día como si fuese hoy. Aquel día la temperatura era elevadísima y después de varias horas de viaje
decidimos hacer una parada para ir al cargar combustible, comer algo y para aprovechar a estirar las piernas y tomar coraje para hacer el largo trayecto que nos quedaba por delante ya en tierras de nuestro país vecino.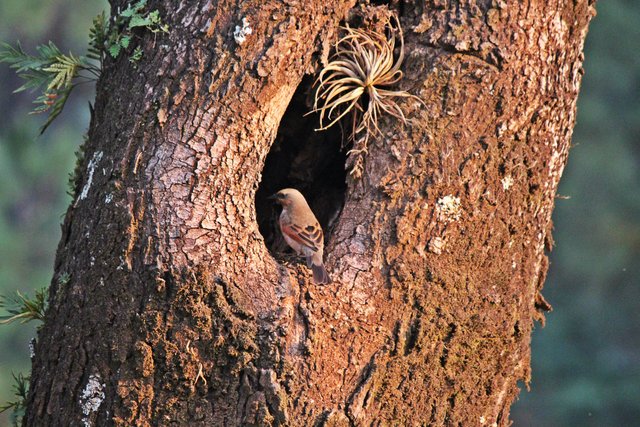 True to my habit when I leave the house with my camera, always going down under my documents, the cell phone and the camera, for the doubts that some friend of others would want to take it without permission.
Fiel a mi costumbre cuando salgo de casa con mi cámara, al bajar siempre bajo mis documentos, el celular y la cámara de fotos, por las dudas de que algún amigo de lo ajeno quisiese tomarla sin permiso.
In this case, since I brought two cameras, one of which was not mine and is very expensive, I repeated this routine in every place we stopped.
En este caso como llevé dos cámaras, una de las cuales no era mía y es muy costosa, repetía esta rutina en cada lugar que parábamos.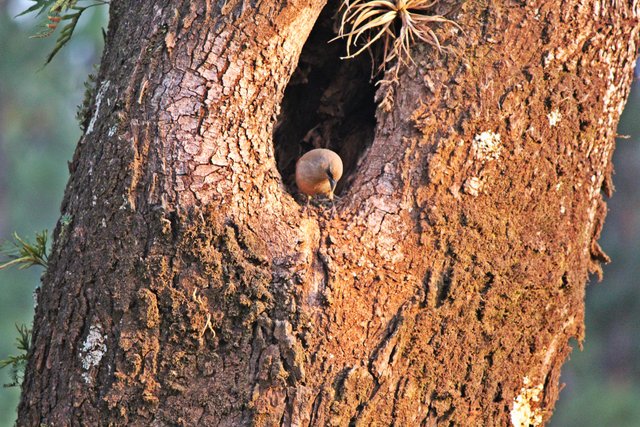 While I was filling the tank of our car with fuel, my wife and daughter were in the station shop and they had ordered something to eat and some soft drinks to try to soften the great impact of the heat. There was no working air conditioning in the car.
Mientras yo llenaba el tanque de nuestro auto de combustible mi esposa y mi hija estaban en la tienda de la estación y habían encargado algo para comer y unos refrescos para intentar suavizar el gran impacto del calor. En el auto no había aire acondicionado que funcione.
Seeing that my wife and daughter were well in the service station shop, I decided to take a look at the landscape and contemplate the beauty of the place that never ceased to amaze me. An extremely dense vegetation with large trees where one could observe and a great number and variety of birds; I had never observed anything like this.
Al ver que mi esposa y mi hija estaban bien en la tienda de la estación de servicio yo decidí echar un vistazo al paisaje y contemplar la belleza del lugar que no dejaba de sorprenderme. Una vegetación extremadamente densa con grandes árboles para donde uno pudiese observar y muchísima cantidad y variedad de aves; nunca había observado algo así.
The native people of this town watched as I contemplated so much beauty. Of course they were used to living with it every day. For me everything was new, everything was unknown.
Las personas nativas de este pueblo miraban como yo contemplaba tanta belleza. Claro ellos estaban acostumbrados a convivir con ello todos los días. Para mi todo era nuevo, todo era desconocido.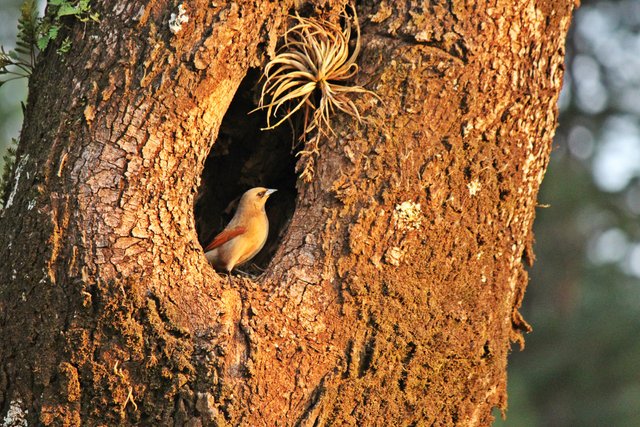 My eyes did not know where to look, everything was cute.
Mis ojos no sabía hacia dónde mirar, todo era lindo.
After a brief observation I was informed by the service station staff that my car was ready so after paying and leaving my car in the parking lot I decided to take a short walk until our food and soft drinks were on the table. I told my wife and I went out for a short walk.
Después de una breve observación me avisa el personal de la estación de servicio que mi auto estaba listo por lo que después de pagar y dejar mi auto en el estacionamiento decidí dar un pequeño paseo hasta que nuestra comida y los refrescos estuviesen en la mesa. Le avise a mi esposa y salí a realizar un breve paseo.
I kept looking at trees and more trees, listening to the birds singing and breathing that beautiful smell of vegetation that was present in the place.
Seguí mirando árboles y más árboles, escuchando el canto de las aves y respirando ese hermoso olor a vegetación que estaba presente en el lugar.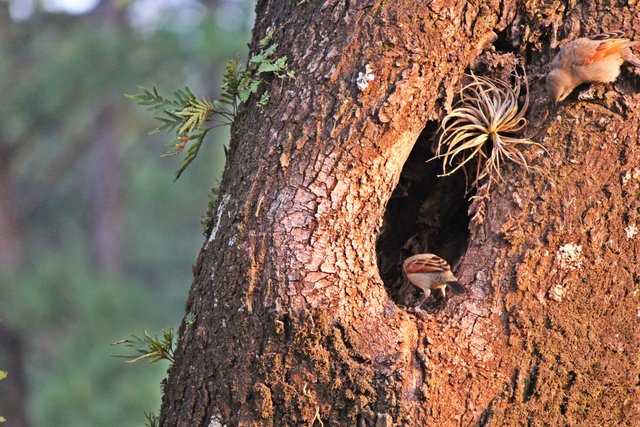 Suddenly something caught my attention, I saw a bird come out of a tree and go back inside with branches and I estimate with some mud. This sequence was repeated several times.
De pronto algo llamó mi atención, veía que de un árbol salía un pajarito y volvía a entrar con ramas y estimo con algo de barro. Esta secuencia se repitió varias veces.
I quickly took my camera out of the case and helped with the zoom I could distinguish what was happening. Medium-sized birds were building their nest in a tree hole, where they would surely lay their eggs.
Rápidamente saqué mi cámara del estuche y ayudado con el zoom pude distinguir que es lo que estaba sucediendo. Unos pájaros de tamaño mediano estaban construyendo su nido en el hueco de un árbol, donde seguramente pondrían sus huevos.
I was observing that beautiful moment for several minutes and taking advantage of taking several photos.
Me quedé observando ese lindo momento durante varios minutos y aprovechando a sacar varias fotos.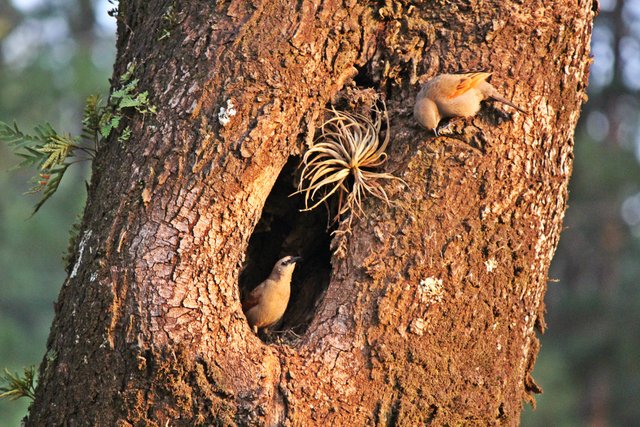 After observing several minutes I was able to observe how another bird of the same species entered the hollow of the tree with more straws and twigs that deposited them in there and then remained observing climbing the tree
Después de observar varios minutos pude observar como otro pajarito de la misma especie entraba al hueco del árbol con más pajas y ramitas que las depositaba allí dentro y luego se quedaba observando trepado del árbol
There I could understand that this little couple of birds were preparing their home, to lay their eggs and make it a pleasant, comfortable and safe place for when their little chicks decided to hatch.
Ahí pude entender de que esta pequeña parejita de aves estaban acondicionando su hogar, para poner sus huevos y hacer de el un lugar agradable, confortable y seguro para cuando sus pequeños pichones decidiesen salir del cascarón.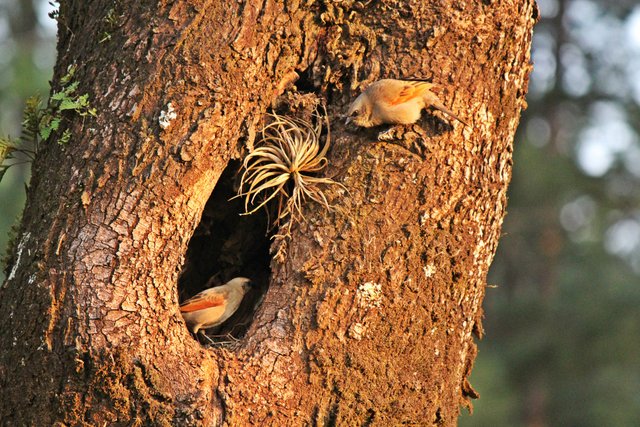 After all, there is nothing more beautiful in this world than our home, our sweet home!
Después de todo no hay nada más lindo en este mundo que nuestro hogar, nuestro dulce hogar!
In a few minutes my wife calls my cell phone to let me know that the food was served.
A los pocos minutos mi esposa me llama a mi celular para avisarme que la comida estaba servida.
I hope you enjoyed my shots!
Espero que hayan disfrutado de mis disparos!
Posted via neoxian.city | The City of Neoxian