Epicenter of China virus shows lowest number of new cases in a month
China, Fed signal accommodation
Oil rises, slightly
KEY EVENTS
U.S. futures for the S&P 500, Dow Jones and NASDAQ, along with global stocks all opened higher this morning, on the heels of reports suggesting the coronavirus' spread might be slowing.
Treasurys rose for a third day, the yen moved higher for a second day, and gold's slide extended to a third day.
GLOBAL FINANCIAL AFFAIRS
Though cases of the virus—now officially called Covid-19 by the World Health Organization—have increased outside of China, the latest data shows the viral outbreak may have slowed within China itself. As well, the number of suspected cases on the mainland fell by more than 5,000 to about 16,000.
Perhaps adding to the return of investor risk appetite, during his Congressional testimony yesterday, Fed boss Jerome Powell assured the market the U.S. central bank is keeping a close eye on the economic implications of the epidemic. What concerned investors heard: promises of more stimulus if needed, allowing them to drive U.S. equity indices to new and as-yet-unexplored heights.
China's President Xi Jinping also promised his country would meet its economic goals.
SPX Futures Daily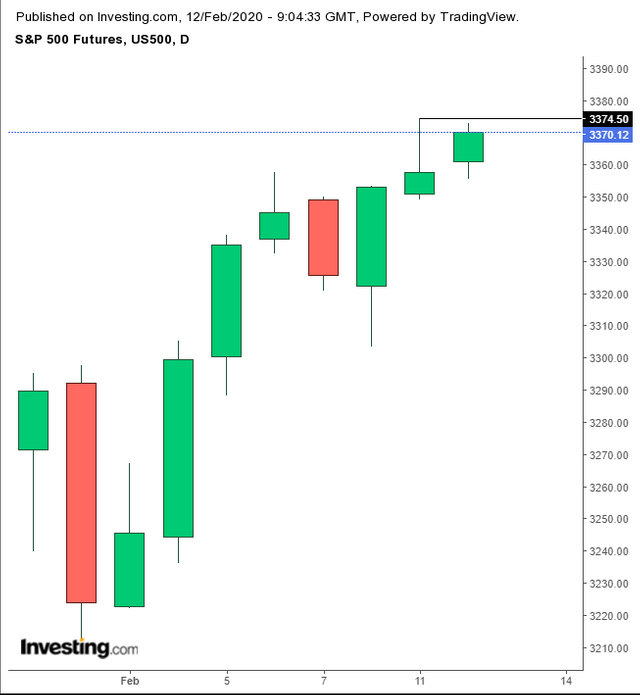 SPX Futures Daily
Equity futures are pointing to higher highs for their underlying benchmarks today, even after those gauges closed well off more impressive gains made earlier yesterday.
The STOXX Europe 600 Index gapped up, pushed higher by retailers and automobile companies.
The Asian session was painted almost completely green on Wednesday. China's Shanghai Composite and Hong Kong's Hang Seng both advancing 0.87%. It was the 7th straight advance for the Shanghai index. All the other major regional indices opened higher, including Japan's Nikkei 225, South Korea's KOSPI and Taiwan's TAIEX.
UST 10-Y Daily
UST 10-Y Daily
Yields climbed for the third day. However, the U.S. 10-year Treasury moved within a rising flag, bearish after the fall from 1.950 since Jan. 2.
USD/NZD Daily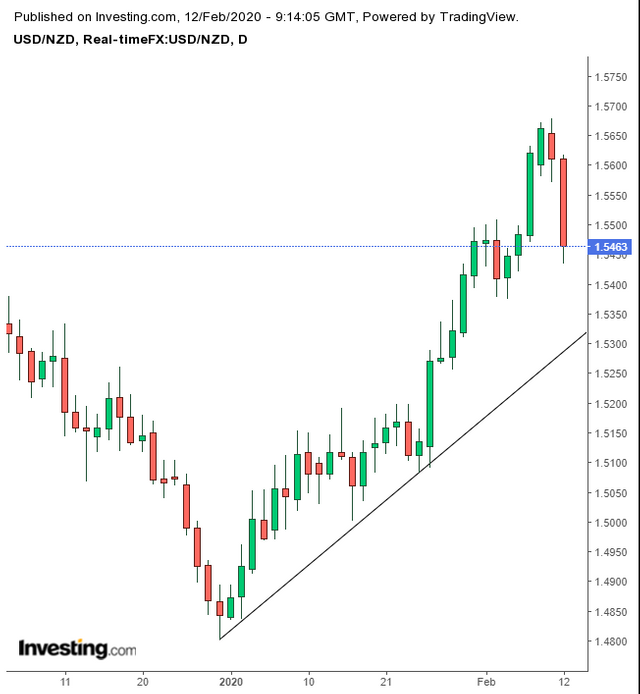 USD/NZD Daily
New Zealand's dollar jumped the most in two months after its central bank said the impact from the virus will be short-lived. As such, the RBNZ kept rates steady and didn't project a need for additional cuts this year.
Gold Daily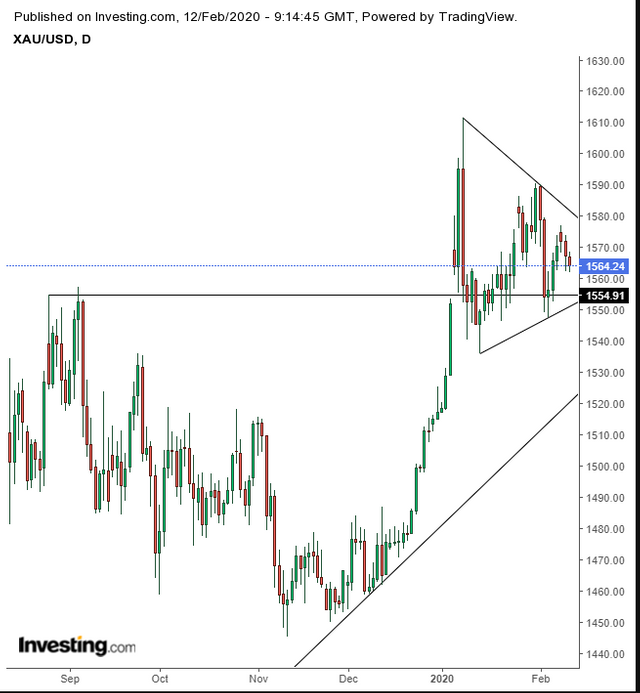 Gold Daily
Gold fell for a third day, within a symmetrical triangle, after posting a new high in the uptrend.
WTI Daily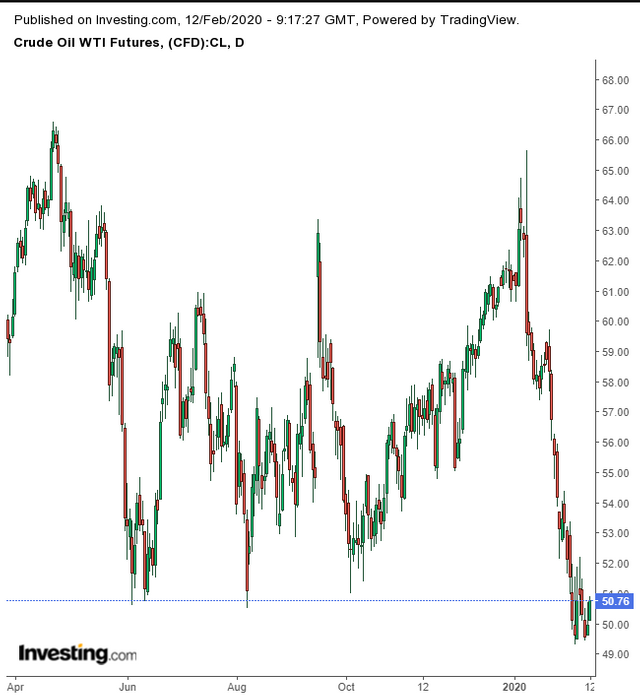 WTI Daily
Oil climbed for a second day. The commodity is back above $50, after closing yesterday below that critical level. It continues to struggle against the lows since June.
Market Moves
Stocks
The Stoxx Europe 600 Index rose 0.2%.
Futures on the S&P 500 Index rose 0.2%.
The MSCI All-Country World Equity Index increased 0.1%.
The U.K.'s FTSE 100 Index gained 0.1%.
Currencies
The Spot Dollar was little changed.
The euro is holding steady at $1.0915.
The British pound climbed 0.1% to $1.297.
The Japanese yen weakened 0.1% to 109.89 per dollar.
Bonds
The yield on 10-year Treasuries climbed three basis points to 1.63%.
The yield on 2-year Treasuries increased two basis points to 1.44%.
Germany's 10-year yield rose three basis points to -0.37%.
Britain's 10-year yield rose four basis points to 0.606%.
Commodities
West Texas Intermediate crude rose 1.6% to $50.75 a barrel.
Gold depreciated 0.2% to $1,564.27 an ounce.


Original Post