The big news in the cannabis sector this week will come Friday, when Canopy Growth (NYSE:CGC), (TSX:WEED) offers up its third quarter earnings for fiscal 2020. That, of course, will only hold true if there are no other surprise announcements of corporate shake-ups.
Anyone with an interest in the cannabis sector will be keeping an eye on the Canopy figures. As the largest marijuana grower on the planet, the company's results have the potential to map the prospects of the entire industry.
SECTOR UNDER SIEGE
The sector has been plagued since the beginning of the year with one announcement after the other involving a growing list of marijuana growers dealing with corporate personnel changes, workforce layoffs, multi-million-dollar write-downs and cash shortages: all of which have sent share prices tumbling.
The good news is that analysts are still predicting decent results from Canopy. The Ontario-based grower is expected to show a year-over-year increase in earnings based on higher revenues.
NO GUARANTEE TARGETS WILL BE REACHED
But just because the predictions are optimistic does not necessarily mean hitting those expected targets is a sure thing. If there is one thing we have learned in the cannabis sector, you can't trust the hype, nor the hope.
Recently, Canopy was forced to push the launch of many of its so-called 2.0 products – vapes, edibles and beverages – which became legal last fall in Canada, into 2020. But the latest quarter will include the ramp-up costs of getting these products to market. And seeing that we are hitting the half-way mark of the month of February, we are aware of the additional regulatory and roll-out hurdles these products have hit.
In addition, last month, Canopy tempered expectations by publicly admitting it has not been able to scale THC-infused beverages. In its statement released on Jan. 17, the company said it would provide an update on its beverage launch when it releases its third-quarter results. So watch for that, too.
The day Canopy announces its earnings will also mark one month since its new CEO took over the reins of the company. That kind of timing could mean the announcement of structural changes. And an announcement along those lines would not be totally out of left field given what we have witnessed from other major growers in the sector in the last few weeks.
Canopy Growth Weekly Prices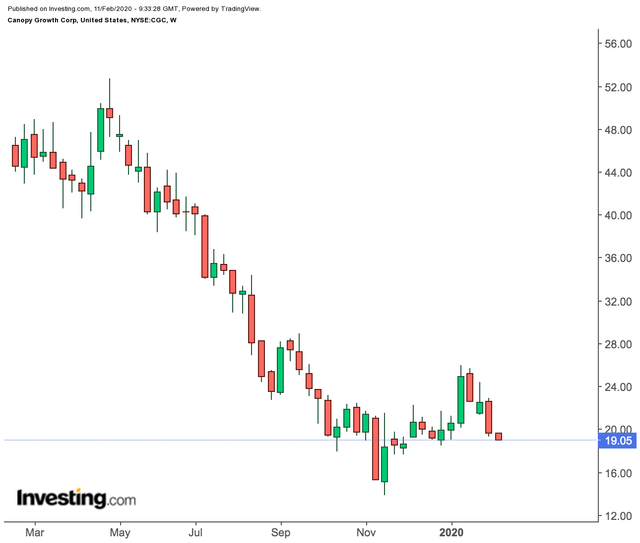 Canopy Growth Weekly Prices
Shares of Canopy Growth closed yesterday's session down just under 3% to end the day at US$19.05 (C$25.38). In the last year, they have slid more than 55%. Tip
Ranks, however, still has Canopy listed as a moderate buy, with a target price of US$21.81.
Aurora Continues To Drop Even Further
Shares of Aurora Cannabis (NYSE:ACB), (TSX:ACB) continued to fall yesterday, losing another 8% after a devastating week that saw stock prices drop more than 15%. The shares closed at US$1.56 in New York and C$2.08 on the S&P/TSX Composite in Toronto.
Aurora Cannabis Weekly Price Chart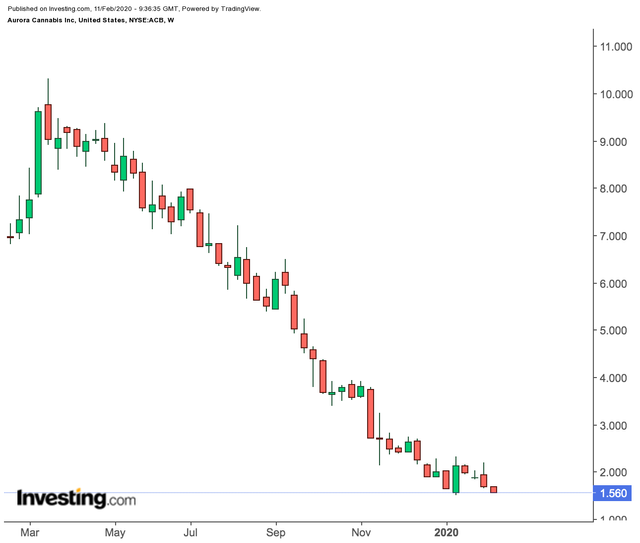 Aurora Cannabis Weekly Price Chart
The plunge began last Thursday with the announcement that the company's CEO was resigning, that it was cutting 500 jobs and that it would be making about C$1 billion (US$750 million) in write-downs – between $190 million (US$143 million) to $225 million (US$169 million) on property, plant and equipment, $740 million (US$557 million) to $775 million (US$583 million) in goodwill.
Aurora shares are now trading dangerously close to all-time lows. How its new CEO will navigate the company to better times is not clear. It's not clear at all.

Original Post