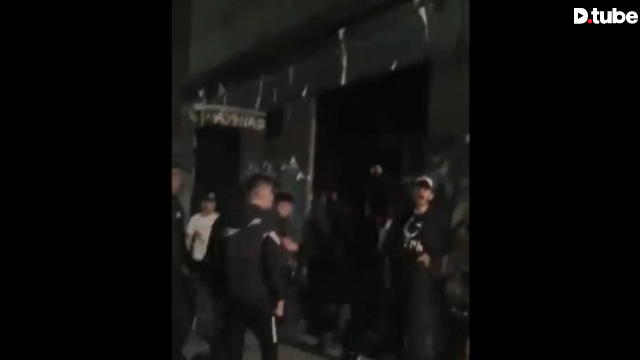 ---
Thugs loyal to the Turkish Madman Erdogan bringing their culture to the streets of the Austrian capital Vienna.
Dozens of the so-called 'Grey Wolves', a group of radical anti-Islamic Muslim Brotherhood thugs, attacked a house where an Antifa rally in Vienna after the latter escaped a road fight due to the support of the Turkish Kurds who Erdogan's regime is bombing their villages relentlessly in northern Iraq and southeastern Turkey.
Source: https://twitter.com/NicAthens/status/1277017232770568193
No sign of the Austrian police, either they were taken off guard or they preferred to watch both protesters finish off each other.
There's no real count of the Erdogan's thugs, some sources were telling they were only around 100 while others put their numbers much higher.
A long time ago we sent a Syrian youngman undercover to one of the schools of Erdogan's followers in Turkey to understand the mentality of the followers of Erdogan and he returned with a very dark picture of thousands of Turkish youngsters radicalized within religious groups, our 'spy' said their loyalty to their leader is far more than to their religion.
Syria suffered of waves of terrorist attacks by the Muslim Brotherhood terrorists, the first of such was between 1976 and 1982, the terrorists would blow up any place in any city taking the lives of dozens of innocent bystanders, in one incident in the city of Damascus and not far from where I personally was they blew up a massive bomb near the Azbakieh bus stop in Baghdad Street opposite a military recruiting agency, more than 240 civilians were killed and more maimed in the heinous attack and I was thrown several meters away from the pressure of the impact, luckily I wasn't hurt but completely shocked.
The main factor forming the Al-Qaeda FSA terrorist group is the Muslim Brotherhood Vanguard members, using the same tactics of their fathers in the late 70s of the last century. The current chief of al-Qaeda Ayman Al Zawahiri is a Muslim Brotherhood, FYI.
Click on the above player to watch the video; the below thumbnail serves as the featured image when sharing on social media:

---
Your objective comments are always welcome.
---
You might find this site useful to buy and sell Bitcoins using your PayPal account, I get a tiny commission and so can you when you introduce others: Paxful Exchange
---
Follow @ArabiSouri:
Twitter: Arabi Souri
Syria News: www.syrianews.cc
---
Donations are highly appreciated, just click on the Donate button via PayPal or Credit Card: Donate
You can also donate with Steem or SBD or even delegate some much-needed SP here :)
#Syria #Iran #Russia #InformationWar #Wahhabism #Zionism #alQaeda #FSA #Nusra #ISIS #Terrorism #Saudi #Qatar #Israel #Net #Neutrality #Mainstream #MSM #Control #WarOfTerror #kurdistan #sdf #kurds #RegimeChange

---
▶️ DTube
▶️ BTFS