Bitcoin Price Must Flip This Level Into Support to Avoid a Drop to $7.4K;
BitMEX Launching Services for Corporate Customers ;
Binance Prepares 'For the Next Wave' With 'Largest Upgrade';
Andreas Antonopoulos: Use DeFi Contracts for BTC Passive Income;
Uber Angel Investor: '99% of Crypto Projects Are Garbage';
🗞 Daily Crypto Calendar, June, 29th 💰
Welcome to the Daily Crypto News: A complete Press Review, Coin Calendar and Trading Analysis. Enjoy!
Over the weekend Bitcoin price (BTC) dropped below $9,000 for the second time in 7 days but the weekly close was relatively uneventful. As covered by Cointelegraph, buyers quickly stepped in to buy the dip at the $8,800 support on June 27 and at the time of writing the price is pushing toward $9,100.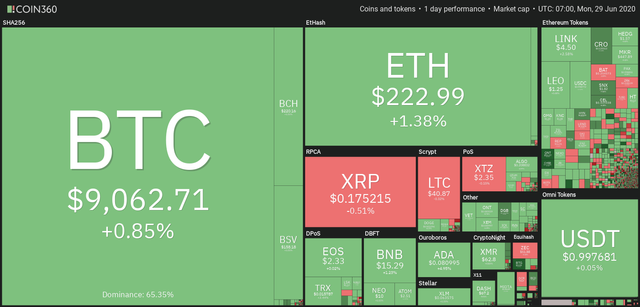 While Bitcoin may make a run on the $9,200, the top-ranked digital asset on CoinMarketCap remains pinned below the 20-MA at $9,385 and a high volume node on the VPVR suggests the area will be a challenge to overcome in the short-term.
For the past week Bitcoin's momentum has waned as trading volume declined. Despite the sideways price action traders have consistently purchased recent dips below $9,000, and the uptrend remains intact as long as the price holds above $8,600.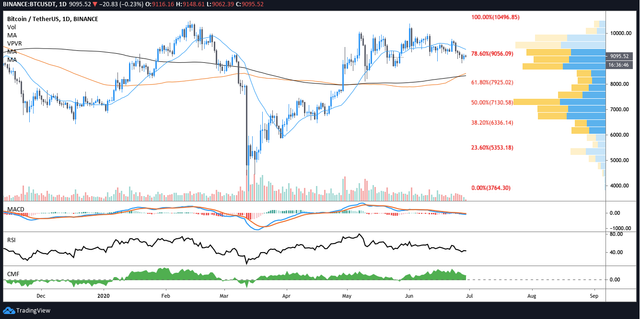 One possible positive to note is over the weekend the 100-MA pulled above the 200-MA on the daily timeframe but ultimately risk averse traders will be better off waiting for a daily close above the 20-MA in the $9,400-$9,500 zone.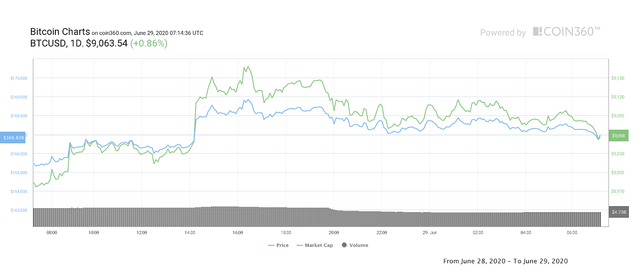 Crypto derivatives giant BitMEX announced it would be launching corporate services for customers at the exchange.
Hong Kong-based cryptocurrency derivatives exchange BitMEX is launching a new program with benefits for its corporate clients including enhanced security service, and accounting.
According to a June 22 announcement on BitMEX's support page, the exchange is launching a new program for corporate customers, BitMEX Corporate. Accounts on the crypto exchange that are not owned and operated by an individual can now ensure their BitMEX holdings are the legal property of a corporation.
BitMEX said the new features were created for clients who need "different ownership structures for their accounts", the means for their employees to access and manage accounts, and security requirements. However, the announcement also stated that options like multi-user login and instant transfers between accounts would be available later in 2020.
Major crypto exchange Binance has resumed trading after completing its "largest upgrade to date," which according to the exchange's CEO, Changpeng Zhao, included switching the trade matching engine to a new programming language, essentially re-writing all code in the process.
"Readying for the next wave," the CEO said on Sunday.
The system upgrade, conducted yesterday, was a scheduled event that has reportedly been in the making for two years, and was first announced to users on Friday last week. Originally estimated to take two hours to complete, however, the downtime was extended by approximately one hour before the exchange reported that trading had resumed early Sunday morning UTC time.
Bitcoin educator Andreas Antonopoulos says there are risks behind any current method of earning steady income with one's Bitcoin holdings, but DeFi offers one of the few ways to do so without "giving your money to other people."
In a livestream Q&A on Antonopoulos' YouTube channel on June 27, he said decentralized finance (DeFi) contracts were one way for Bitcoin (BTC) owners to generate passive income without relinquishing custody of their coins. "Passive income" refers to money earned using methods that require little-to-no effort.
According to Antonopoulos, investors could convert their BTC into Ethereum (ETH) or a stablecoin like Dai (DAI), then lend it out on a platform where the token can earn interest. However, he said carrying out such trades on Ethereum-based platforms was "quite risky" in terms of security, smart contracts with bugs, and the platform itself:
"Ethereum may have problems. It may have bugs. The consensus algorithm may have failures. You may have increases in the gas price, which leads to other cascade problems. And all of those things can cause you to lose some or all of your invested capital."
Prominent angel investor and internet entrepreneur Jason Calacanis says 99% of altcoin projects are "gabage" run by unqualified individuals, but holds out hope for the 1% with the power to change the world.
According to a Tweet posted on June 27 by the angel investor behind ridesharing app Uber and crypto trading app Robinhood, nearly all of the crypto projects around the world are under the control of "unqualified idiots" or "grifters" with below-average skills:
However, Calacanis stated that the projects with the most potential lacking these undesirable qualities are what perks his interest: "I'm waiting for that 1% to deliver their product so I can talk to their customers."
🗞 Daily Crypto News, June, 29th💰
"Final staking & delegation to Foundation nodes on the Matic mainnet to go live on or before 29th June."
"The new version of Qtum Core 0.19.1 supporting Offline Staking will hard fork on testnet at block 625,000, about June 29, 2020."
"We will also held an online AMA to share updates about #TRON 4.0 & #OKEX Time: 19:00, June 29 (UTC+8)"
Live presentation and AMA with news about Genesis Staking and mainnet launch at 11:00 (UTC).
"Join us for Bancor's first-ever community call on June 29th, where the core Bancor team will present the technical details of #BancorV2."
Maintenance period June 29, 13:00 - 14:00 (Singapore time).
"AXE will get delisted on June the 29th. Markets will close on June the 22nd."
Last Updates
➡️ Publish0x
➡️ UpTrennd
➡️ Minds
➡️ Hive
➡️ Twitter
➡️ Facebook
➡️ Be paid daily to browse with Brave Internet Browser
➡️ A secure and easy wallet to use: Atomic Wallet
Proud member of:
20% of this article rewards wil go to the @hodl-fund account in order to support HODL Community Initiatives.
Find out more about HODL Community: Crypto Social Community and by following our community account @hodlcommunity
If you would like to delegate some HP to our community and support us; we give you back 90% of the curation rewards on a daily basis ! APR > 12% !
500 HP - 1000 HP - 2500 HP - 5000 HP
Make a good APR Curation by following our HIVE trail here