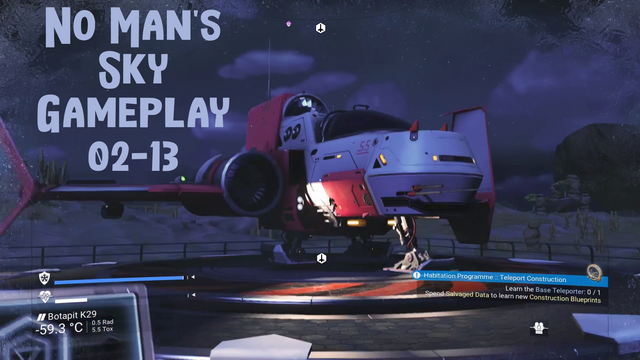 ---
After getting my spaceship tangled up in a base's antenna I died and respawned. I should have force quit but didnt and now my base and ship are gone. And had to rebuild most of what I have gotten so far.. damn antennas getting in my flight path. I explore some locations and find vortex cubes along with other minerals useful to build another shelter.
I came across a base with eggs all about, and I know from pervous encounters if I open them predators come out and attack. They are real tough so not going to harvest any of those. One hit by them knocks me way off course and its hard to recover and get back to the safely of the ship. I collected a bunch of ferrite to build the roof of my structures. And alot of carbon to make the walls and floors. Some sentries came around and checked out what I was doing but did not chase me. After while it deactivated and moved onto other locations.
As I was about to leave I saw a turquoise blue colored deposit. It was cobalt and I went over to bore a hole down inside and then harvest minerals while protecting me from the planets hazards. Its a trick ive picked up recently using the terrain manipulator by going straight down on a deposit I can then be underground and not losing my charge. Saving me from using items to recharge my suit. I should have enough to build another outpost, now got to find another established location with a sellers portal so I can get rid of what I collect.
If the video has trouble playing, please use my IPFS Gateway instead of D.tube's by following this link
| Solominer Presents: | No Man's Sky Gameplay |
| --- | --- |
| Year | 2016 |
| Genre | Action / Adventure / Survival |
| Console | PC |
| Platform | Windows 10 |
| Rig specs: | Main gaming setup |
| --- | --- |
| Processor | Ryzen 7 1700 Eight Core overclocked to 3.7 Ghz |
| Memory | Corsair DDR4 32GB overclocked to 3066 XMP 16-17-17-35 1T |
| Video Cards | 2x Gigabyte G1 1080 no overclock |
| Power Supply | Corsair 1000W |
---
| Coin | Address |
| --- | --- |
| BTC: | bc1qhfmvd2gywg4fvrgy2kkkkyqta0g86whkt7j8r7 |
| LTC: | ltc1qdyzm5cwgt8e2373prx67yye6y9ewk0l8jf3ys9 |
| DASH: | XkSqR5DxQL3wy4kNbjqDbgbMYNih3a7ZcM |
| ETH: | 0x045f409dAe14338669730078201888636B047DC3 |
| DOGE: | DSoekC21AKSZHAcV9vqR8yYefrh8XcX92Z |
---
▶️ DTube
▶️ IPFS