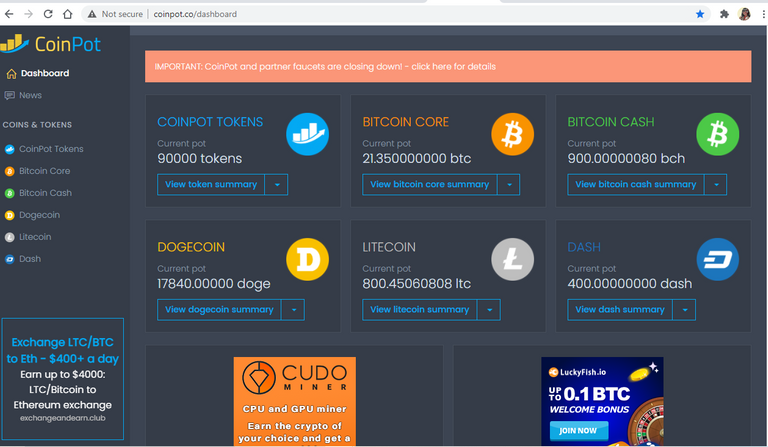 Looks like I better withdraw fast! Thanks for all the free coins. And yes I made multiple accounts. I'm one of those people which I'm ashamed of to admit. Thanks for the five years of free crypto that I paid zero taxes on. You shall not be forgotten. I will tell my referrals and family who will be no doubt sad.
Coinpot you weren't just a wallet. You were the future. It was your site that made me enjoy bitcoin. Before I bought my first bitcoin I earned it free through you. Hope you venture into more crypto programs. It is unfortunate that you had to go but please do not give up. Many opportunities arise where one fails.
CoinPot and partner faucets are closing down!
Posted: 2021-01-15 08:00 UTC
We are sad to announce that CoinPot and our 7 partner faucets will be closing down over the next few months. This decision has been made with a heavy heart for the reasons that we have detailed below. As always we are fully committed to our loyal and fantastic users and we will ensure that you have enough time to make final faucet claims and withdraw any remaining balances. Further details about this and timelines are also set out below.
Which web sites does this affect?
CoinPot coinpot.com
Moon Bitcoin moonbit.co.in
Moon Dogecoin moondoge.co.in
Moon Litecoin moonliteco.in
Moon Dash moondash.co.in
Moon Cash moonbitcoin.cash
BitFun bitfun.co
Bonus Bitcoin bonusbitcoin.co
When will this happen?
These are the important dates that you need to be aware of...
31ST JANUARY 2021
At midnight on the 31st January 2021 the following will happen...
All 7 faucets will cease to operate. No further faucet claims will be possible after this time and each faucet will be replaced by a holding page advising of the closure.
The following functions of CoinPot will cease...
Registration (no new users will be able to register)
Lottery
Multiplier
Challenges
VIP Rewards
Mining
The following functions of CoinPot will continue to be available...
Sign In/Out
Conversion
Withdrawals
28TH FEBRUARY 2021
4 weeks later at midnight on the 28th February 2021 the following will happen...
The remaining functions of CoinPot will cease...
Sign In/Out
Conversion
Withdrawals
CoinPot will be replaced by a holding page advising of the closure.
All private user data, email addresses, security credentials etc will be removed from our servers for all 8 web sites
Why are we closing down?
The quick answer to this is that we no longer have the time or resources to maintain the faucets at the quality level you have become used to.
The longer answer...
The faucets and CoinPot have always really been run as a hobby, something we do for fun and learning outside our families and day jobs. We have always tried to earn enough from advertising revenue that we could pay for the servers and hosting costs and then pay out everything else to you as faucet claims and referral commission. This policy meant that our faucets gained a reputation as the highest paying faucets around and grew very quickly.
Added to this, the success of CoinPot with its games/mining/challenges/VIP etc meant that we were spending more and more of our spare time improving/fixing things. Unfortunately the biggest time drain has become fighting fraud and identifying cheaters. This is neccesary as otherwise our extremely small profit margins would be wiped out overnight!
During the last few years we have built an incrediby complex and successful fraud engine that analyses users claiming patterns and looks for fraud/bot usage. This grows constantly with new techniques to fight the bad guys! We are extremely proud of how this fraud fighting works - and it is this part of the CoinPot system that will live on in the future...
Starting from next month we are embarking on a major new project which we cannot reveal too much information about right now. It is within the crypto world but totally unrelated to faucets, and it will be built around the CoinPot fraud engine and all the knowledge we have accumulated from this over the years.
This means however that we just cannot justify the time we spend on CoinPot and the faucets any more. They will be closed down completely by the end of February as we have detailed above.
We will remain big believers in cryptocurrency and will continue to closely follow the faucet world. And we hope we can stay friends with everyone that we have met on this amazing journey since 2014!
Best of luck
The CoinPot team