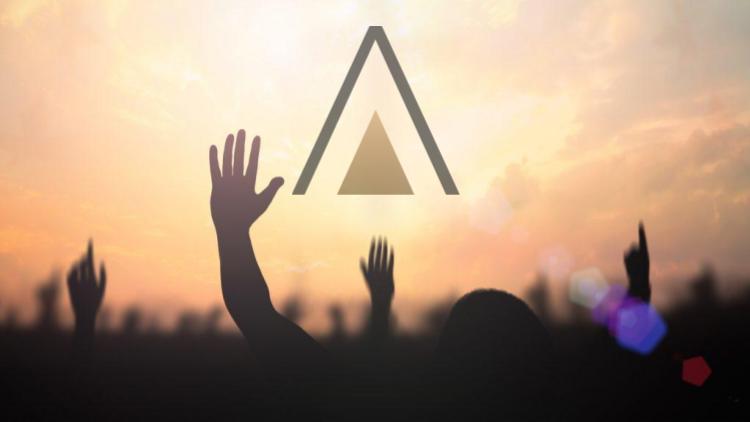 source
Even though I still have my facebook and instagram accounts open, I stopped posting (creating content) because I don't like the idea of dedicating time to these platforms, giving them information about me and rights to use what I create, and not getting anything in return, while the shareholders of these companies and advertisers make billions of dollars using our database information and control what their users see in terms of ads.
When I discovered steemit, I converted myself in a "writer" and it was the cherry on the top of the cake for me to completely stop using facebook. I will close my account as soon as I erase all my pictures and tell family members and friends around the world gradually. Eventually I believe Facebook will continue to lose power thanks to decentralized applications running on blockchains.
APPICS has arrived to stay and disrupt the Social Media, introducing a new generation dapp mobile application, which I believe will compete and overtake the Instagram market through time. Yes, imagine an application kind of like instagram where you can get paid for your creation (pictures, videos and comments), and also decide what you see in your feed according to specific categories. But the most important thing for me, we will always be the owners of our creations, since it all will be on the blockchain, that means APPICS has no right to share our information. They are changing the game in a way that will be fair for everyone. Definitely a way to revolutionize and disrupt the social media world!
source

The fuel for massive adoption:
Since I entered the crypto space and understood how things work, it has been quite a difficult task to not only explain but make family and friends believe in the potential of the Blockchain. The reality is that the majority of the people I know, either are too lazy to read about it, or not interested enough because they think they have to have computer science knowledge. This is a problem that I believe APPICS will resolve.
Allow me to explain in short how:
I have been following APPICS since the launch of their official video last year, read their whitepaper and according to their team, this new dapp is going to be such a "user friendly application" with a "user friendly cryptocurrency" that will help people enter the crypto space, even if they don't know what blockchain is, or if they are not interested on how blockchain works.
Just think about this... Instagram recently said that now it has __ more than 800 million users__, they also said it has around 500 million active users per day. Now I asked myself: what percentage of all these users know or understand how the Instagram algorithm works? Or even the internet itself? I don't even know how the internet works and I am here using it to bring you this interesting information. I bet almost nobody knows how instagram works, but still users use it every single day!
Once this decentralized application is launched with the cool features will have, and the already proven marketing strategy they are using with media influencers, it will be just a matter of time for people to realize "what's up!"
source
Like their team say, they definitely know how to bridge the gap for the average person to enter the crypto space. An important key for massive adoption.
I highly recommend you to listen to this short interview video of Uma Hagenguth, one of the co-founders of APPICS where she briefly explains what the project is about and how it works: COO of APPICS | The Future of Blockchain Technology in Social Media

APPICS token XAP
The XAP token will be the one used by users to reward other users and get rewarded as well by a vote or "like" in the content created, either a picture, video or comments.
It is the very first Smart Media Token (SMT) running on top of the STEEM Blockchain. This means that it will not be used within steemit even though it will use its blockchain as a foundation, it still will be an independent social media platform.
source
Currently, it's on its last round of the ICO (initial coin offering) where investors can purchase XAP tokens with no minimum investment. For ICO purposes, XAP has to start as an ERC20 token on the Ethereum Platform then will be swaped to Smart Media Token. But this is not something you need to understand in order to learn about APPICS.
Total Tokens for sale ▸►120,000,000
Token Price ▸►0.15 USD
Token Name ▸►XAP
Max Supply ▸► 240,000,000
More about the XAP Token here

How will APPICS works?
Users will be able to turn their likes into cryptocurrency which will have a value in the market thanks to its adoption and acceptance by the audience.
Just like you post on instagram, you will be able to post those pictures and videos of your lifestyle for your friends, followers to see and appreciate your content.
Here is an image of the interface features taken from their white paper:

source
A really cool feature that this dapp will have and I want to address you, is the Category Option for your posts.
Besides using hashtags as well, you will be able to select a specific category you want your post to be under. The initial 15 categories created by APPICS team are: Fashion, Make-Up, Gaming, Sports, Fitness, Art, Music, Dance, Comedy, Lifestyle, Travel, Food, News, Tech, Charity.
There are 4 more different categories created to help users, especially newcomers to be visible: Popular, Challenges, Live (for live streaming), welcome (for new users to introduce themselves).
And this is how this part gets interesting: in order for APPICS to make the adoption successful, they have selected a group of Media Influencers around the globe to be part of the equation.
These media influencers will not only make their followers aware of the new Application, but they will also be part of the teams that will be the judges behind each category to "vote" (Like) good quality content.
Basically, the "vote" (Like) of these judges will have a large voting weight to reward user's content. In order to control and assure this will work accordingly, their accounts will have frozen funds to reward content with their "vote" (Like).
In one of the conversations between me and Lisa Dand @lisadang, one of the social media assistants of APPICS, I asked a little bit about how these influencers will be selected, and this is what she told me:
Me: For every category, there will be a team of judges. Those judges are social media influencers and experts in their field. These judges will have a large voting weight and will be able to reward excellent content in their category. Even though it sounds a bit centralized, it is a good idea. How will you control these "experts"? For how long are they going to be judges? Will the APPICS team chose these judges for ever? or are you going to allow your community (users) to vote for new judges through time?
@lisadang:For the first stage we choose the influencers. Later on the community will be able to choose the judges.
---
Talking about decentralizing and democratizing, the dapp is not launched to the public yet and I like it already more and more.
---
High-profile influencers, in the early stages of Instagram, shared the application with their followers, which resulted in instant mass exposure and millions of downloads.
However, without active users who spend many hours interacting, creating content, posting, sharing, and engaging via "likes" and comments, the platforms would not be of such value.
I am not a youtuber but I am constantly reading about how Youtube started to reduce payments and limited advertisement revenues even more for small accounts and also to restrict youtube video opinions that go against the mainstream media. I am sure youtubers will love disruption and finally get rewarded as they deserve!

The Integrated Shop System
And as if it wasn't enough… APPICS is bringing a great concept for users to use their very well earned XAP tokens to purchase items! I am so stoked about this.
source
One of the functions this dapp will have, is the "Shop Function" users will have access to it when they reach a status once they perform well with the use of the dapp and gain a high reputation. This brings like a game feeling, I love it. Once you have reached that level, you will be able to position your business to sell your items or services, or simply trade your items for other users coins.
A good thing to know is that since all the transactions will be registered on the blockchain, there is going to be contracts that will work as escrows. Once you receive your item, you confirm and the coins will be released!

Reasons why I see success:
✔ Communication through Social Media:
FIrst of all, it's not a secret that the use of mobile devices is increasing every day, I bet in your country there are more mobile devices than people, just like here in Panama.
Social media being the new way of communication or interaction, specially through video and photography, is the perfect field for APPICS to gain rapid adoption.
✔ Good Timing:
The Crypto Market is giving us signs of a better season compared with the recent bear market.
There is also a lot of negative news happening and more negative info revealed around centralized applications such as facebook and youtube. Even though the community still needs these applications, the desire of an alternative decentralized and more fair system is there.
✔ Proven Case Study:
What other proven used case can be better than steemit? This social network we know, already uses a creation reward system on top of the STEEM blockchain and it works. Created in March 2016, 2 years after has already more than 870 thousand users and the number increases every day, and guess what? It's still in beta version and has already proven success.
The Steem blockchain features two new concepts designed to allow for the fair rewarding of contributors. The first is the so-called rewards pool – a pool of tokens dedicated to incentivizing content creation and curation. The second is a voting system determining the value of contributions through the wisdom of the crowd and distributing rewards accordingly.
Combined these two concepts are referred to as Proof-of-Brain which emphasizes the human work required to distribute the tokens and makes Steem the perfect tool for building perpetually growing communities, encouraging their users to contribute high value content. Steemit.com presents a nearly perfect case study for the technological concept and has proven its feasibility during operation.
Who is behind APPICS?
A lot of the projects you see now in the crypto space, especially ICOs have teams with little experience in the crypto world. The founders of APPICS besides having experience founding digital marketing business, are early crypto adopters since 2011.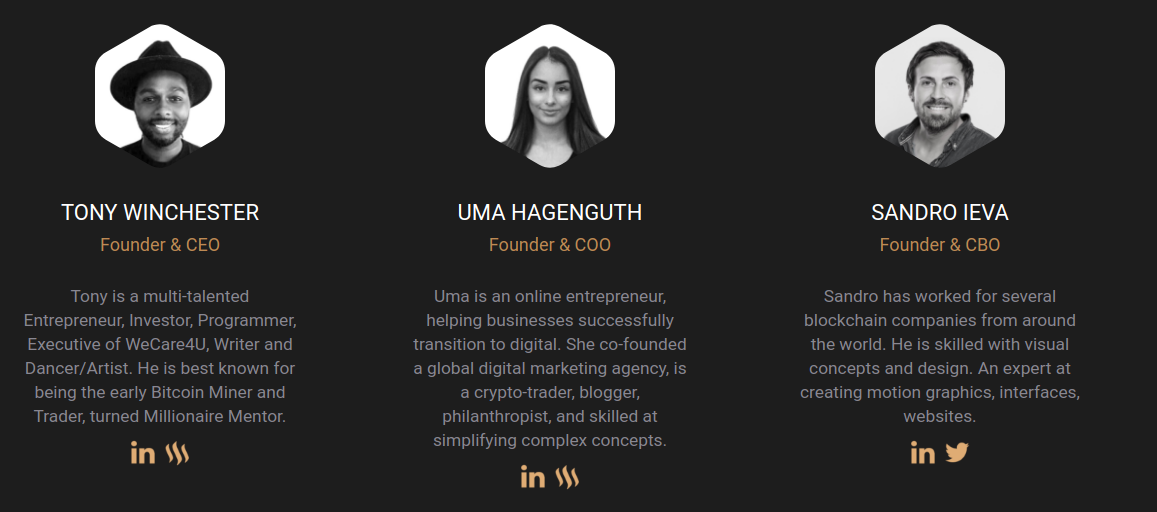 source
You can read more about them and the rest of the team here
If you want to follow them on steemit to read their recent posts about their APPICS journey, here are: Tony Winchester (@sirwinchester), Uma Hagenguth (@mrs.steemit), and Sandro Ieva in his twitter
I recommend you to watch the presentation Uma did at the Finovate Conference in Dubai this year:
You can't really help but just wanting to get everyone involved and excited and together create the future and make a change and that's the why for APPICS, to we all know that today's social media companies are worth billions of dollars and the numbers continue to increase as the digital revolution continues to unfold but the company is not the source of revenue, is us!
APPICS creates a new environment where the powers stays within the network and the created value of the platform gets distributed in a fair way. We do this by merging lifestyle with income inside one mobile application. In other words we turn likes into currency.
Watch her presentation here: [APPICS | Social Media Blockchain - Presentation & Demo at FINOVATE Middle East] (
)
How can I invest if I am new in crypto?
Dear stemians, if you do not have any knowledge about the internet of money, nor have an account on an exchange and know about trading, you still can invest in XAP tokens because you can use your STEEM or SBD by transferring those to the @appics account with a generated memo they will provide to you once you register in their ICO (initial coin offering). How cool is that? This guys really know what they are doing!
It took me around 6 months to build up more than 100 Steem Power, still is not much, but at the prices of Steem we see today, I can't just buy STEEM to invest in my SP, well is a psychological issue for me since I remember when Steem was less than a dollar. But in this case, with APPICS, at $0.15 per token, it's a great opportunity to start using the APPICS dapp with a good amount of voting power.
As usual, I will say this as my "Disclaimer" do your own research before the decision on any investment or to just use this application. I encourage you to read their easy reading APPICS whitepaper here.

What nice Bounty Campaign they have:
The APPICS team have created a very good and complete bounty campaign to earn rewards already at the same time the community helps them to spread the word. It is as simple as creating and sharing content in all different social media (twitter, facebook, instagram, reddit, bitcoin talk, telegram, steemit, and much more), which then they have to review first in order to reward you with XAP Tokens.
Learn more about this bounty opportunity here: Bounty APPICS program

Are you ready to join the revolution?
Let me tell you that they are currently in the final stage of their ICO. Yes! Only 3 more days to go and they are done, so no room for hesitation.
If you want to reinvest your Steem or SBD in this cool project and start using the platform like a boss, or if you are already into crypto and have funds to invest in this ICO, here is the referral link:
LINK:
Thanks!
---
Sources:
---