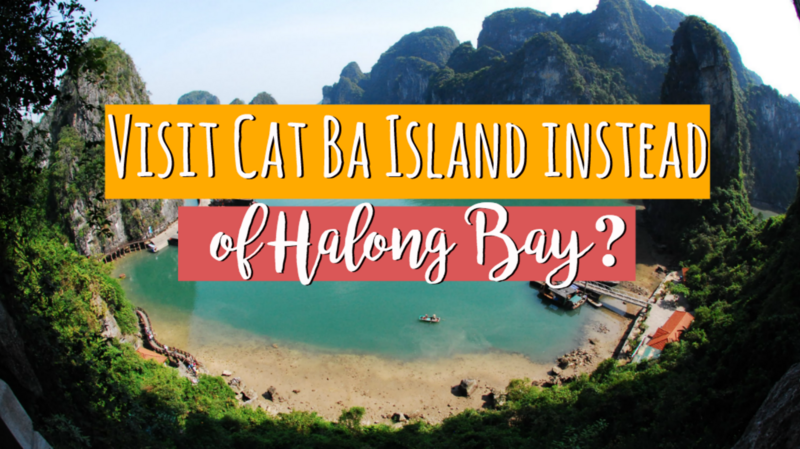 I've briefly mentioned that touring Lang Ha Bay from Cat Ba island is just as beautiful as going to Halong Bay.
It's just as beautiful, but the tours are slightly cheaper and with less crowds.
The ferry ride from Tuan Chau Pier in Halong city to Cat Ba is beautiful!!! You almost don't even need a tour at all after seeing the views of the bay from the ferry.
So, if you decide you want to go to Cat Ba and book tours from there instead of Halong City (where most people do it from) then let me tell you how to get there and all that jazz.
Once you get to Halong City from Hanoi which I explain how to do here you can either book a tour of Halong Bay from there, or you can take the ferry to Cat Ba island.
The taxi will drop you off, and you need to walk past these boats on the left: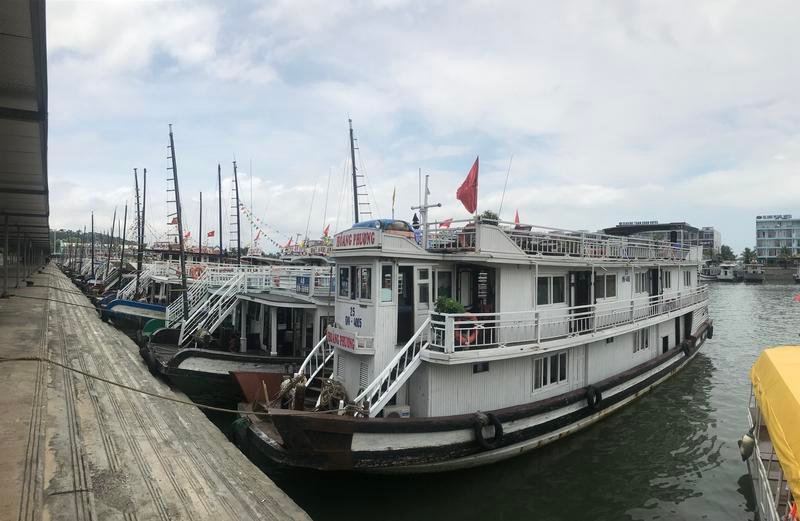 These boats are where the cruises for Halong Bay leave.
On your right side, you'll see all of these touristy snack shops and hotels: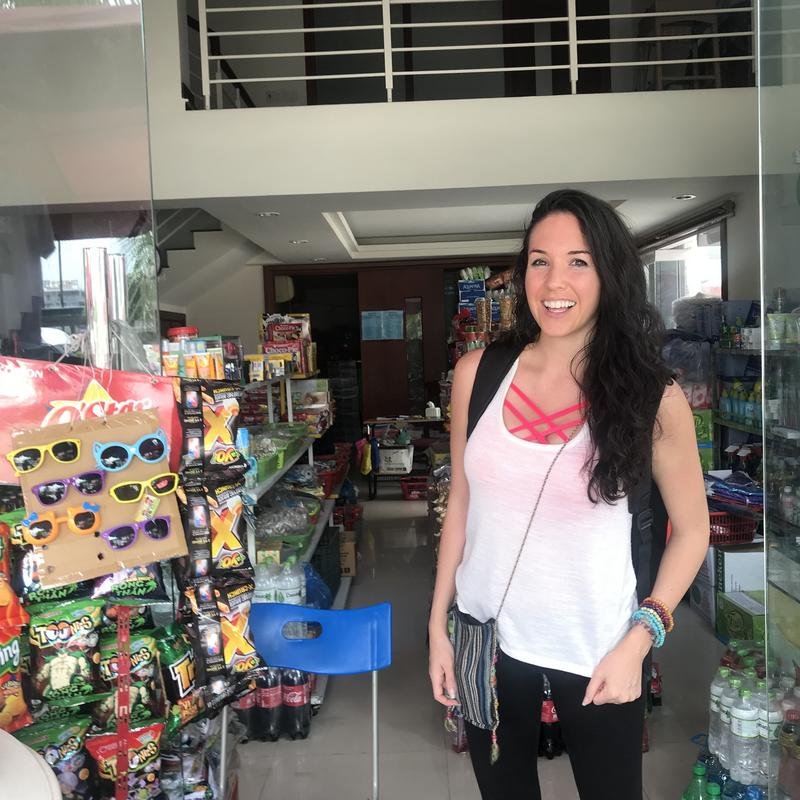 You need to walk past those as well. Or go in them, if you're curious about the ube (purple yam) flavored ice cream like I was. I behaved and didn't eat any.
On the left side, right by the water, you'll see this sign and know you're going in the right direction: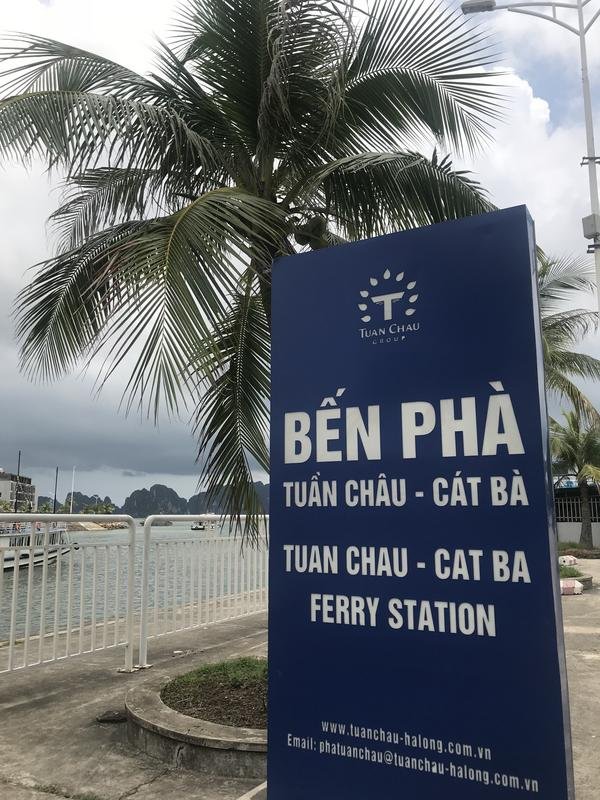 This is where you buy the ferry tickets to Cat Ba island.
Here is the ferry schedule from Tuan Chau to Cat Ba: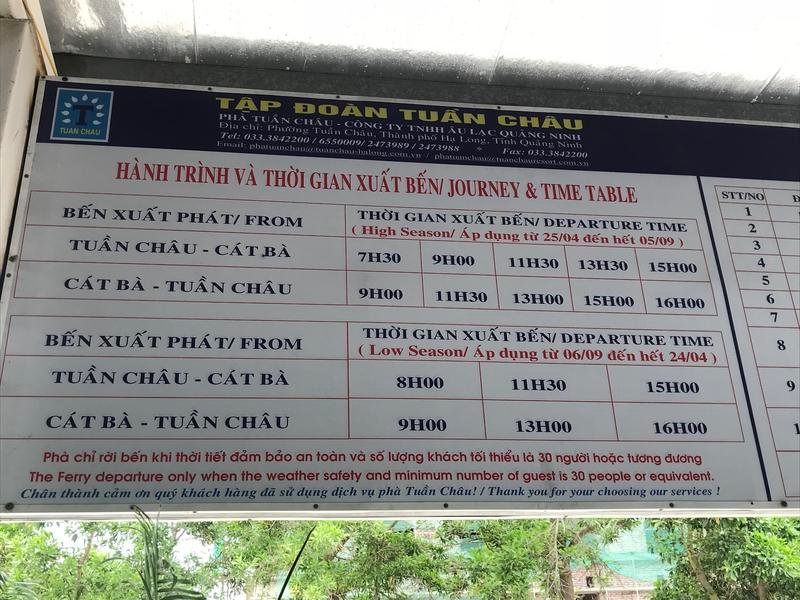 It's important to know the schedule so you don't waste a bunch of time waiting around like I did (although honestly, they must've thrown in an extra one or something because my ferry left at a time not on this schedule, so I didn't have to wait TOO long).
Here's the price list for the ferry. It costs 80k per person to take the ferry from the pier to Cat Ba as of May 2018.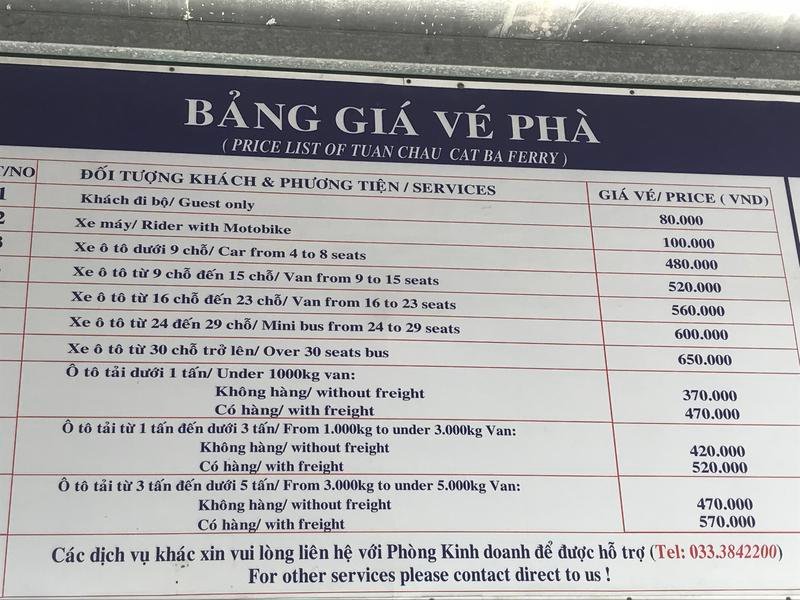 Then you just buy the tickets here: ##3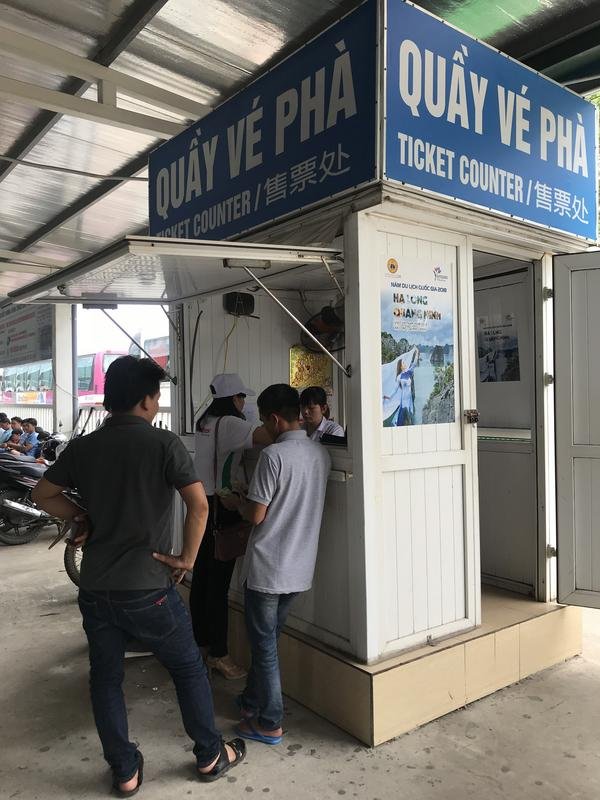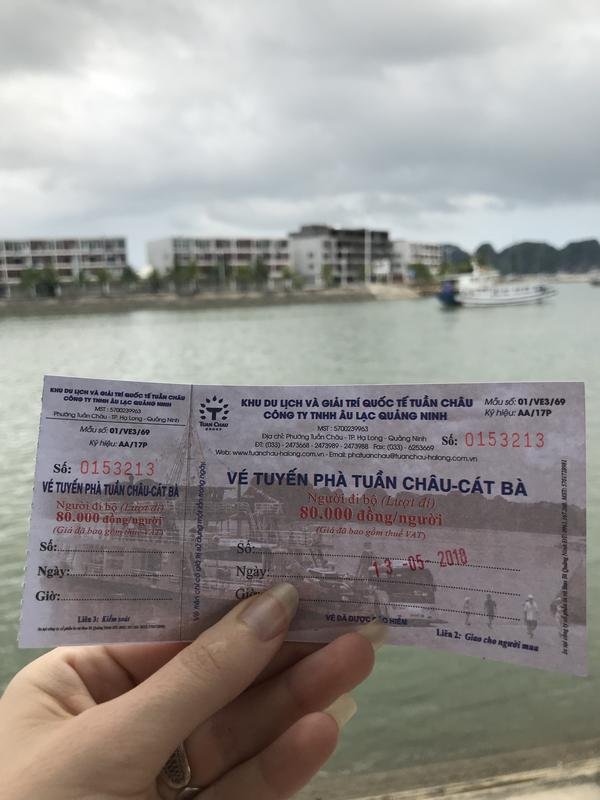 And enjoy the view while you wait to cross!
Or you can buy a rice hat if you want.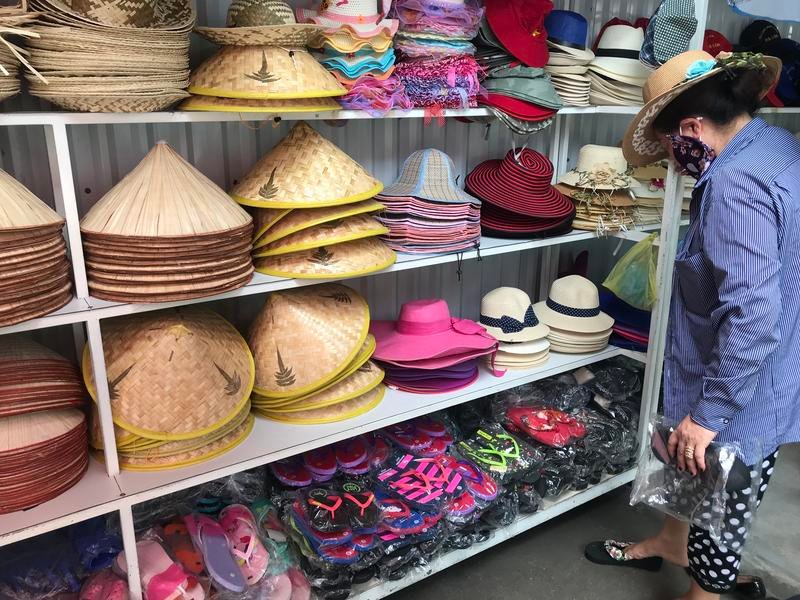 The ride over to Cat Ba island is simply beyond beautiful. Words can't describe how amazing this one hour ferry ride is.
I'd ride it just to see the bay and then turn around if that's all I had time to do!!!
I don't have THAT many pictures of it because my phone got stolen shortly after this, but thankfully I had sent some pictures and vidoes to my mom right before that because it was mother's day.
The majority of them were lost, though. Anyway, here's the view: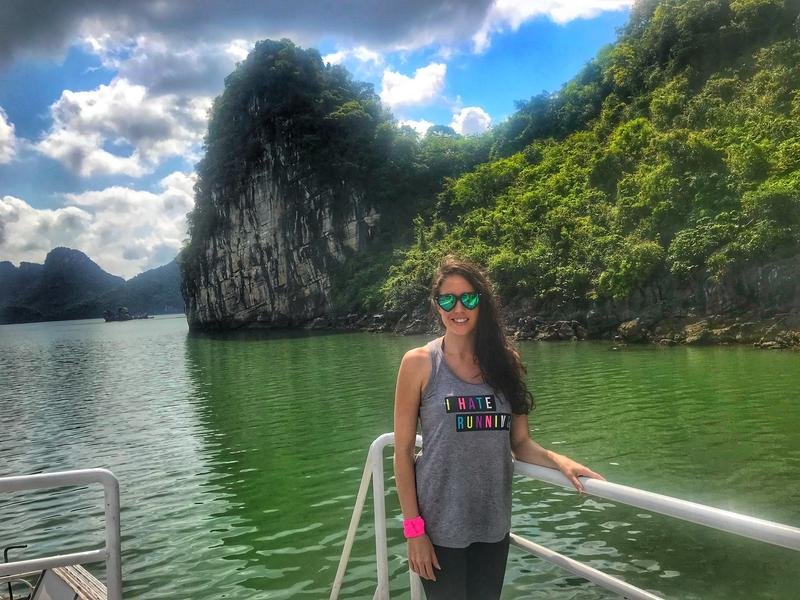 Be careful with your stuff on the ferry!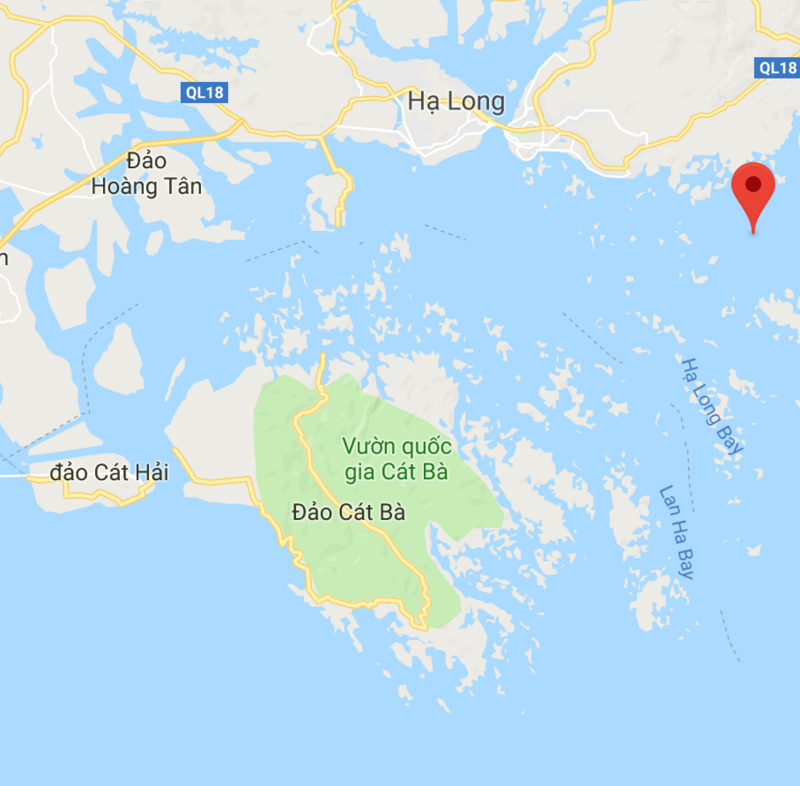 Something you REALLY need to know is this:
Once you get over there to the island, buses don't run very often!!!
You would think they'd run as often as the ferry, but nope. They definitely want you to pay for an EXPENSIVE taxi for a 25-30 minute drive down do the main part of Cat Ba where everyone stays.
It's where all the cool kids go.
I got off the ferry around 1 pm and they said there wouldn't be another bus to south Cat Ba until 4 pm!!
There is nothing to do on that part of Cat Ba, so you don't want to waste 3 hours sitting around that you could be kayaking or doing some sight-seeing.
I wish I knew the bus schedule to tell you, but there wasn't anything official. I just know it only goes several times a day.
So you have several options.
You can do what I ended up doing, which was split the 300k taxi between 3 other people that I randomly met who were in the same situation as me. It's only about a 30 minute drive to the main part of town, so that was kind of a bummer.
OR….you can do the option that I WISH I had known about , because I hands down 100x over would have picked this!!!!
There are people renting out motorbikes there very cheaply!!!!
This is an AMAZING place to drive a motorbike.
There is hardly any traffic at all!! And it's beyond BEAUTIFUL. You can take the bike to explore around the island, which would be beyond worth it!
Plus, when you're ready to go back to take the ferry again to the main land, you can just drive your motorcycle back and not have to pay for a taxi!!!!
There are so many wins with this option. So many wins.
I was too caught up worrying about the bus schedule to notice the motorbikes though until the next day, when I saw someone take their motorbike onto the ferry (they had rented it in Halong city or something).
If you don't know where to stay on Cat Ba island, this is the name of the hotel I stayed at:
Trung Hoa Hotel.
I paid $12 for one night there and the room had a private bathroom, and this was the view I had: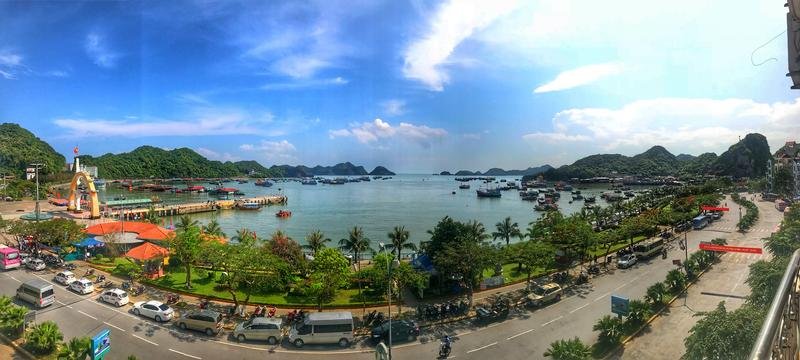 There are plenty of hotels around there if you just walk on that street. My hotel was on the main street of town and there is plenty to do there! Lots of tourist places around, a market, great places to eat, etc!
You don't have to stay where I stayed, but you can at least look it up on a map or on booking.com to get an idea of where the main part of town is where you'll most likely want to stay!
Have a great time visiting Cat Ba!
I feel like this was too informative and slightly boring to read about. Here are some hopefully less boring things if you want to give me another chance:
😅 😃
You're Sitting On Cat Pee And You Don't Even Care
The Crappiest Coffee I've Ever Had
I Was Becoming An Alcoholic (But It's Not What You Think)
What's The Strangest Thing You've Ever Eaten