If you are an old follower of mine you may have noticed I have a small fixation for posting dick related stuff. Well, I know @alexander.alexis certainly has and likes to remind me all the time! 
But, if you are a  new reader then you definitely need to check some of my old gems, like these 9 incredibly  weird animal penises, the world's largest penis, the world's largest sperm, the world's largest testicles, this post on diphallia (NSWF), this guy who purposefully put bees to sting his penis and testicles in the name of science and of course my very own dick pick! 
Following the same spirit, today I want to introduce you to a creature that I planned to post about a long time ago but never had the chance because.. I was lazy I guess! 
The creature I am talking about is scientifically described as "Urechis unicinctus" and commonly known as the fat innkeeper worm, spoonworm and of course... the penis fish. The photo below leaves no questions why people call it that way: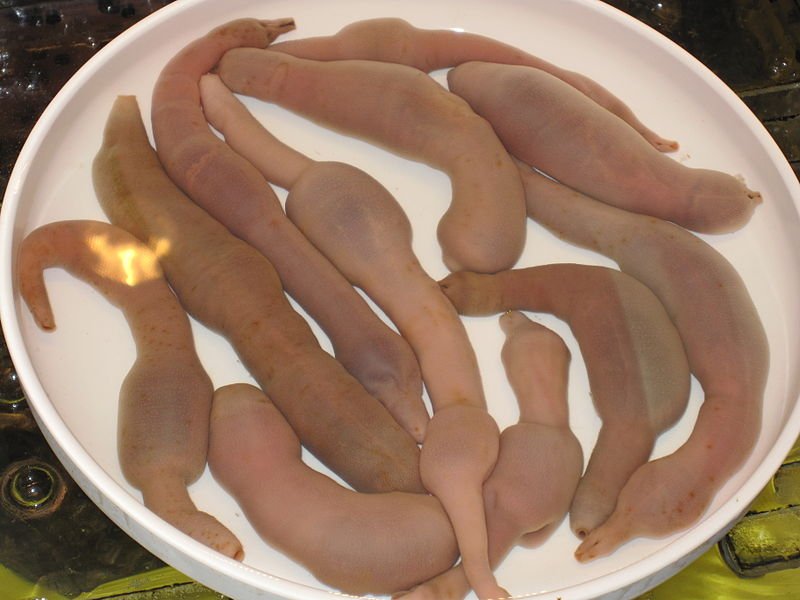 Yep, they look like a bunch of flaccid dicks! Yam!  (CC BY-SA 3.0, Credit)
Ok, now that you know why it's called a penis fish let's learn a bit more about it:
What exactly is it ? 
Although called a penis fish,  U. unicinctus is not a fish at all. It actually belongs to the class "Echiura" in the phylum annelida. Echiura is a relatively small group of animals that contains all kinds of weird looking animals, like the closely related and similarly looking Urechis caupo..
Yay! Another dick shaped animal! (credit, CC BY 2.0)
..and the sludge-like Bonellia viridis...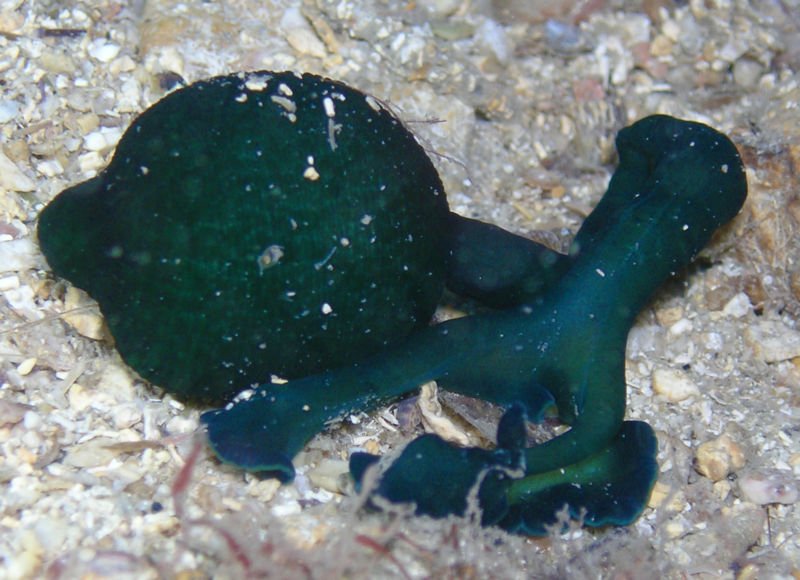 Bonellia viridis (credit, CC BY 2.5)
As a sidenote, B. viridis is a pretty interesting animal itself! It's one of the most extreme examples of sexual  dimorphism you can encounter in nature. While females are about 15 cm-long, males grow to be only  1–3 mm long! Click here to learn more if this tidbit of information intrigued you ;)
As for annelids, it's a large and very interesting phylum, with over 22,000 known species. Some of them are boring but some of them are really, really interesting. I suggest you to check wikipedia's entry on the phylum but in the meantime I will just leave this video here before getting back to U. unicinctus:
Where Can I find One?
So you want to get your hands on one of those peckers? Then you should know that this particular species inhabits the waters of China, Korea, Russia and Japan and has a preference for muddy or sandy coasts, usually found in U-shaped burrows. Furthermore, closely related, dick-looking species can be found in all of the world's major oceans so chances are there is a fish penis in a beach near you!
Here's a video to give you a better idea of how these critters look like:
And here's another cool video, from the Monterey Bay Aquarium , showing a specimen inside its burrow:
How Big Do They Get?
Big enough to put your manhood to shame! Most sources I could access say they can be anywhere from 20 to 30 cm  long. 
What's their life like?
These phallic like creatures spend most of their lives in U-shaped tunnels, occasionaly moving inside them by pumping water into waves from their anus. These burrows which are often occupied by other creatures too and it's why they are also known as  fat innkeeper worms. To our knowledge, the worms don't have any benefit from the presence of the other creatures. 
What do they eat?
Much like most annelids, the penis fish uses its proboscis to feed on detritus. I couldn't access much info on how exactly this species feeds, but here's a quote from wikipedia about the genus Urechis. I guess pretty much the same applies to U. unicinctus:
It has a short proboscis and a ring of mucus glands at the front of its body. It expands its muscular body wall to deposit a ring of mucus on the burrow wall then retreats backwards, exuding mucus as it goes and spinning a mucus net. It then draws water through the burrow by peristaltic contractions and food particles stick to the net. When this is sufficiently clogged up, the spoon worm moves forward along its burrow devouring the net and the trapped particles. This process is then repeated and in a detritus-rich area may take only a few minutes to complete. Large particles are squeezed out of the net and are eaten by other invertebrates living commensally in the burrow. These typically include a small crab, a scale worm and often a fish lurking just inside the back entrance. [source]
How Do They Reproduce?
Again, I couldn't find much info about the species specifically, but in general echiurian are dioecious, so they have separate male and female individuals, with fertilization occuring externally. 
Are They Threatened?
Although not officially evaluated by the IUCN, it appears that the wild populations of the fish penis are sharply declining in China and Japan in recent years. 
Are They Dangerous?
Nop, totally harmless! They are not toxic or poisonous and they have no teeth or something to bite you. So, if you ever see one don't hesitate to touch and caress it :D
Can I Eat One?
According to wikipedia, the penis fish is a Chinese delicacy, eaten both raw and cooked... But these people eat all kind of weird shit so I am not so sure if you'd actually want to eat one.. But yeah, they are edible! Koreans seem to like them too: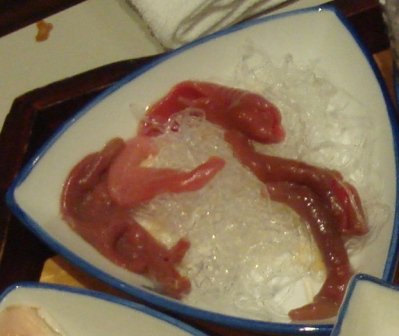 Urechis unicinctus served as hoe in a restaurant in South Korea. (credit)
The End
So, I think I have covered all the basics you need to know about the creature. Of course, there are many more technicalities I could cover (e.g. anatomy) but to be honest I don't think many people are really interested in these boring details. TO be honest, I bet most people just click the pictures and videos!  
Nevertheless, you can always click the various links provided in the post if you want to learn more the penis fish! 
Until the next post...
Steem on!