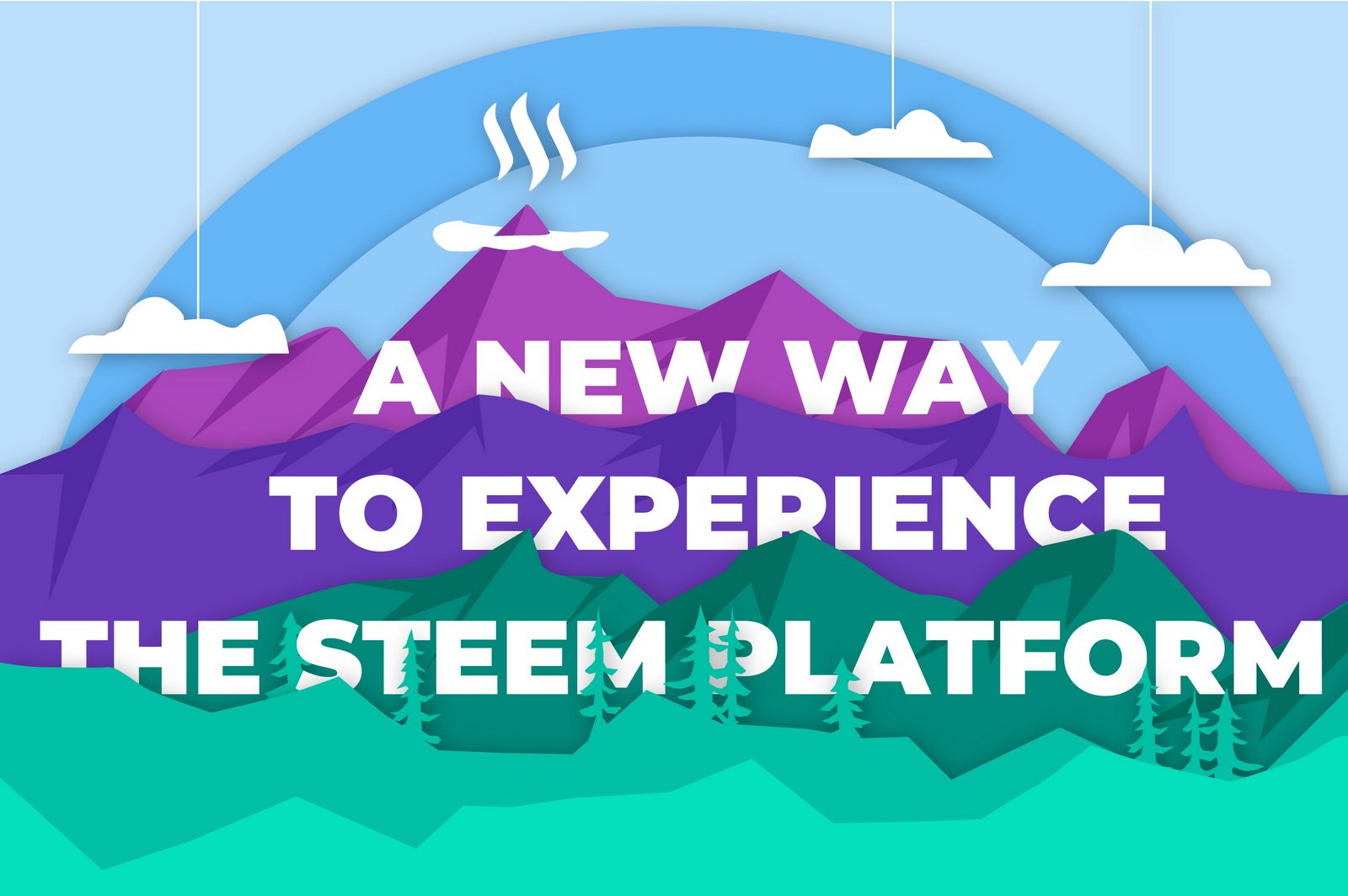 The 5 new @SteemPeak features we think you'll love. Check them out at steempeak.com.
"We want to create a platform that increases your interaction on steem while decreasing your time spent through time saving interface and functions."
NEW FEATURES
Each one of these features warrants an announcement and celebration... we quickly pumped out 5 along with plenty of small upgrades. They should all save you time and improve your experience we hope you like them.
SCHEDULING POSTS: useful to schedule your post when you are away or just to be sure to have them online exactly when you want

DRAFTS AND BOOKMARKS ORGANIZATION: to help you organize your work in progress posts and to easily find your bookmarks when you need them.

ACTIVITIES AND WALLET FILTERS: always find what you are looking for without scrolling through pages of (blockchain) events

MULTI-ACCOUNT MANAGEMENT: With the click of the button you can be in a second account. (All security is handled through SteemConnect... there is no SteemPeak login.)

NIGHT MODE [BETA]: we progressed faster than expected, the BETA version of the night mode is already available. ;)
CONTINUED IMPROVEMENT
BETTER DESIGN: improved the design and layout on various pages

PERFORMANCE IMPROVEMENTS: something we'll be keep improving with each release
COMING SOON
As always we love getting your insights as to features you'd love to see. We've proven to be quick on development even as a part time project for all of us. But here is a roadmap we created for the coming weeks: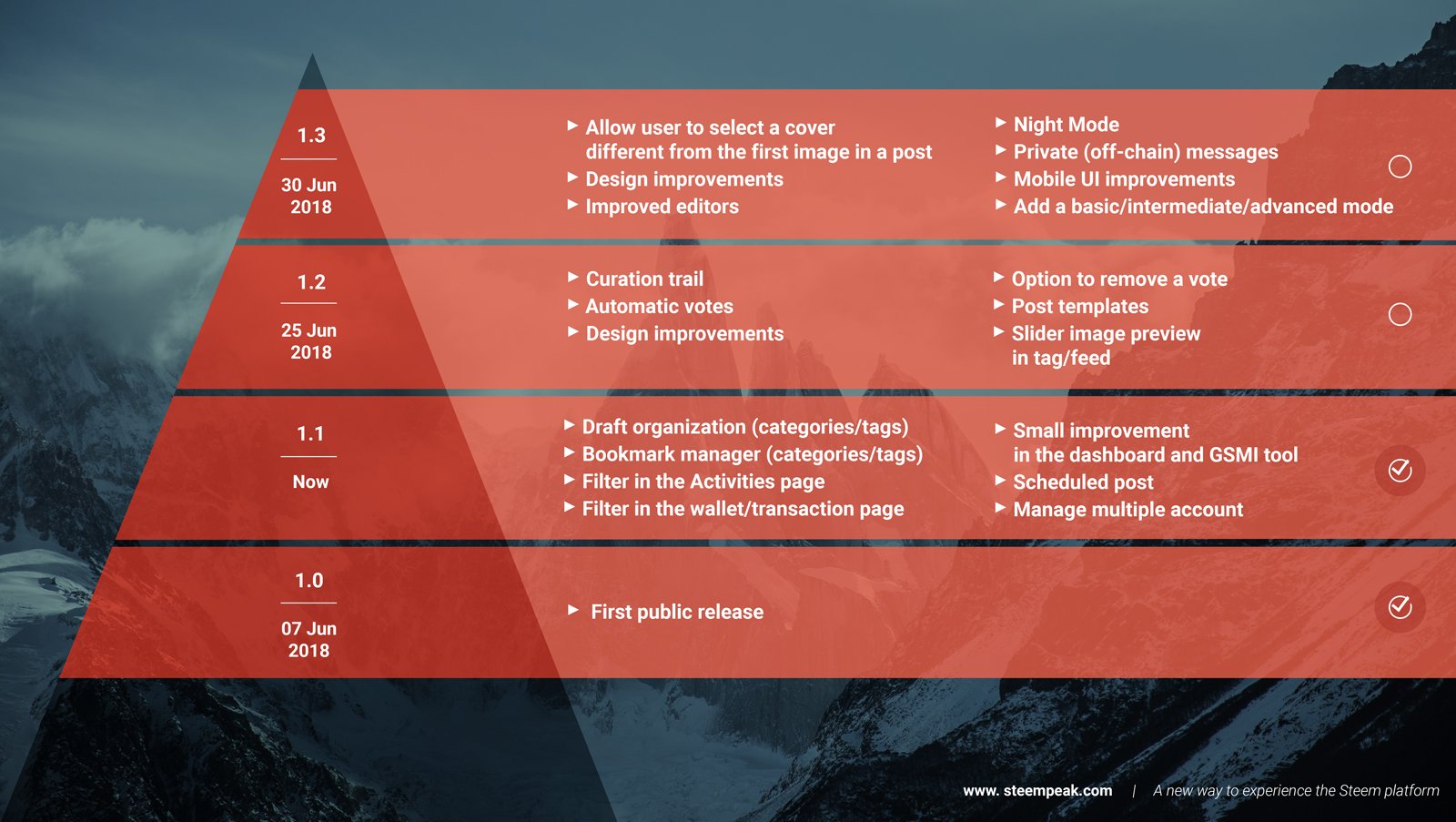 Which feature are you looking forward to the most?
THE TEAM
We're photographers who met through @photogames.
@asgarth came up with the idea and is the lead developer.
-- He's been a software developer based in Italy working on web applications and enterprise business software since 2006. He started working on SteemPeak as a personal project. He sees SteemPeak as a single entry point for the blockchain and the community around it.
@dmytrokorol is our designer
-- Runs a small but awesome graphic design studio in Ukraine since 2007.
His goal is to design SteemPeak as user-friendly as possible and make mass adoption of steem blockchain easier.
@jarvie is the PR Guy and Tester
-- Full time photographer since 2008 based in the U.S. and has experience working and commissioning new websites.
He has an interest in seeing Steem (site and currency) excel and wants SteemPeak to save him time and also be a place he can send friends.
We all come up with new tools and ideas... We're really excited about some of the ones we have planned even beyond the "Coming Soon" features. Hope you're ready to come along for the ride !!
---
We'd love to know what you think and receive your feedback in the comments or on our Discord channel.#### Header 4
---
Connect with us:
Website - https://steempeak.com
Discord - https://discord.gg/Fy3bca5
Account - @steempeak
---
The SteemPeak Team