Welcome to the 5th and last part of my Infographic Series about #Promo-Steem where I would like to cover the resources available on https://promo-steem.com/ which can help promoters in their promotional campaigns and activities. You can find the links of previous blogs in the series at the end of this post!
Promo Steem can help you in getting all the necessary resources like artworks and graphics which can use freely under fair usage policy to kickstart your promotional work, just like plug and play. Website also includes a newbie guide to Steemit and a series of videos to get any new user started as well all know, STEEM is a very messy platform at starting. You need to learn your way through to before you start generating income through content creation. Let's discuss them one by one.

Onboarding
This section under Resources Tab of https://promo-steem.com/ is quite amazing. We all know how screwed up the normal Steemit Sign up is. People do not get their OTP while signing up for the first time and also there is a wait period of 7-10 days before you get your account and password! Please remember there are ways to onboard users and get them started within a few minutes. In this section, all such techniques are mentioned so let's have a look at them:

Source:
https://promo-steem.com/onboard/
Standard Signup: It is directly through Steemit's website which you can find here. Plain simple and very easy! Use this link to get your account ready. Right now there is a 1-2 week queue and also, you need to provide your Email Address and Phone number.
Anon Steem: This website takes Litecoin or Steem as a payment to get your account anonymously. All in all it takes around 5 mins to get your account created. I have used it 2 times already to help some of my friends for account creation. This is created and managed by @someguy123.
Steem Invite: This is a brilliant way to invite someone through their email to join STEEM Blockchain. Just fill in a few simple details and you are good to go. I haven't used this yet, but I am sure many of you can use it to invite someone who wants a STEEM account. You have to own a steem account yourself to use this service.
Ambassador Signup: This service is not yet available but maybe sometime in the future. With this service, any of the current Steem Ambassador can sign up for someone else and onboard them quickly.
Now, there is another way by which you can make your steem account is directly buying through @blocktrades. It is an exchange which I am sure many of you guys use to convert your STEEM to any other crypto you like and then ultimately to fiat. I have done a review on blocktrades and explained how it works. There's also a post by @blocktrades-help on how to purchase a steem account directly from their website.
How To Promote Steem (and get paid!)
People who are reading about this for the first time, @Promo-Steem initiative was introduced to reward users doing exceptional promotion work for STEEM or Steemit. Once you make a blog post with #Promo-Steem tag, if three Steem Ambassadors upvote your post, then you will be upvoted by @steem-ambassador followed by trail upvotes. Read more about on HOW TO PROMOTE STEEMIT AND GET PAID
You can watch this video by @starkerz who is one of the co-founders of this initiative:
Plan you event campaign and get started by generating funds on the blockchain and then after organizing, blog about it to get rewarded:

Source:
https://promo-steem.com/how-to-promote-steem/
Why STEEM Rocks!
There are a few reasons given on Promo-Steem.Com on why Steem Rocks and how you can use these qualities to promote STEEM. Everything is explained in short in the below graphic which you can include into your presentations: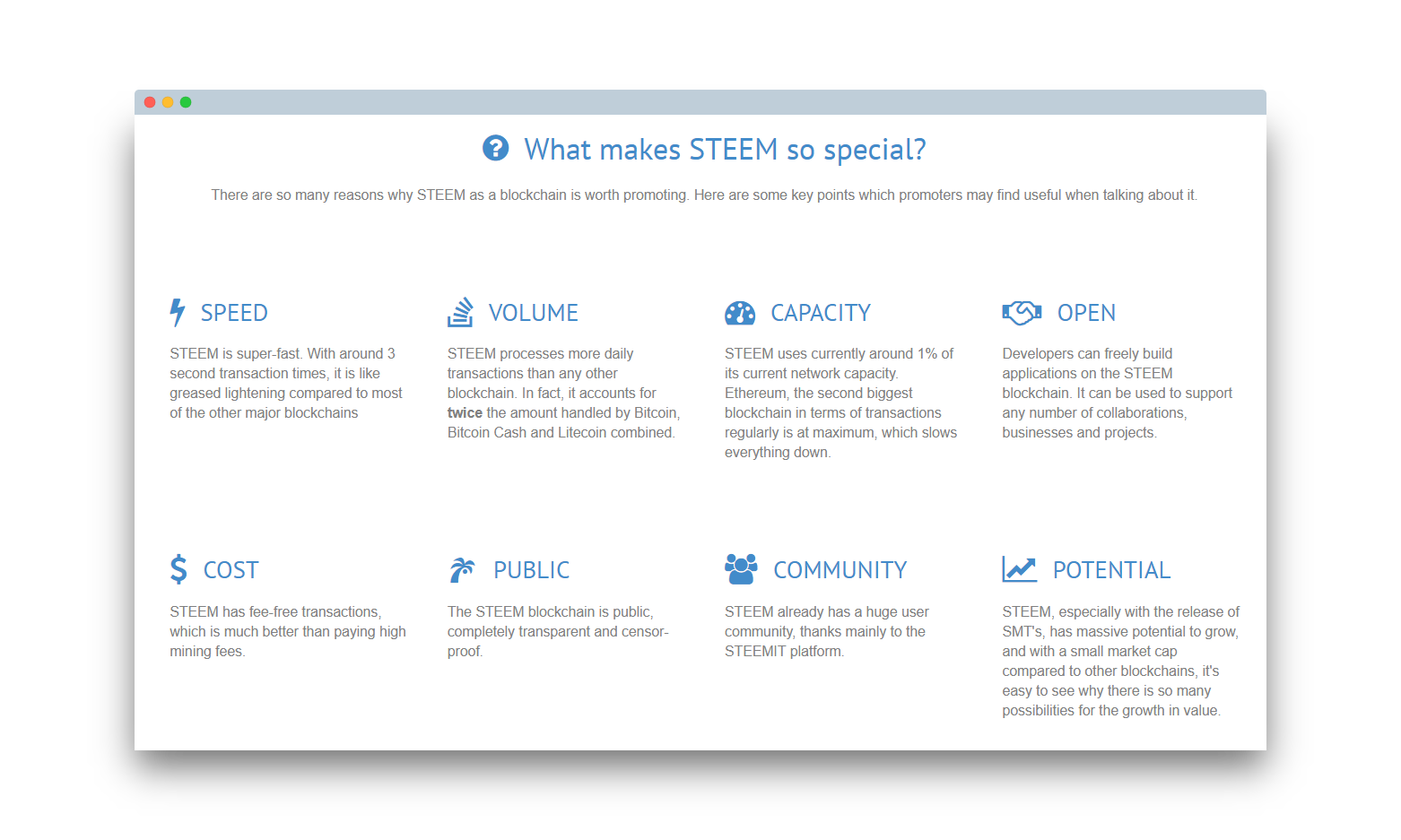 Source:
https://promo-steem.com/reasons-why-steem-rocks/
Artwork and Graphics
You can find all the necessary artwork and graphics to design your T-shirts, Pamphlets, Visiting Cards, Banners, Flyers etc. on https://promo-steem.com/artwork/ It mostly has the promo-steem logo, official steemit logo, SMT logo and Steem Logo. Please note that this artwork cannot be sold for profit or for any commercial use in any form. You can use them freely at your own discretion for any charity or social event or any promo-steem activity.

Source:
https://promo-steem.com/artwork/
Microloans
If you are a promoter who wants to have microloans to fund your current project or activity, you can pitch the idea and apply for disbursement from #Promo-Steem Team. It is interest free and you can repay once you earn through your blogs. Promoting can get costly to start with because to organize a full-fledged event, you need to have support from various teams and opt it multiple services to make it a success. Watch the below video from @starkerz and read the whole explanation of this service.
Newbies Guide To Steemit
When I started on Steemit, it was messy and I did take a good amount of time like 3 months to understand the whole platform. I was not aware about Promo Steem initiative and the resources it offers! You can access all material to get you started on Steem. And for promoters, they can use this page to help new users from their local communities and everyone else.** The below tutorial video is very informative and helps everyone to understand quickly how this platform works:**
You can also have a look at some of the other video content that is available on the website. It's amazing and very helpful for anyone who is looking for answers to the basic FAQs about the Blockchain: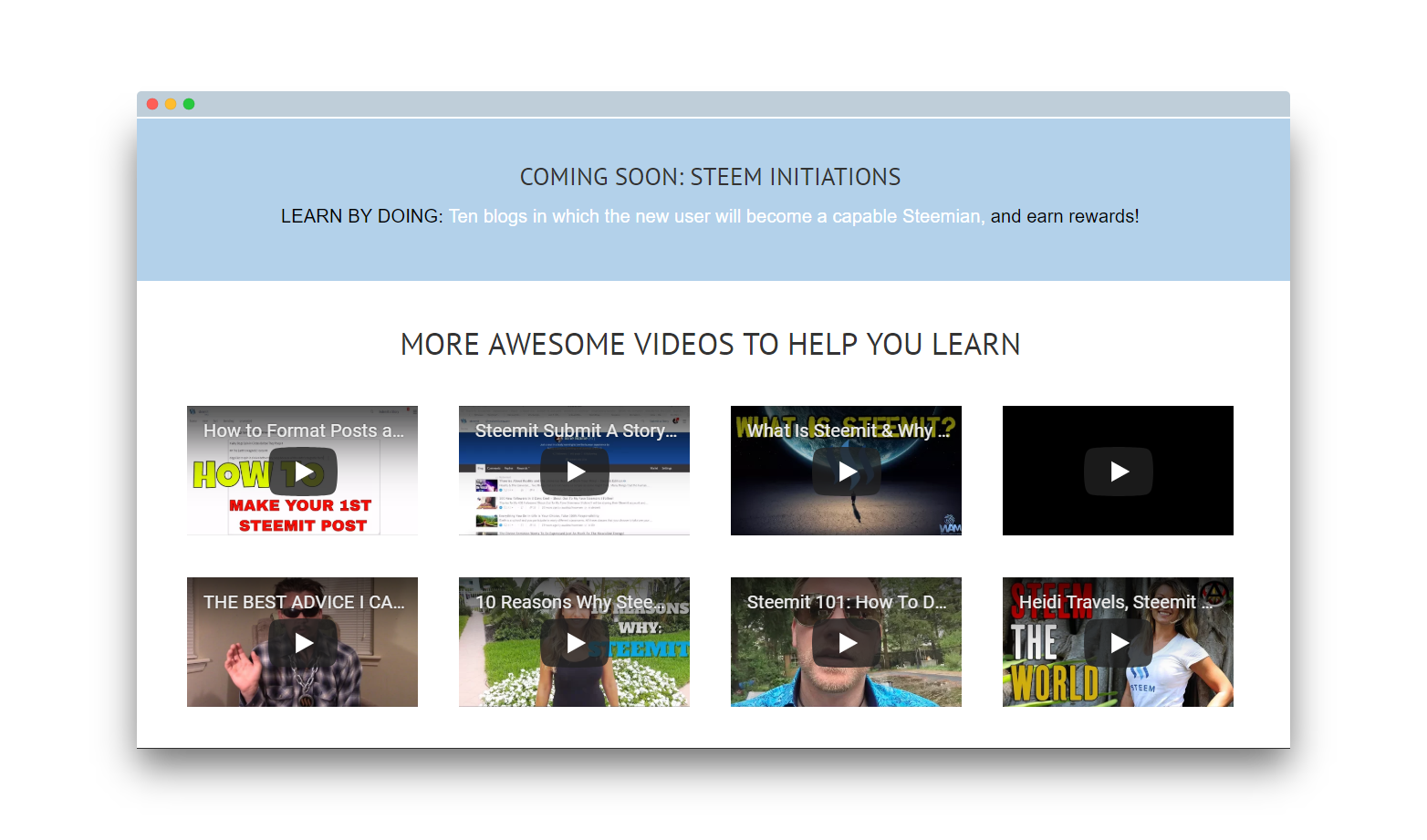 Source:
https://promo-steem.com/newbies/
Recommended Applications
Steem Blockchain is an ecosystem full of great apps that are there for different sorts of reasons and they perform certain functions which can add value to your wallet or to your content creation experience! Many of them help in curation as well. These are made by some of the seasoned developers and visionaries out there. This can help promoters to showcase the real wealth on the blockchain and side by side helping new users to interact with the blockchain in an efficient manner.
Source:
https://promo-steem.com/applications/
You can also have a look at Soliciting Power created by @roelandp which can help you look at the current projects going on the blockchain. You can even contribute to these projects through delegations and your support in any other way.
There is one more application which is used by many promoters especially in Indonesia, Malaysia and Nigeria. People use @eSteemapp created by @good-karma to access the blockchain through their mobile phones. I use eSteem Surfer which is a desktop client. It's amazing and they also curate great content posted through the app. It helps new users to get initial boost when they contribute. :)

I hope you liked the summary of resources available on #Promo-Steem website and how you can use them as a promoter or a regular user. Please let me know in the comment section below if you want #Promo-Steem to add more resources on the website or if you have any suggestions. Resteem this blog so that more people will find it! ;)
So Far In #Promo-Steem Infographic Series:
✅#Promo-Steem Infographic Series - Part #1 || What Is Promo-Steem?
✅#Promo-Steem Infographic Series - Part #2 || Advantages & Benefits
✅#Promo-Steem Infographic Series - Part #3 || Steem Ambassadors
✅#Promo-Steem Infographic Series - Part #4 || How To Contribute To #PS Initiatives