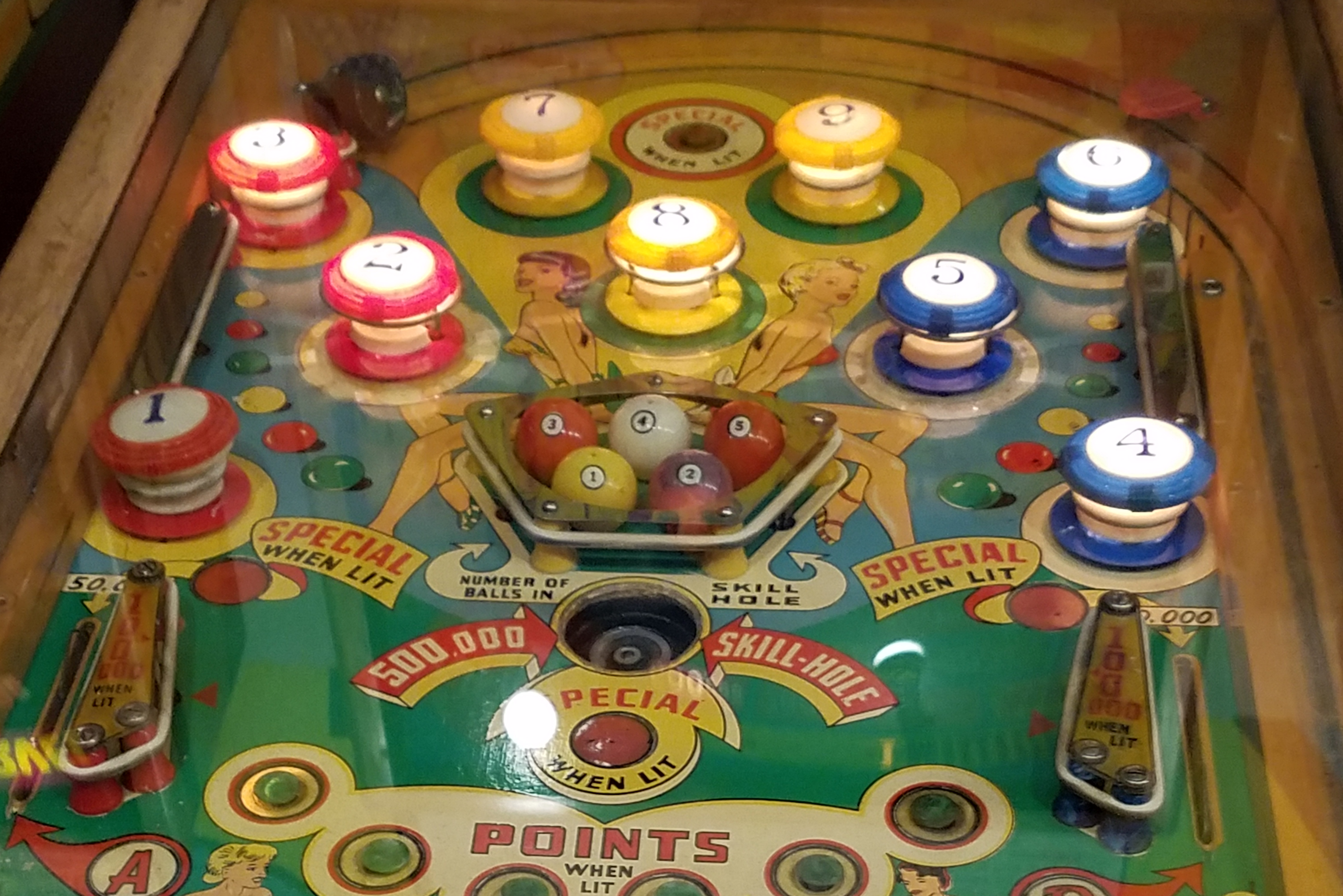 Turn off that video game for a few moments and let me tell you more about where it all began. As a pinball fan, I enjoy playing vintage games whenever I can find them. Before games were in computers, they were made mechanically. There is something so refreshingly "real" about watching the parts operate like clockwork as you play. The old 1950s pinball sets may not have offered the depth and variation of more recent games, but those wooden rails and manually-operated catapults can get the blood pumping. Here are some great pinball machines from the 1950s made by D. Gottlieb & Company, which had some of the best designs and artwork. Together, these machines exemplify how the game looked back then; they also give us a hint of what it meant to a generation of youngsters (and geezers).
Mystic Marvel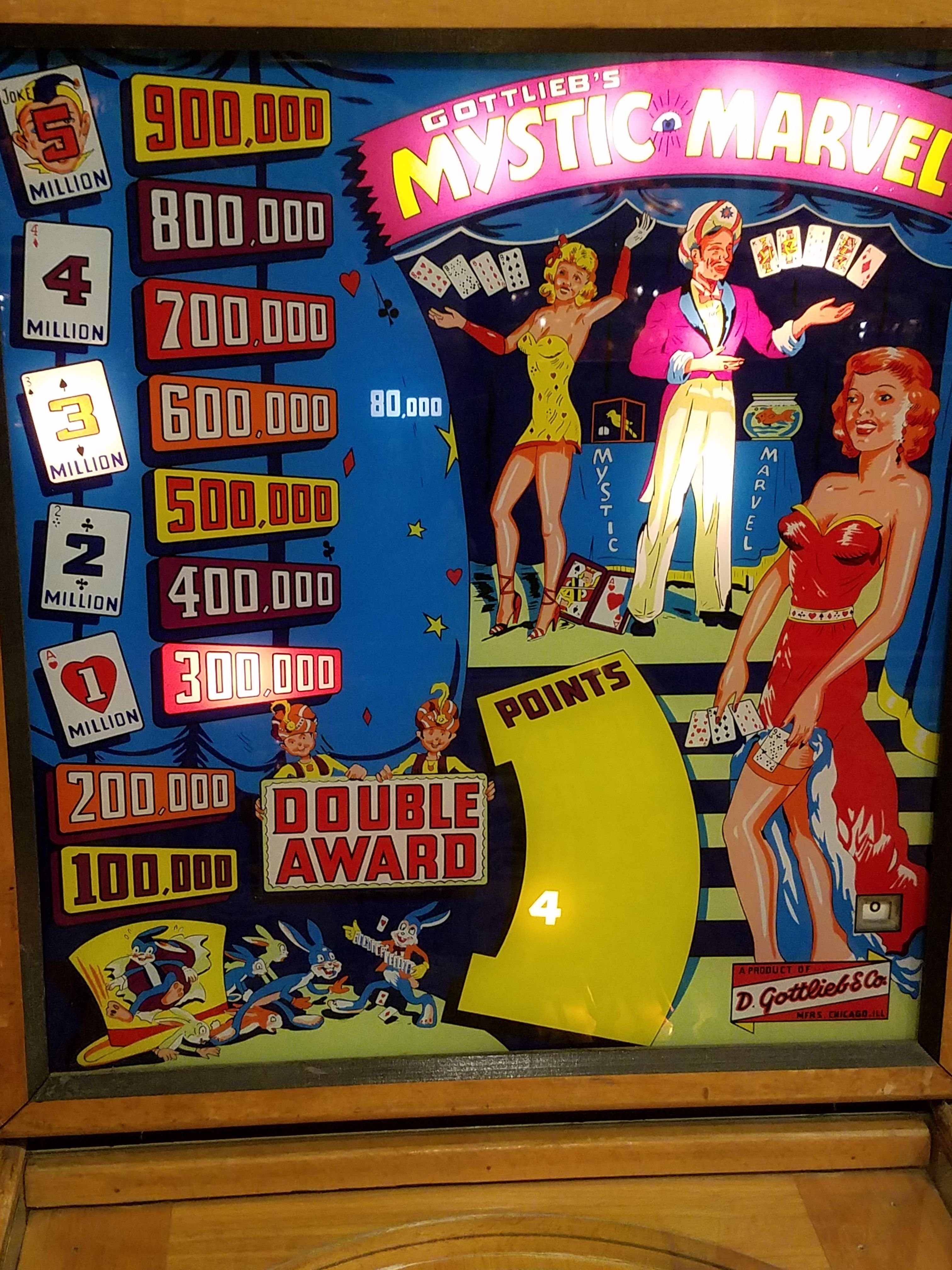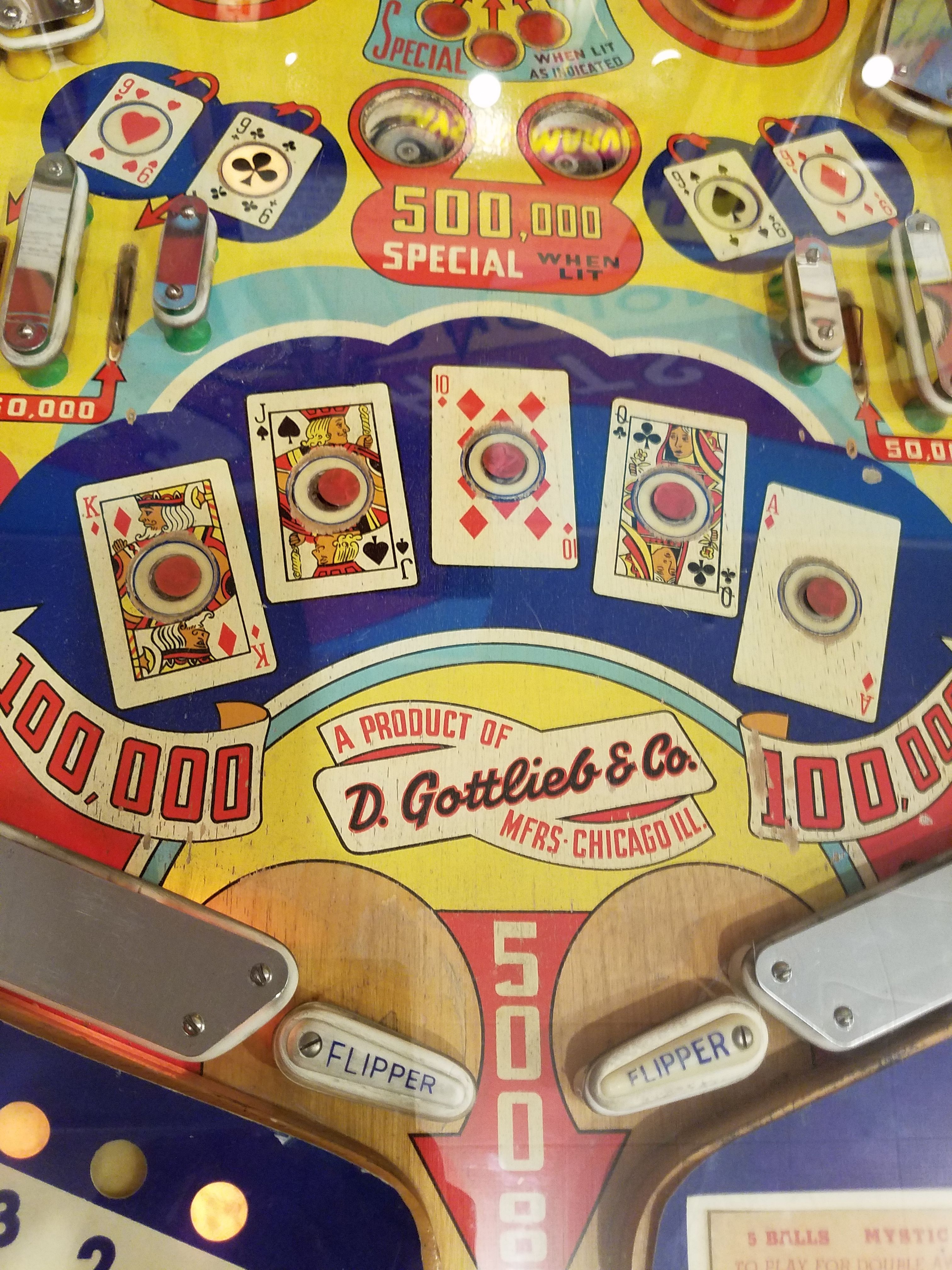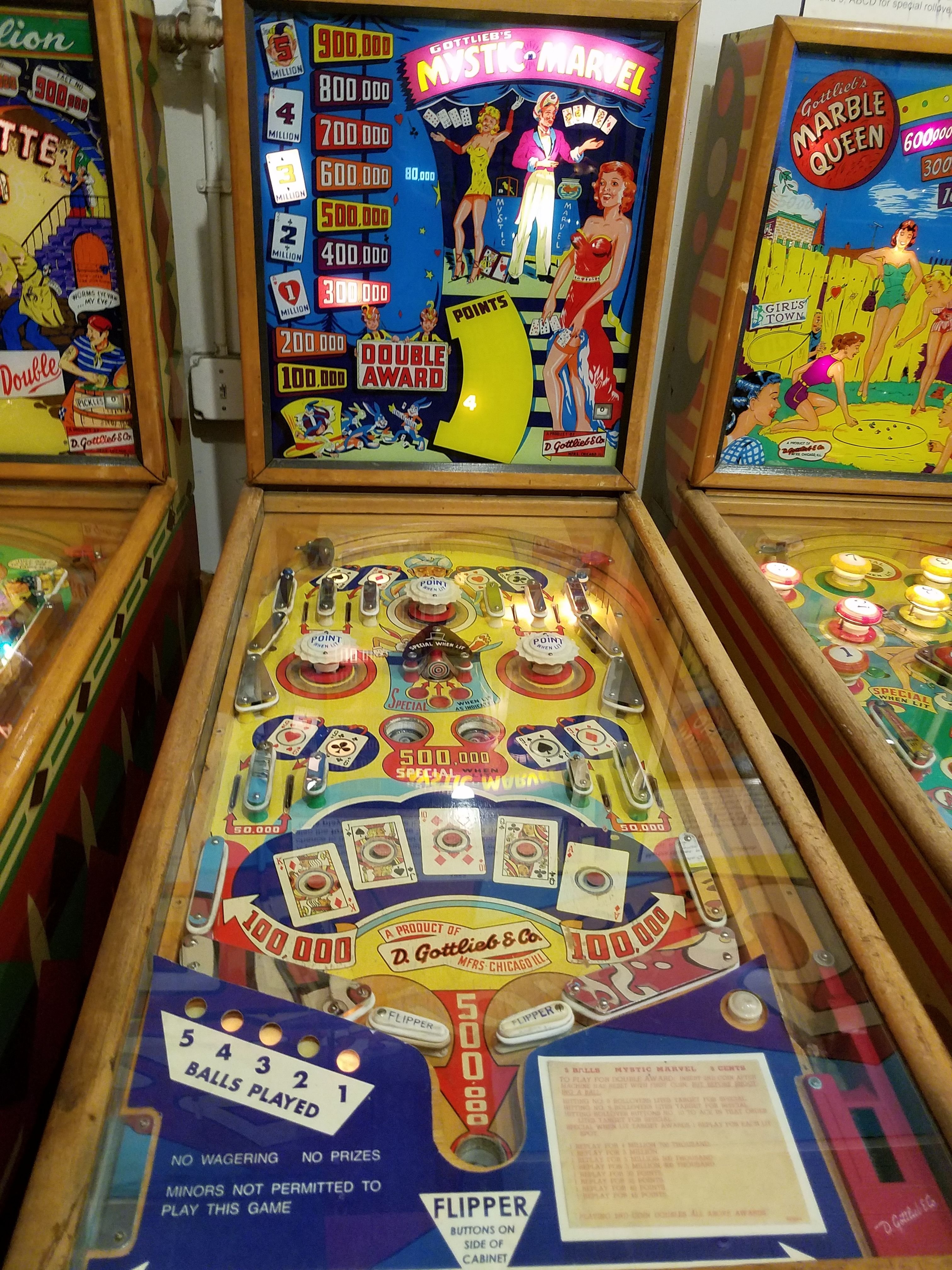 This pinball game was made by Gottlieb in 1954. The company had a history of using card-related themes. This game included a double-award option, which was rare, doubling the number of replays if you began with two quarters. The beautiful design was anchored by a target in the top center. There were card hands on three levels, beginning with the "8" and "9" sets above and the face card flush near the target. If you completed the correct sequence, then the target would activate for a potential reward. It was possible that you could get all three of these in a single game, though difficult.
Ace High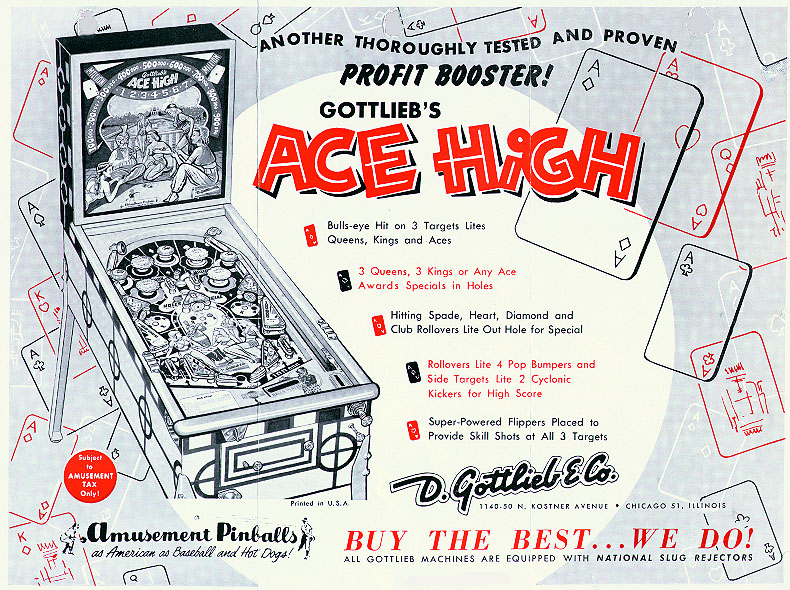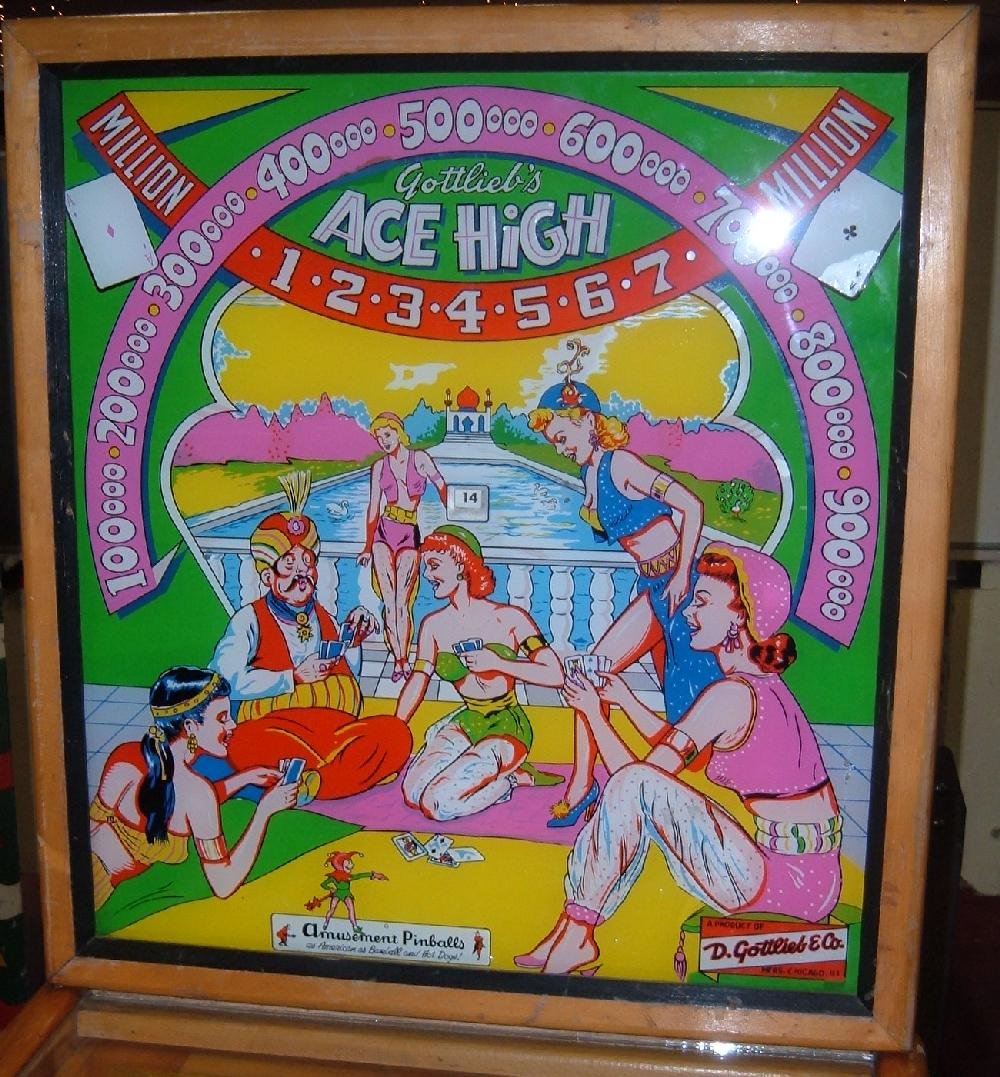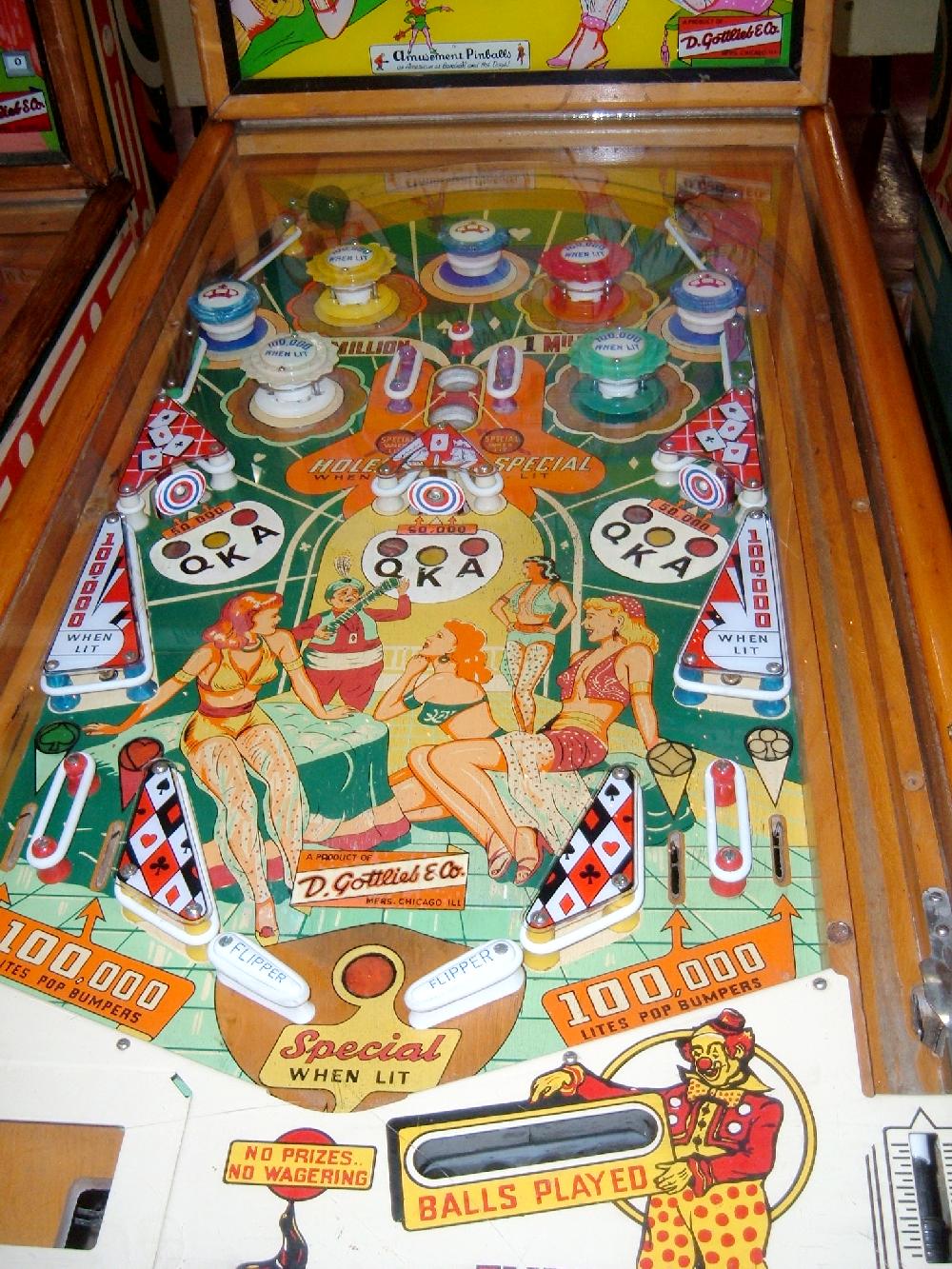 Like Mystic Marvel, this Gottlieb machine had a card theme. The name was similar to Aces High by Bally, but the two were not related (other than by theme). This 1957 game offered bulls-eye and special rewards for hitting a certain number of queens, kings, or aces. There were two gobble holes and two large side bumpers, which did not produce high bounces.
The company that made this game included its slogan on the back plate: "Amusement Pinballs. As American as Baseball and Hot Dogs." The flippers continued being operable after the game was over. This was the last pinball game to have that capability, since later machines began to turn off the flippers between games. The PSP video game Pinball Hall of Fame: Gottlieb Collection included Ace High as its sole 1950s representative.
Marble Queen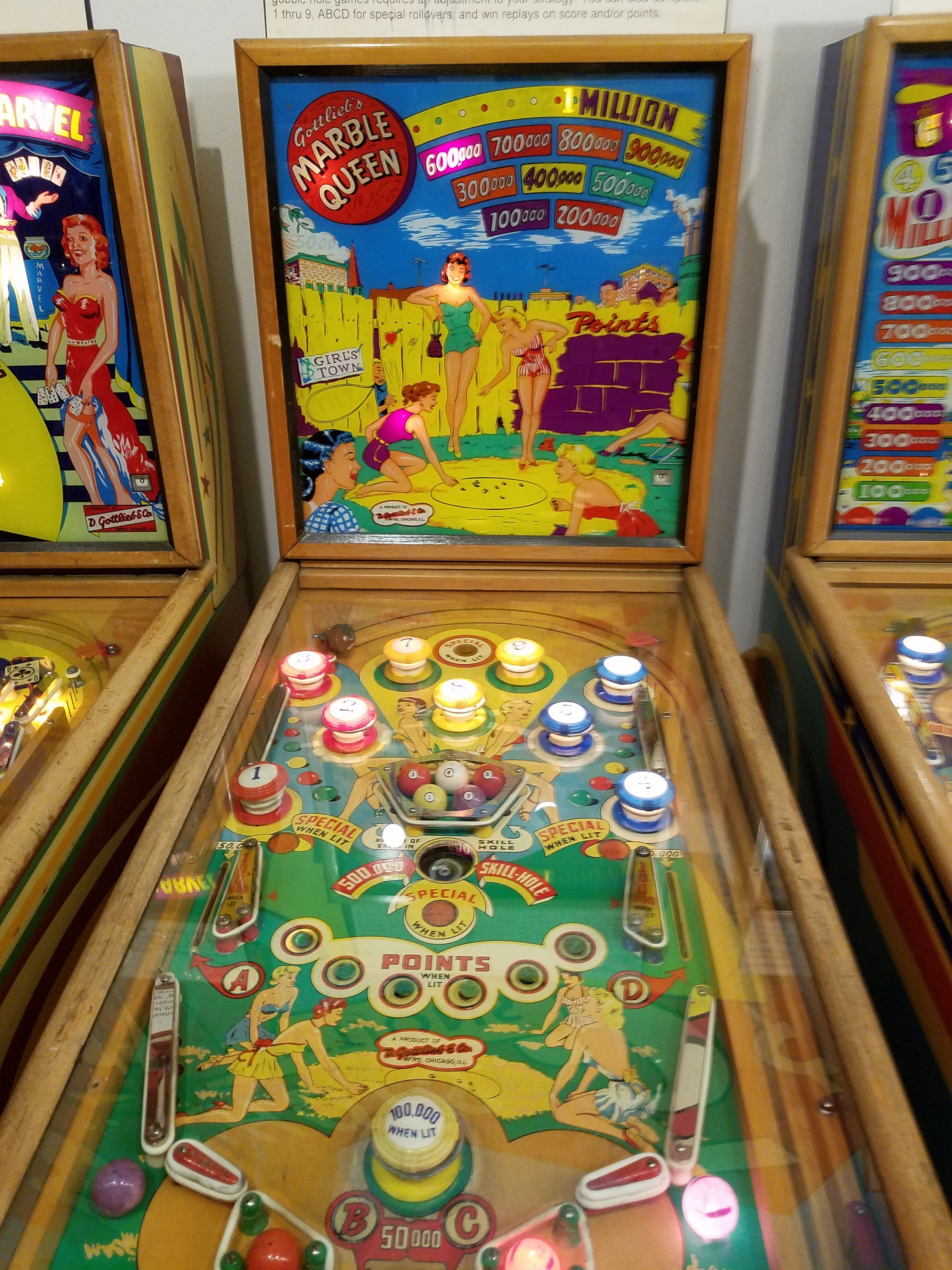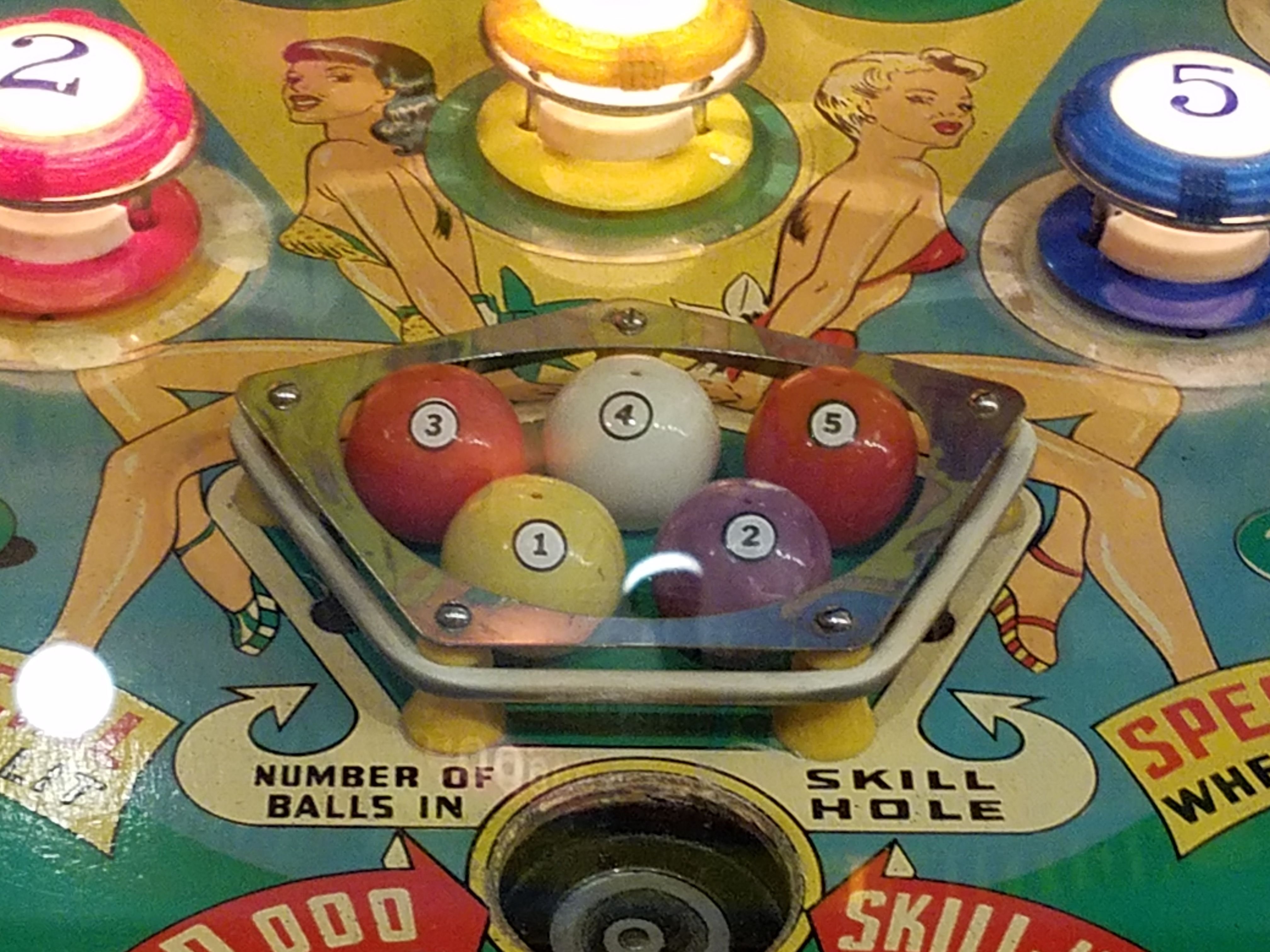 This was another creation of Gottlieb's Roy Parker. The theme was a club that featured beautiful girls in the latest 1950s swimwear (see video clip below for more on that). The centerpiece looked more like billiard balls than marbles, but the name also referred to the numbered marble bulbs that lit up. When activated, they allowed you to get the ball into the gobble hole in the middle, which spit it out again. Many top players avoided these holes because they altered the game somewhat. If you got all five balls in the gobble hole, you won a replay, and each gobbled ball lit up one of the A, B, C, D slots on the lower half of the table for more scoring opportunities.
Super Jumbo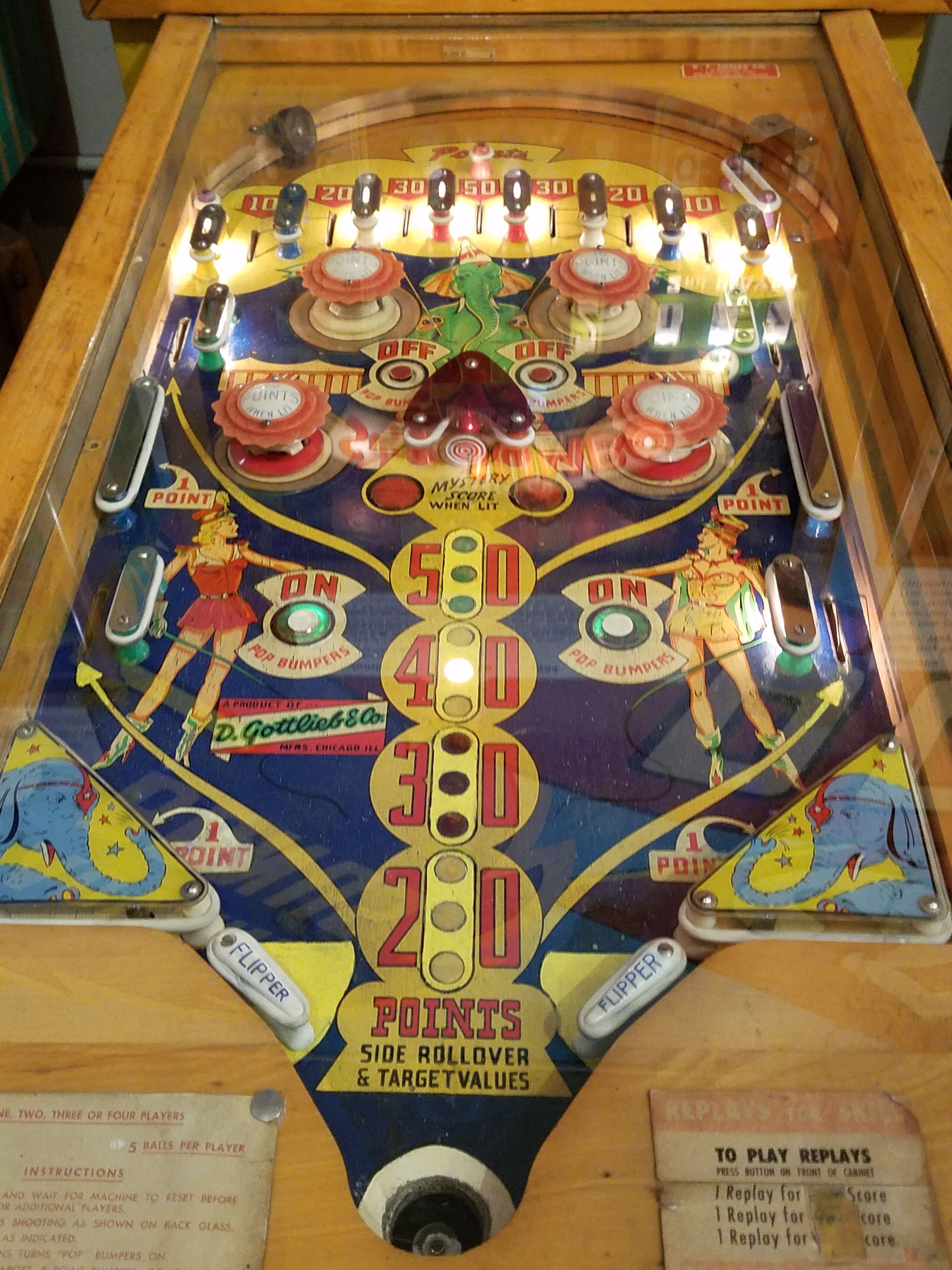 The Jumbo game featured an elephant and circus theme, named after the 19th Century star of P.T. Barnum's circus. It was one of the earliest games to have fluorescent bulbs and some scoring pieces that rotated. With the different numbered slot above, the spinning pieces, the mystery scoring target in the center, and the pop bumpers, this was an attractive design with great artwork. However, the negative space towards the bottom was cavernous enough that many balls were lost and there was less element of control with this game than others of its era.
You Can Still Play These Games!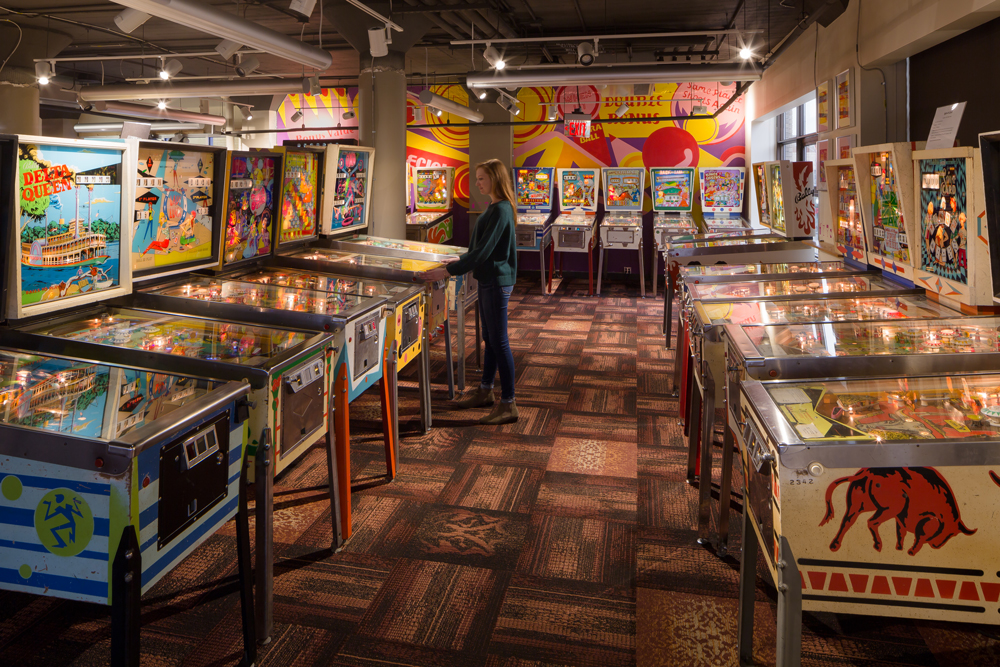 Source: Roanoke Pinball Museum.
If you love pinball (or have never played a real game and would like to try), look online to see if there are any public machines near you. Pinside.com has a list of locations around the world where you can still find a game, though the heaviest clusters by far are in the United States, Western Canada, and Northern Europe (France and the Netherlands seem especially well-represented). https://pinside.com/pinball/map/where-to-play In North America, there is another very good resource that lists public games by location: https://pinballmap.com .
When in Southern California, especially if you are driving from Los Angeles or San Diego to the Palm Springs area, definitely check out the Museum of Pinball in Banning, California. It claims to have the largest group of active games today with around 600 machines you can play. The Silverball Museum in Asbury Park, New Jersey also has a similar number of games available, though I have yet to visit that one. A number of smaller museums exist also in various locations; I can personally recommend the ones in Seattle, Alameda, and Miami, which I have tried. For a list of other pinball "museums" (where you can play a selection of different games on quarter slots or for the price of an entry ticket), please have a look at the list on this page: https://en.wikipedia.org/wiki/Pinball_museum . One of these days, I might have to order my own antique pinball machine!
References:
Silverball Museum (NJ and FL)
Miami Pinball Museum
Pacific Pinball Museum
Pinballbayarea.com
Roanoke Pinball Museum
Pinside.com (with some great info on each of the games)
https://en.wikipedia.org/wiki/Ace_High_(pinball)
http://www.ipdb.org/machine.cgi?id=1541 (which also has feature pages for each game)
Photos by the author or as credited in the text, except for Ace High photos, which are from www.pinrepair.com. Top photo by the author.