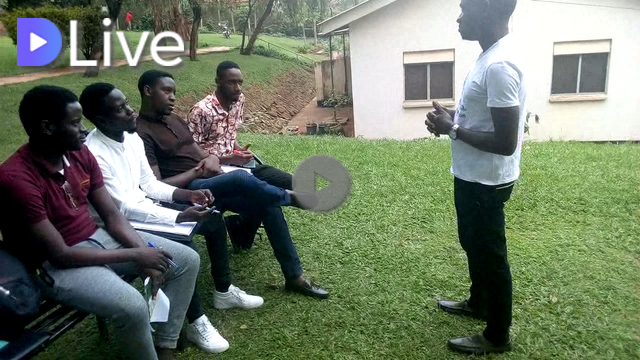 Am preparing a group of 4 students for their course work presentation. These students are pursuing a bachelor's degree in Business Administration and they are in their 1st year and second semester of their studies at Uganda Christian University. They are going to be presenting about Steemit to their entire class mates.
They so happened to call me to help them out on their assignment that they are busy working on. They are required to make a presentation of any company or business organisation that is in operation. This is an assignment that was given to them by their business communication skills lecturer and the scheduled day for their presentation is Thursday next week.
These have chosen to use Steemit as their case study courtesy of one of them @emudongramos who gave me a phone call to help his group with my knowledge about the steem ecosystem in order for them to have a quality presentation that is to fetch them some good marks from their lecturer come next week Thursday.
What an exciting and golden opportunity that has landed on me today! I had to agree whole heartedly and asked them exactly what they needed. Their class mates are going to learn about steem and its ecosystem as these are going to make a persuasive presentation to the course mates seeking to enlighten and convince them to join this amazing platform. What a great and creative way to promote steem.
The lecturer needs their presentation/speech to either be informative or persuasive. Of these two these have chosen to do a persuasive presentation. Am guiding them through in order for them to have this fulfilled perfectly. I believe many will desire to create steem accounts after their session.
These told me that they need the presentation to be arranged in a format of
Introduction (background information)
A brief talk about cryptocurrency, Blockchain technology, the different Dapps on the steem blockchain.
Importance or Benefits of Steemit as opposed to other social media platforms.
How to earn on Steemit
Conclusion
Am organisation a power point presentation of all the above listed topics.
Am so privileged to be going to mentor and prepare these guys for their presentation. I did a Bachelor's degree in Business Administration and majored in Marketing. With the experience and passion I have about marketing which involves making quality presentations for selling a product or idea to your target customers.
3 of these students are not yet on Steemit. I will be helping them create their steem accounts tomorrow. One of them @emudongramos is a newbie on Steemit who I introduced to steem 3 weeks ago.
I will be helping these with my 5 t-shirts that is 3 steemit t-shirts and 2 dlive t-shirts for their presentation on Thursday next week.
This video was taken by @jordanlove
My video is at DLive