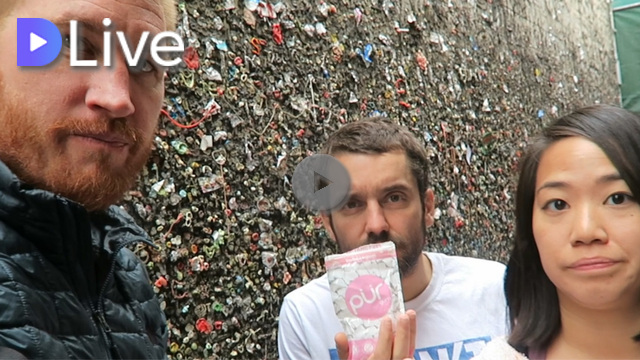 This alley is an icon of the United States on par with the Statue Of Liberty and The White House.
Who never heard of The Bubblegum Alley of San Luis Obispo? Unless you're from the region or just like us, searched tripadvisory.com for fun stuff to do while visiting San Luis Obispo, the chances are slim you've ever heard of it. Yet it's still somewhat famous!
According to the San Luis Obispo Chamber of Commerce and Downtown Business Improvement Association (BIA), the origin of the gum is "a little sketchy". Some historians believe that the tradition of the alley started after WWII as a San Luis Obispo High School graduating class event.
Others believe it started in the late 1950s, as rivalry between San Luis Obispo High School and California Polytechnic State University (Cal Poly) students. By the 1970s, Bubblegum Alley was well established. When shop owners complained that it was "unsanitary and disgusting", the alley underwent a full cleaning. The gum graffiti survived two full cleanings in the 1970s. In 1996, the BIA unsuccessfully attempted to have another alley cleaning.
Throughout the years, San Luis Obispo's Bubblegum Alley has been featured on a number of television shows, news programs, and in newspapers around the world. Newspapers such as the New York Times and the Los Angeles Times have addressed the disgusts and delights of the gum wall visitors. Other newspaper articles have appeared in the San Francisco Chronicle, the Grand Rapids Press in Michigan, the Times Union from Albany, New York, and The Guardian in the United Kingdom. KSBY Action 6 News did a story about the alleyway.
Join @karensuestudios, @acromott and I on our Gonzo adventure to Bubblegum Alley!
P.S. I avoid aspartame and all artificial "sugars".
My Best Post
Some Of My Previous Posts
---
Understanding Steem
---
Chats
---
50% of the profit of this post will go to @karensuestudios!
Thank @skyleap for this awesome gif!
My video is at DLive