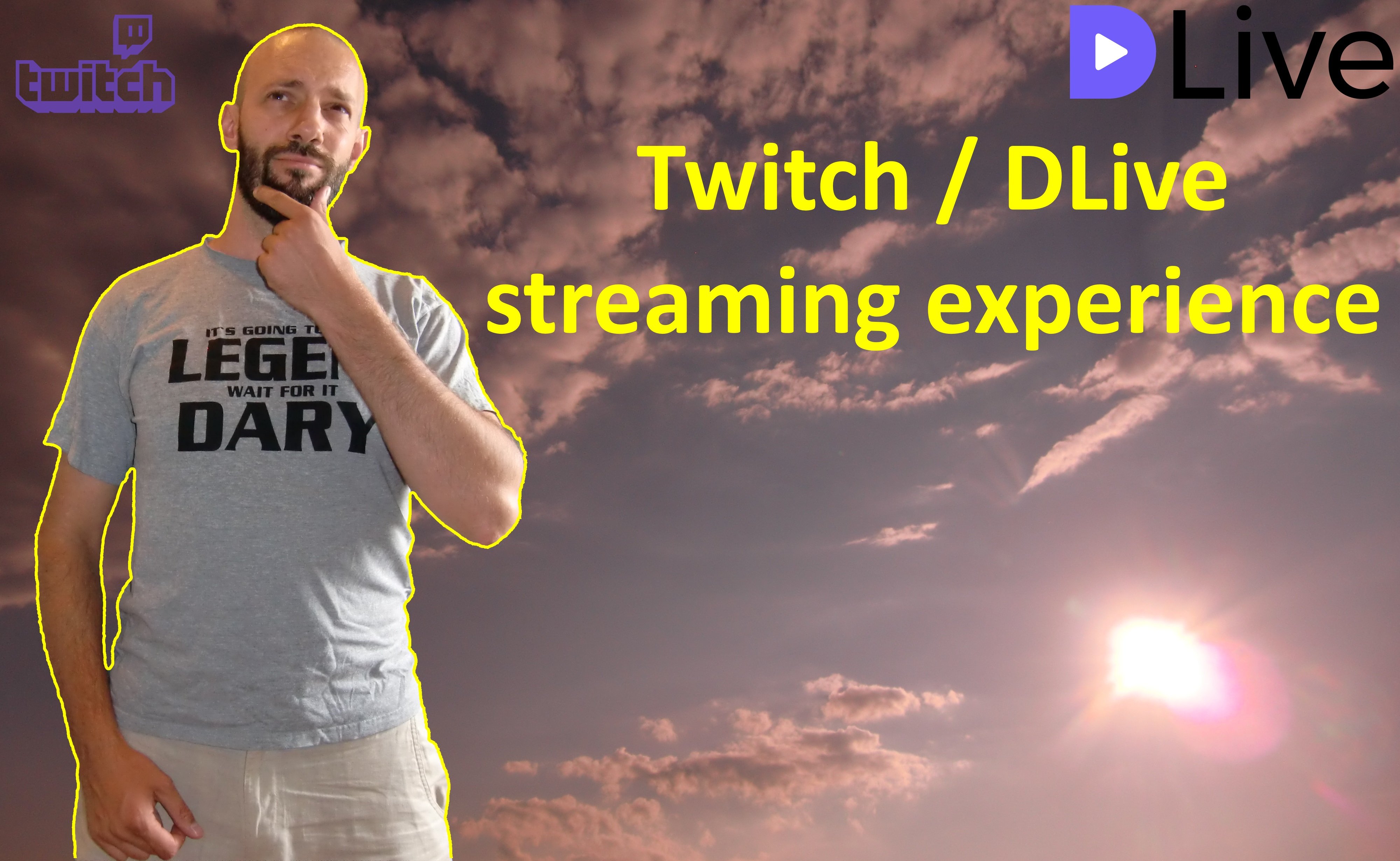 It has been a long time since I really wrote an article. I only had time for short photo posts and gaming live streams without much content besides the article's respective media. Or should I say, I made time, due to personal life and priorities?
Interim balance 📈
By the way, I reached 700 followers! Thanks to everybody who is with me on this incredible journey.
| Date | Reputation | Followers | Following | Posts | Comments |
| --- | --- | --- | --- | --- | --- |
| 20.04.2018 | 49.406 | 277 | 343 | 29 | 170 |
| 10.07.2018 | 59.967 | 701 | 621 | 104 | 362 |
When I reached 500 followers almost two months ago, I thought the next big milestone would be 1000, but it really feels harder and harder to keep up the growth. There could be several explanations for that.
Those are stories for another day, though. Today I'll tell you about...
My experience live streaming computer games 🎮 🎬 🏆
I tried streaming on the now leading platform Twitch years ago. By "trying" I mean just doing it as a tech nerd to see how easy it was possible from a technical standpoint. It was something new, being able to basically share your screen with viewers around the world while playing. It was back when I played DotA 2. Of course, even though that was not my main goal, I also took pride in my gaming skills and wanted to showcase that. But I was and still am no entertainer. I'm more the calm, collected, professional player who focusses on winning. Turning off emotions during competitive Counter-Strike or DotA matches was essential for success in my opinion. You could feel happy/sad about a victory/loss afterwards, but while playing it was just a distraction. I needed to use every part of my brain that I could for the complex tasks the game required of me, without emotions distracting me, making me miss a shot or react a few milliseconds slower. This ability helped me a lot in my gaming career. Being able to recognize mistakes, be it your own or others', without feeling your ego being hurt is also an attribute (or learnable skill) not many people have. If you do, or you are willing to learn it, that sets you apart from the masses already and can give you the opportunity to accomplish great things in any aspect of life. After recognizing mistakes, you have to systematically work to improve upon them.
Sorry, I'm drifting off topic, that's also a story for another day.
Here's the reality of my DLive / Twitch experience 🌵 💤
I wish I could just turn on my stream and, from one second to the other, there would be thousands of people watching, being entertained by the mere display of skill I present. That I wouldn't need to do any work promoting my stream, building a follower base or improving any skills outside of gaming. Of course, that was an unrealistic expectation, as I had to find out.
In reality, it feels like nobody is watching most of the time. That's why I didn't pursue it any further years ago on Twitch - it was just too unsure. It needed too much time investment without any guarantee that I would get paid anything in return.
With DLive it's kinda similar, with the difference that the viewer count is not zero there. I don't believe the number is accurate and represents the actual number of people watching, but only @dlive knows for sure, I guess.
Also, every once in a while there is at least a small, negligible compensation in form of an upvote from DLive itself (depending on the curators' mood, time or whatever intransparent algorithm), but at least it's something. It was enough to make me want to improve my stream again and again. But still, I feel undervalued and not compensated enough.
The main problem I see is the low viewer numbers on the platform overall. If it becomes more mainstream, there will be more people to interact and engage with during the stream. Another way would be to bring your own follower base from other platforms over to DLive. If you have the opportunity to do that and you're a big fish already on Twitch, Youtube, Twitter, Instagram or wherever, you can bring the numbers to justify big upvotes from DLive itself. The platform needs more viewers, that's no secret. Also, the recent Refer a friend campaigns showed that DLive is willing to invest something in order to increase their user or viewer base.
I never was a social media guy and even have very few Facebook friends and don't have that advantage like some other streamers do. So I started on Steemit/DLive with a clean slate, from the beginning. I'm even still not sure if I wanna call myself a streamer.
My problem or should I say challenge now is to...
Find the right niche
There already is a very famous player and streamer who addresses a similar audience. The difference is only that he does everything better than me. He's more entertaining, more well-spoken, has by far the better credentials and accomplishments (in different games than me, but still), has a big fanbase and following all around the world, he has an adorable dog, the list could go on and on.
I'm talking about the famous Warcraft 3 and Starcraft 2 player Grubby.
He just happens to play Heroes of the Storm since Alpha, I believe and is the game's most successful streamer for a while now. So it makes no sense trying to get a piece of the already quite small cake there since Heroes of the Storm is not popular enough to even be in the Twitch top 10 by viewer count (maybe on a good day).
With Hearthstone, another game that I play, it's something different. It's still very popular, but also so easy to stream that everyone, their mother and their dog is doing it. Big competition, little chance to be seen or make the breakthrough.
I don't want to come across as complaining or negative, I just see things how they are.
Only if you can see and accept reality, you can work on yourself and your environment to change it.
@spreadfire1
@spreadfire1, the Blockchain's lesser Grubby 😎 😅
The only thing that could make me stand out is a new platform like DLive. I could try to be DLive's very own Grubby 2.0...or 0.9? As the analytical, positive, helpful player and person that I am, trying to help people get better at a game or other aspects of life and having fun while doing it.
Special offer: Carry/Coaching 💪 🎓
In an effort to get more viewers*, engage with the audience more, and to make my stream feel more alive, I already offered my services to players of any skill or experience before. There was no reception at all, so I'm trying it again here:
If YOU are playing Heroes of the Storm on the US or EU Server and you would like to get carried - let me know in the chat or comments and we can play together.
I'm up for anything from fun quickmatch action to serious ranked team league matches or professional, personal coaching.
Follow me to see when I go live and just hit me up in the chat!
*(and also I sometimes just want to give something without taking, doing my part to help DLive and the Steem blockchain grow, like with my tutorials)
Whale spotted?! 🐳
Rather the other way round, he must have spotted me somehow and found my content worthy of full 100% upvotes in two consecutive streams! During the stream, at first, I didn't even realize the upvote's value. I just saw the notification about a 100% upvote and casually said thanks. When I later realized it, I was so hyped! Did that mean, I was on the right track? Was finally somebody else deeming my content good enough and worthy of these upvotes, like I myself thought all along?
That was one shimmer of hope, thanks again to @thejohalfiles. This time I don't just mean a casual thanks, but thank you very much from the bottom of my heart! Not only for the monetary/Steem value of your votes, but also for the psychological boost they gave me.
I already started calculating if, in case I received an upvote this big every day, it would be enough for me to stream full time. Considering it an investment in the future with my account's Steem power growing from author rewards and assuming that the Steem price would rise, the answer was yes.
But of course, I cannot rely on that. I also don't want to get paid only by the mercies of some big players like @dlive. That would be almost like having a job and a boss. ;-)
My whole dream and vision when I joined Steem was to do what I love and to get rewarded for it adequately. And, on top of that, to maybe get enough passive income one day to be able to do nothing, travel the world or whatever I desired.
Investments needed 🕘 💵
On top of the huge amount of time you have to spend every day streaming, preparing the stream, researching and improving, there's monetary investment required.
To list a few things that come to my mind:
Camera
Graphics card / dedicated streaming capture card
Headset / Microphone
Green screen
Professional studio lights
Electricity, ISP, cost of living, ...
You could spend hundreds and thousands of Dollars/Euros/... on stuff like that...and to become really successful, I'd say you have to. I already started getting some equipment and will continue to do so, cause I'm still a tech nerd, curious to try things out and in this case I also see the potential of getting at least a little of my investments returned.
With the uncertainty of getting anything in return for these investments, live streaming is only for the rich or for people prepared to take high risks.
To see the positive side of that: it thins out the competition.
Thanks for reading!
What do you think about the topic? Do you agree or disagree with my standpoints? Let me know in the comments below, let's discuss!
---
Help me out using these referral links
busy.org - the largest and most feature-rich alternative to Steemit
Get more followers with SteemEngine

My videos and live streams
Follow me to stay up to date!
---
Related articles: