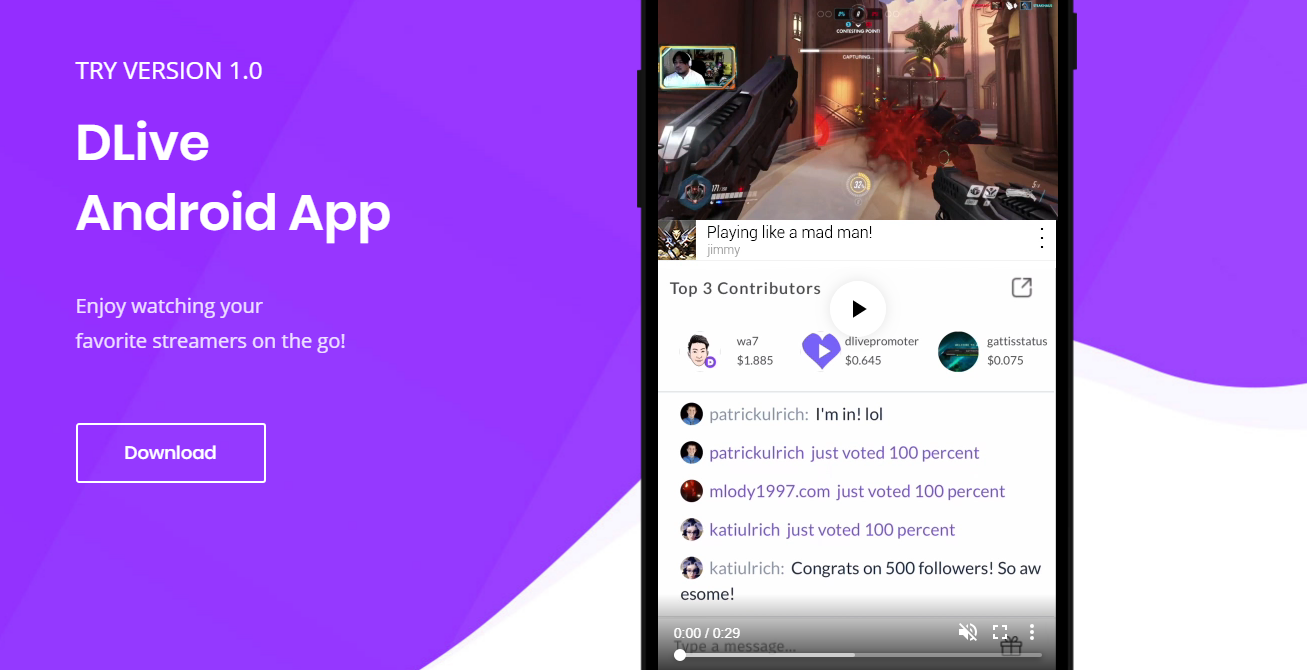 Helping Spread The News
I'm back at it again this morning trying to help people learn about yesterday's announcement concerning the @dlive Android app. This morning I'm hoping to spread the news to some media sites to gather as much coverage on the launch as possible. Not only will this help @dlive but should also help Steem in general as new users come towards the platform for all of the right reasons.
To spread the attention I've been submitting a letter, similar to the following, to each tech and Android based blog that I follow or know about:
Good morning,

I wanted to share about a new app that was released for Google Play that may interest your readership due to recent hype cycles. DLive, a blockchain (think Bitcoin if you're not familiar) based content delivery platform, has released an Android app (before releasing an iOS version) that allows viewers to stay connected to their favorite streams on the go.

I could easily go into many deeper details on DLive, also the Steem blockchain that it's built on, but will let you dig deeper for yourself. It's essentially a way to monetize content by enlisting the crowd intelligence to what is 'quality' content. There were a couple publications that covered the release yesterday:

Venture Beat - https://venturebeat.com/2018/06/20/dlive-launches-blockchain-based-livestreaming-platform-on-android/
Android Authority - https://www.androidauthority.com/dlive-blockchain-live-streaming-android-app-878443/
Phone Arena - https://www.phonearena.com/news/DLive-android-app-download-live-streaming-blockchain_id105956

Today the app was approved for the Play Store and can be found at https://play.google.com/store/apps/details?id=io.dlive&rdid=io.dlive if you'd want to give it a test. You won't need a Steem profile to view streams and can get set up using just your Google account. 

Outside of being an active streamer on their platform as well as the Steem blockchain in general I am not affiliated with DLive. However I do hold Steem as a currency so I want to be clear about my potential bias and level of affiliation. That said it is an incredible distribution channel to deliver any content. If you would have any additional questions about this app or using this platform and how it works I would be happy to detail any questions you may have. Feel free to reach me at *my personal email address*.

Thanks for taking the time to review my submission!

Patrick Ulrich

If even one new article is written that will expose our platform to that many more people and hopefully bring on new users. Even better is if a past Steem user can see it and see that there is real innovation happening here and maybe bring them back to using the platform again.
How You Can Help!
Join me in letting your favorite blog know about the launch. The more their readership is sending in tips about the launch the more interest they will have in telling the rest of their audience. To help you find a few submission locations, here's where I've submitted links myself:
Engadget - https://www.engadget.com/about/contact/
TechCrunch - https://techcrunch.com/pages/contact-us/
Droid-Life - https://www.droid-life.com/contact/
Android Police - https://www.androidpolice.com/#ap-tip-us
Android Central - Sent an email to [email protected]
Phandroid - https://phandroid.com/tip-us/
GreenBot - Sent an email to Editor in Chief
TalkAndroid - Sent an email to [email protected]
9to5Google - https://9to5google.com/contact/
If you're active on Twitter or other social media platforms then please mention the blog of your choice. This is usually a great way for editors to find new content that matters to their followers. Along the same line if you already know the editor of your favorite blog it may be worth sending them a message directly. Like I said any attention they are getting on the subject will increase their interest to cover the story.
Keep Me Posted
If you write anyone please let me know in the comments below. I'm trying to track who all has been contacted and if you contact anyone new then I will also send them a message. Let's move with the power of a crowd!