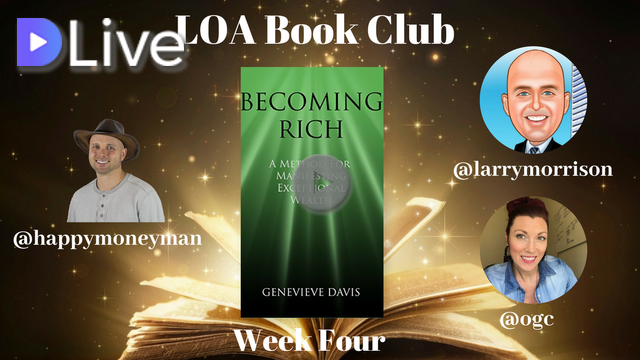 "In Becoming Rich, you'll not only learn the precise details of how you can use Magic to transform your entire financial world and start bringing money flowing to you." -Genevieve Davis
A handful of amazing Steem Creators got together to read and discuss books based around the Law of Attraction. We are in the fourth week and are reading "Becoming Rick" by Genevieve Davis. It is the fourth short book in a series of four that is great for people being introduced to these concepts. It is a solid foundation on which to start practicing LOA.
The group this week is comprised of some amazing human beings that you will be delighted to hear from. First, Carly @ogc, she has been involved and working with personal growth for many years. She has an open mind, an authentic voice, and a unique point of view. Next, Brandon Parker @happymoneyman, he is a leading edge crypto investor with a wealth of knowledge. He also has unique life experiences and perspectives that give open-minded awareness. Lastly, there is Larry Morrison @larrymorrison, who is also an entrepreneur and helper of humanity. He has been writing and speaking almost exclusively about the Law of Attraction on the Steemit Platform and makes talking about these concepts easy and fun.
In this video we talk all about how Law of Attraction works with money, our belief systems that stop money from flowing. Also what practices we can put in place to manifest money and all the thoughts and feelings that surround this subject. Abundance mindset is everything
Want to give a special thanks to IJ @steemcafe for putting on the Steem Creators Conference in Las Vegas where we all met.
Have a listen and keep the discussion going in the comments below. We hope this makes your journey a little brighter.
My video is at DLive