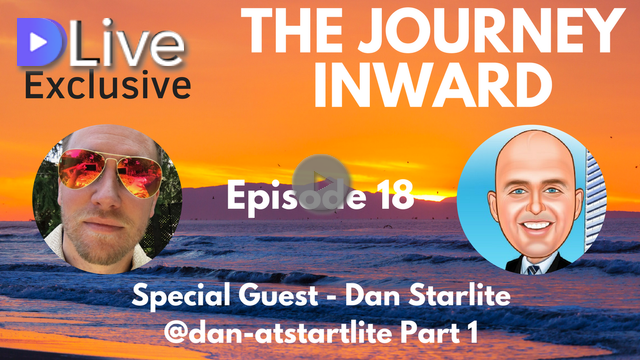 In this show, we discuss consciousness, spirituality, awareness, philosophy, and evolution of thought to reveal the truths that we can put into practice which will allow our journey on this earth to be a little more loving, joyous, peaceful, and fun.
My guest on this episode is one of the original Steemians @dan-atstarlite. I got a chance to meet Dan in person and we struck up an intense philosophical conversation that I wanted to share on the platform. Dan is one of the most intelligent, open, authentic, and conscious people I've met in a long time. He has a story unlike any I have ever heard. He has explored the depths of life and the inner workings of the mind, the ego, and belief systems. Grateful to have him on the show and I think you will be grateful to hear his insight.
Here are just a few of the topics we discuss on this episode:
-Empty Spiritual Dogma
-Appreciation Seeking
-Breaking Unconcious Belief Systems
-Needing Acceptance From God
-Embracing The Extreme Contrast
-Exploring Life Without Fear
-Playing The Game Of Existence
-Living Completely In The Now
-Using Imagination To Its Fullest Extent
-Not Needing Acceptance From Anyone
If any of these topics interest you up then please have a listen and keep the conversation going in the comments below. Hope you enjoy watching it as much as I enjoyed making it!
Much Appreciation and Love
My video is at DLive