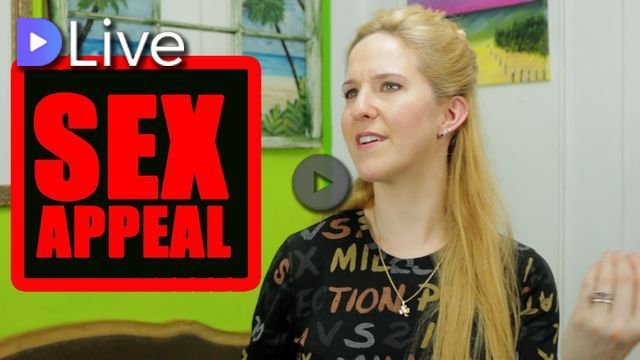 Many of us want to feel sexy to either attract a love interest, keep our current love interest, get hired for a job, get promoted at your current job, and/or have people be nice to us. In today's society, often what you project to the world is reflected in how others treat you.
Being sexy is not just about being attractive; I know many beautiful people who have no luck with getting a relationship, and I also know plenty of less attractive people that have the most amazing sexy vibe that they are never single and are always the center of attention.
So what does it take to have sex appeal? I myself used to be extremely shy and insecure. I researched and made adjustments on what I could do to get out of my comfort zone, push my limits, and come to a place where I feel comfortable and at ease in my own skin, which goes a long with feeling sexy to yourself and others. Here are some of my top tips to achieve sex appeal. Of course, you don't have to master all of these, but if you make some small changes, you will start to feel a difference both in how your perceive yourself and in how others see you.
Confidence: Fake It Until You Make It
You know in those perfume ads when a woman comes sweeping down the staircase with a long gown on, hair blowing in the breeze, looking straight ahead, and owning the room? Well, she's an actress! That's a commercial and maybe the girl felt ill that day or bloated! However, she had a job to do for the commercial shoot, and she strutted her stuff for the camera and looked stunning. The point is, own the room, or whatever scenario you are in! The more practice you get putting on the face you want for others to perceive you as, the more it will become comfortable to you and become you.

Posture
Part of this sexy strut is the woman's posture. Guys, I'm talking to you too! Of course, the look for men and women is different, but having good posture goes a long way towards owning a situation. So what do you need to do?
Shoulders! Roll your shoulders up and back to make sure you chest is open and expanded. This is also a "heart open" to the world pose, which is very helpful for finding love.
Head up! You want to picture a string attached to the center of your head, pulling you up to the ceiling; no slouching or slumping.
No crossed arms! Crossing your arms in front of your chest literally closes you off to others, blocks your body, and can also make your shoulders and back rounded. Try to get in the habit of letting your arms fall to your sides or in a comfortable neutral position.
Distribute you weight. Try to stand with your weight evenly distributed in both feet so that you are not leaning to one side or the other.
Lock your bandhas! What are bandhas you ask? It's a yoga term for holding in different core muscles. I highly recommend you do some research on these and/or take a few yoga classes to get the hang of it. Having an awareness of your core muscles helps your posture immensely as you can literally stand taller and stronger.

Eye Contact
We've all met someone or been on a date with someone who can barely look us in the eye. It's very awkward and not sexy! Looking someone in the eyes shows confidence and also that you are listening, and we all want to be heard.
I have to add that while of course you want to make good eye contact, you want to avoid staring! So make sure you do look away here and there to not be creepy.
Smile
This is a simple tip but a lot of us when nervous or feeling out of place forget to do it. Smiling helps others feel at ease around and can also help you relax.

Have a Life
Doing things that you enjoy, whether it be going out with friends, pursing hobbies and interests, signing up for classes to learn new things, all give you things to talk about. Being able to teach or talk about new things with someone helps you to be intriguing, fun, and interesting!
Don't have any hobbies or interests? You need to find out what it is you like or are interested in and own it! So if you are really passionate about movies, great! Learn what you can and be able to talk about what you do and don't like clearly. If you've always wanted to learn Korean, do it! It's different and shows something unique about you. These are just a couple of examples, but being able to express what you like to do shows confidence; it also can reflect that you know yourself and your body, which is sexy in the bedroom too!
Have a Look That Makes You Feel Sexy
Wear clothes that have a fabric that feels really nice against your skin and fit you in a way that makes you feel confident in them. You don't have to be in skin tight clothing to look sexy, but you also don't want to be hiding until clothes that are too big for you. Find items that really flatter your body and make you smile when you look at yourself in the mirror. (Extra points for smiling at yourself!)

Body Awareness and Movement
Have some practice doing activities that will help you to move confidently to feel sexier. Dance, yoga, and martial arts are a few examples of classes you can take to better learn how to appreciate your body and it's powers.

Sexy from Within
Feeling sexy comes from inside and out. In order to feel well from within, you have to eat well and take care of yourself, so that you feel well. There are some who can eat anything they want and not exercise and still feel super sexy. However, that is not the case for the majority of people! Personally, if I eat nutritious food that gives me energy to walk and workout, I feel fantastic. That helps tremendously towards that sexy strut I talked about in that perfume ad.
It is clear that confidence goes hand-in-hand with having sex appeal. I hope these tips help you walk into a room with more confidence!
My video is at DLive