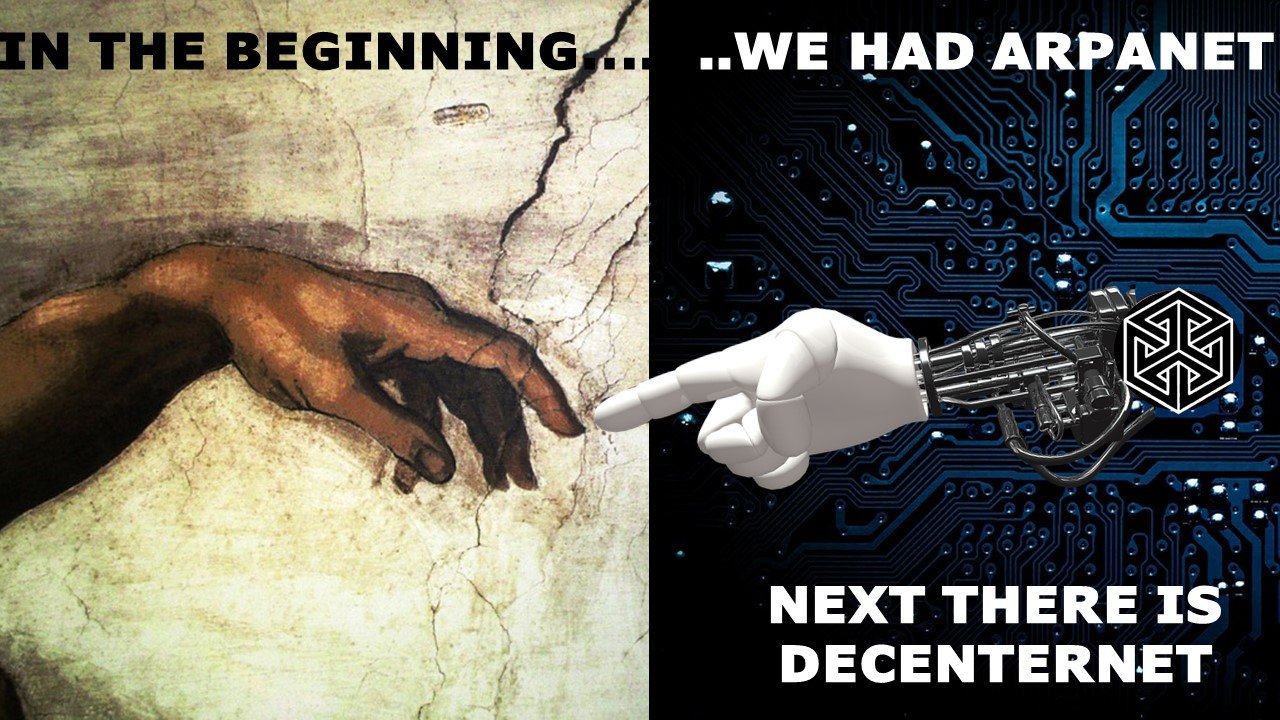 [Note to the reader: please read title in Deep Dramatic Hollywood Movie Voiceover]
In the Beginning…….there was ARPANET……and next there will be DECENTERNET!!
ARPANET & DECENTERNET
What is Arpanet? A very brief history .......
Back in the early 80's the Advanced Research Projects Agency Network (ARPANET) was the first network to implement the TCP/IP protocol and it was this tech revolution which has become the technical foundation of the Internet as we know it.
The original design was funded by research from the US Defence Department, and was derived from the work of Leonard Kleinrock, Paul Baran, Donald Davies, and Lawrence Roberts. In 1982 things went one step further than research when the TCP/IP communications protocols, were developed for the ARPANET by computer scientists Robert Kahn and Vint Cerf. Kahn and Cerf are now legendary pioneers in the tech space.
ARPANET as it was known was closed in 1990 and these days the philosophy and work is carried on by a community of tech scientists and developers who continue to work on diverse projects around the world.
Nowadays, under this new structure, the ARPANET FOUNDATION stand for following mission:
We sustain a collaboration network of more than 2,400 network theorists and scientist across the globe. We spread the word about ARPA and its design principles. We embrace institutions and innovation projects that defend the original values and philosophy behind ARPANET.
ARPANET support for Decenternet
In May of 2018 a project which gained ARPANETs attention was Decenternet.
Decenternet a company based in South Korea, Founded by Sean Kim, have plans to build a decentralised internet powered by cryptocurrency (see below) and have received a letter of support from the ARPANET Foundation.
The press article can be found here: http://www.arpanetfoundation.org/press/20180508.html
Included is the press release is this statement:
This early stage project promises to put together a diverse set of decentralized technologies that would enable to set up an international, autonomous and not business controlled infrastructure inspired by the cryptocurrencies model and blockchain technologies. ARPANET understand this effort as a potential reborn of its main fundamental ideas, now fuelled by a self-organized incentives system. Decenternet is based in South Korea but is already getting known around the world.

Scientific and open source communities are being engaged by Dr.Iacomella, the Academic Leader of Dnet and worldwide recognized figure in openness and p2p topics, who expressed that "we are already working towards an open-sourced infrastructure and community building process in order to establish it as an international open standard to enable the next generation of decentralized networks to serve as a humanity communal resource"
For further information on the vision for the Decenternet:
Decenternet's website: https://decenternet.com/ and ANUVYS website: https://anuvys.com/ for further information.
Decenternet has a presence on Social Media on:
Facebook: https://www.facebook.com/Decenternet200962407141047/
Twitter page: https://twitter.com/dnet_official
& you can join the Decenternet Telegram group: https://t.me/dnetofficial
---
DISCLAMER:

The information contained within this post shall not be taken as a financial advice. I am not a financial advisor and none of your investment decisions should be carried out based on any information presented here. You can lose all of your money by investing. The information presented in this article is for educational and entertainment purposes only.