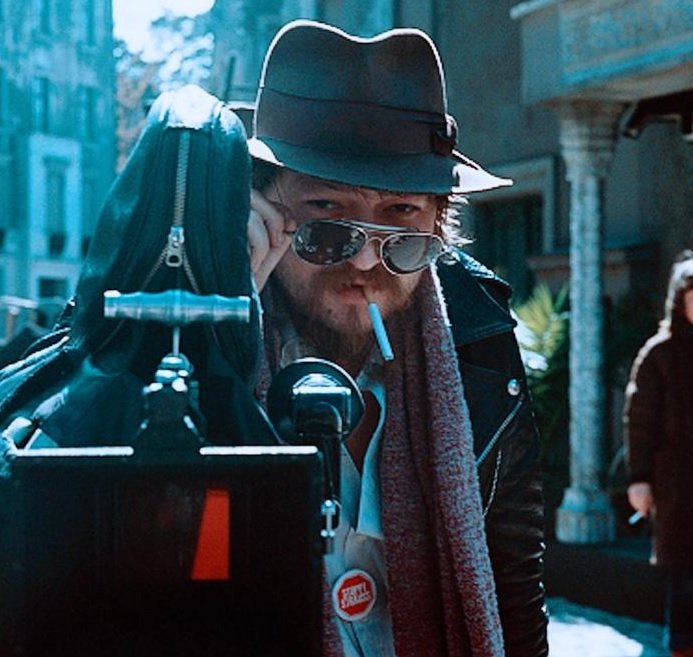 Rainer Werner Fassbinder is a theatrical and film actor, poet and director. The theoreticians consider him a personality of the avant-garde of the New German Cinema of the 70s of the last century. Unfortunately, this unique artist and screenwriting philosopher has gone too young - just 37 years old. His monstrous workmanship and talent, however, conveyed us 44 films - real masterpieces of cinema. "In cinema I want to be like Shakespeare for the theater, like Marx for politics and Freud for psychology." These are words by Rainer Werner Fassbinder. And he managed to realize to a great extent, despite his short life, his creative longing. In Germany they have not forgotten him and almost every year film retrospectives of his work are organized. Last year, many papers and photos of his work were shown; his manuscripts and written notes.
Some critics call him the "romantic anarchist" of world cinema. And this definition is quite accurate, referring to his personality as an artist. Fassbinder is a man "out of the rules" and trivial thinking. In addition to 44 full-length films, he is the author of dozens of plays and series of short films. One remains amazed at the fact that in a period of 16 years of conscious creative activity, one artist can create so many works of such high artistic quality. Perhaps Fassbinder''s constant anxiety as an artist has also become the reason to live in that reckless way that takes him to the grave? Painful sensitivity! This is evident from his films. His heroes are lonely, alienated by the crowd and self-destructive. As it is actually Fassbinder himself! The crisis of personality, gender issues, sexual freedom and social inequality are viewed in his films in a literally hypnotic way. Thus, the viewer literally feels forced to seek the assessment of what is happening on the screen within himself, to unlock his senses in the whole spectrum of his feelings, and to "see" the world of others.
The characters of his characters are so unique in themselves that they are permanently sealed in the viewer's mind. One wonders how such a young man has reached such a depth of psychology that he succeeds in conveying the dissection of the soul, with all the agony of a complete "unraveling" The periods through which the director passes are a progressive movement towards personal maturity. Fasbender appears to go through the grave first through the film epic "Berlin-Alexanderplatz" on the novel by Alfred Döblin. The director fearlessly faces the ghosts of the past and, unlike many Germans, is not afraid to look at the world through the eyes of human suffering during the Second World War caused by Nazi Germany. In his further work, the director constantly changes the themes of reflection: he is the author of social and political dramas, but also of melodramas, of gangster and science fiction films. And everywhere he manages to show the lives of people in his diverse nature: labor, love, passions, crimes, happiness, and misery ... Fasbinder himself goes through peaks and falls, he first knows the "algorithms of the soul." After the director's death, a founding of his mother's name was founded by his mother. The Fasbender Foundation organizes traveling panoramas of its films all over the world. The tradition has begun since the early 1990s and continues to this day. Fasbender has produced 26 of his 44 films, starring in 21 films by his colleagues and 19 in his own ... He has written 37 film scripts and co-authored more 13; he has written 4 radio plays. Rainer Werner Fassbinder was born in 1945 in Bad Worisafen, Bavaria. He graduated from a private theater school and worked in Munich's "Anti-Theater". He did not manage to go to the Berlin Academy of Theater and Cinema, but in the same year he made his first film. From then on begins a creative activity that resembles the elements - sweeping Puritan mores and ideologues, ruining and building without losing! Fassbinder's researchers have always been a painful question: What would this unique artist still do if he had not gone out of his life so young?