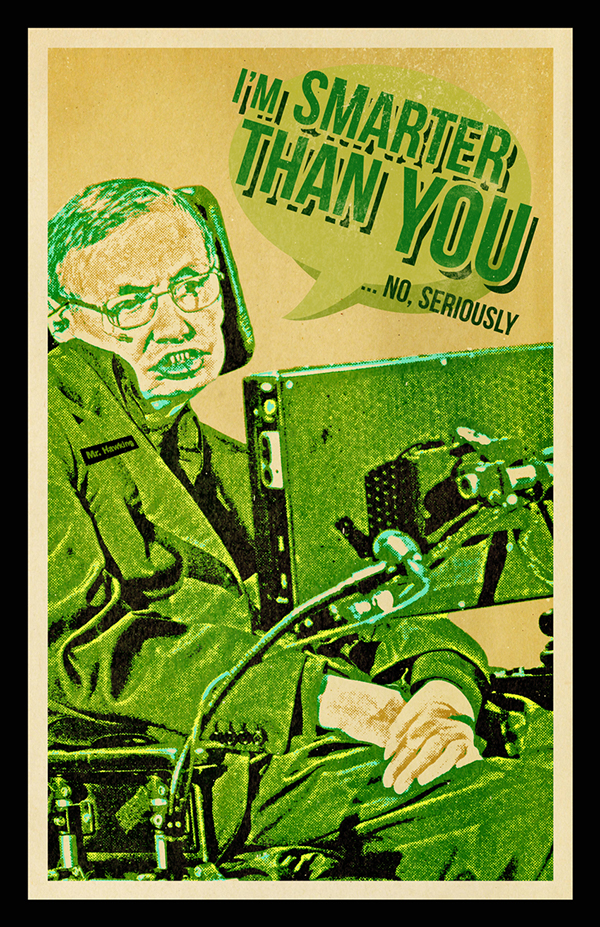 Sometimes your hardware just gives out… until we can reboot my friend!
"My advice to other disabled people would be, concentrate on things your disability doesn't prevent you doing well, and don't regret the things it interferes with. Don't be disabled in spirit as well as physically." – Stephen Hawking.
–
I meant to post this after his passing, but the timing just did not seem right. Mr. Hawking was a very big role model of mine and I didn't want to post among the flood of Quotes and memes, many of which most likely didn't even know who he was other than a name. He was one of the greatest minds of our time and not only contributed immensely to humankind as a whole, but also gave a lot of disabled people the proof of what you can still accomplish even with your limited physical abilities. I think one of my pop art pieces sums it up! I'm pretty sure he had a contingency plan.
–
Stephen William Hawking CH CBE FRS FRSA (8 January 1942 – 14 March 2018) was an English theoretical physicist, cosmologist, author, and Director of Research at the Centre for Theoretical Cosmology within the University of Cambridge. His scientific works included a collaboration with Roger Penrose on gravitational singularity theorems in the framework of general relativity and the theoretical prediction that black holes emit radiation, often called Hawking radiation. Hawking was the first to set out a theory of cosmology explained by a union of the general theory of relativity and quantum mechanics. He was a vigorous supporter of the many-worlds interpretation of quantum mechanics.
–
PS. It's good to be back posting. I will be putting together a new regimen of posting every other day or so. I have missed hearing from all of you.
–
Thank you for reading and please consider upvoting this post, following me, and leaving a comment. If you're looking to go the extra mile in helping me on my journey, also please consider a re–steem so I am able to reach your audience. The steemit community means the world to me and I look forward to posting daily content with all of you.
As my account grows, it is becoming more difficult to reply to every comment. Your feedback is greatly appreciated and I will do my best to respond. I can guarantee I at least read every comment given. I am dedicated to spending a full-time effort on this platform. Any reproduction of my work without written consent is strictly prohibited. Please remember the best way to grow our community is by producing outstanding original content of your own to share with all of us.