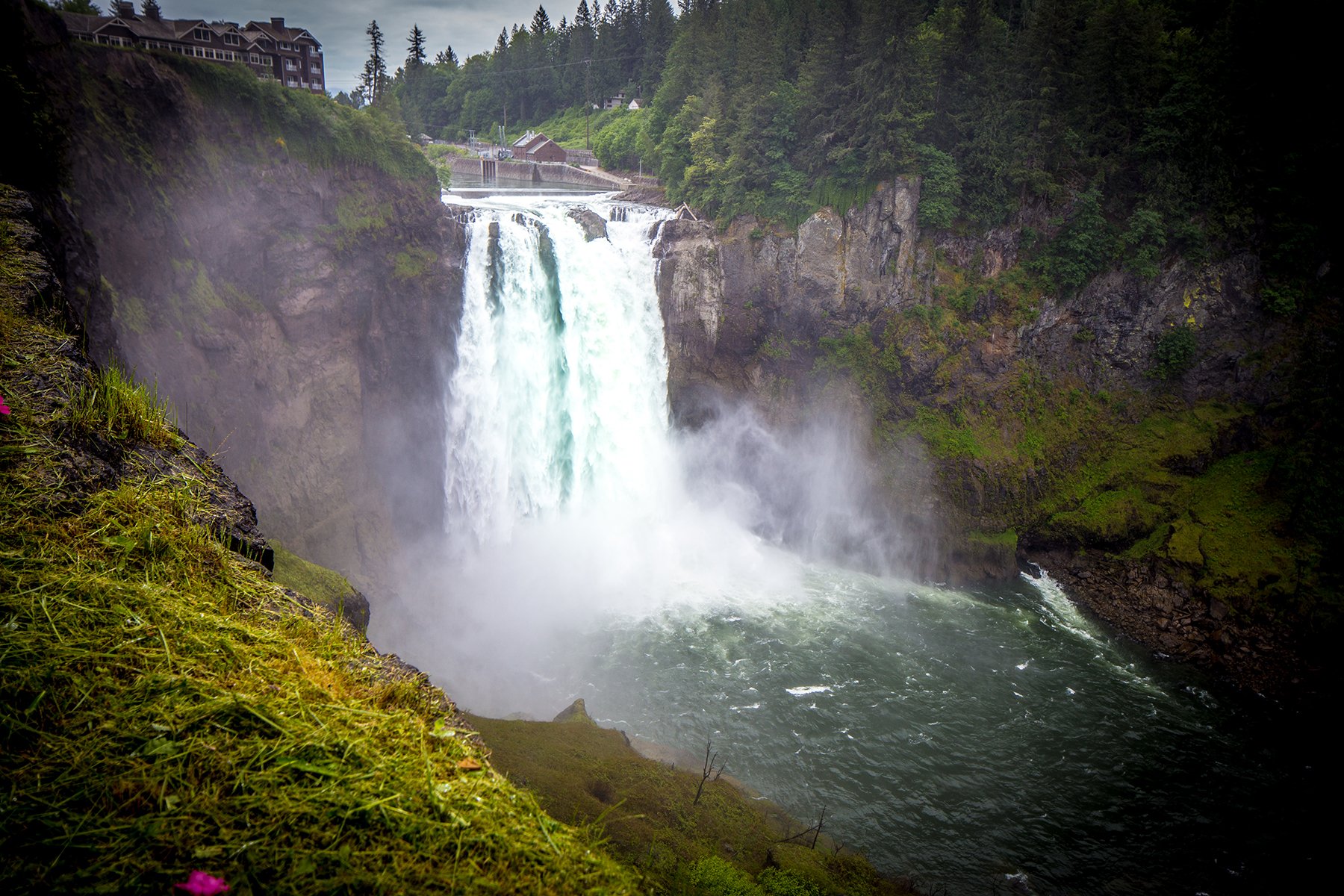 @mickeybeaves and I visited Snoqualmie Falls in Washington, It was an easy .5 mile hike, majestic, but overcrowded. When Cody and I got to the falls there was a crowd at the top of the falls, from the top viewing platform we could see an area that looked accessible to make your way down on to the rocks near the falls in the splash zone, since we wanted to be a little more secluded we made our way down to the bottom viewing platform. It was a fairly steep decline as we walked down to find the trail to the rocks and when we made it to the bottom we were swarmed with dozens of tourists that had no regard for personal space and kept asking me to take pictures of them (which was kind of annoying to me at the time.)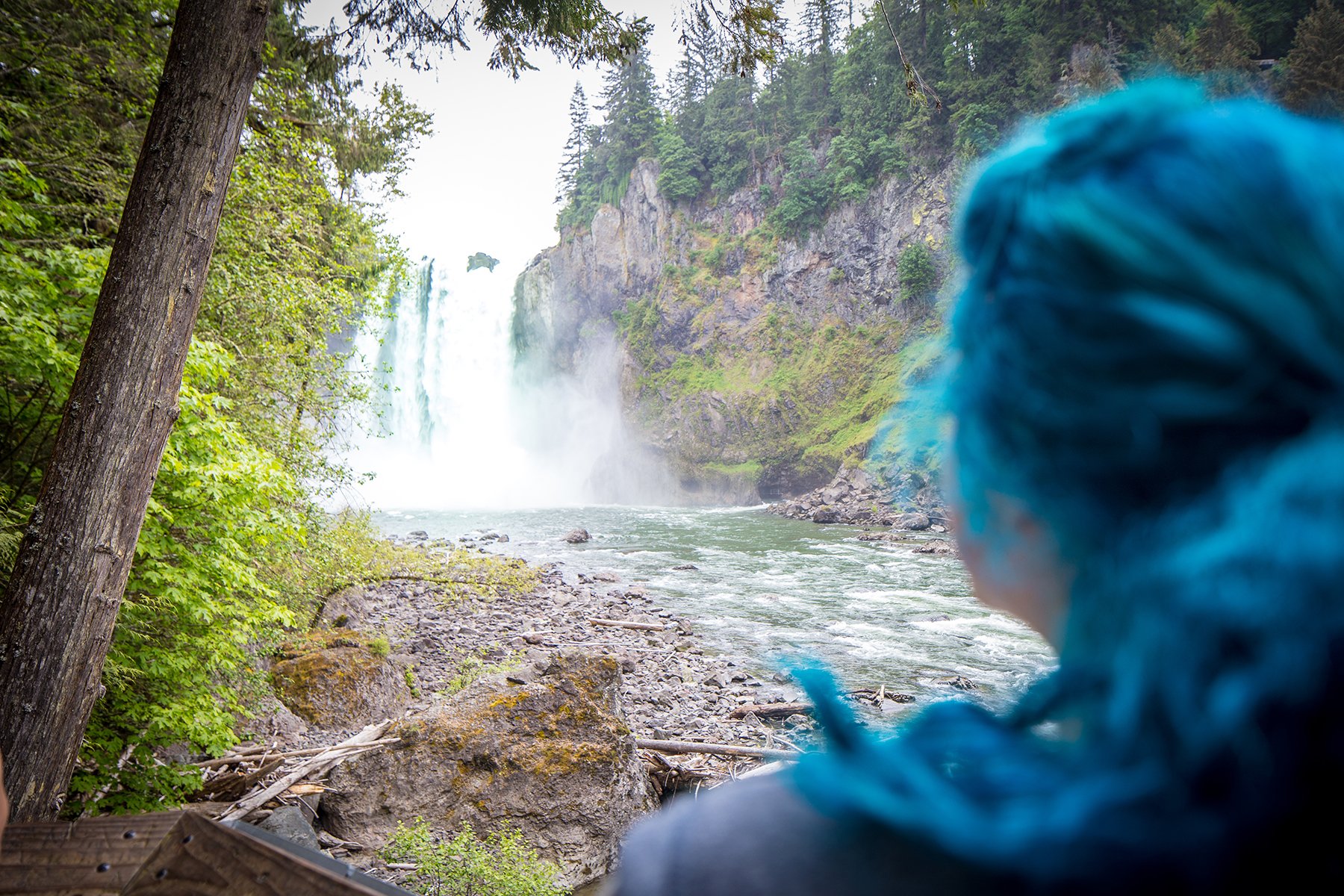 It was really disappointing to find the door, that lead to the rock point we had been hoping to get to, locked and while we were unable to escape and get a closer look at the raging falls, we opted to flee the cluster and head back up to the top viewing platform where it was less chaotic. Determined to not have wasted a trip we took some time and walked along the river bank and then we trucked the steep climb back up to the top view points. On the way back up I found a fun sculpture to hang from and some flower filled bushes and trees to get photos in front of.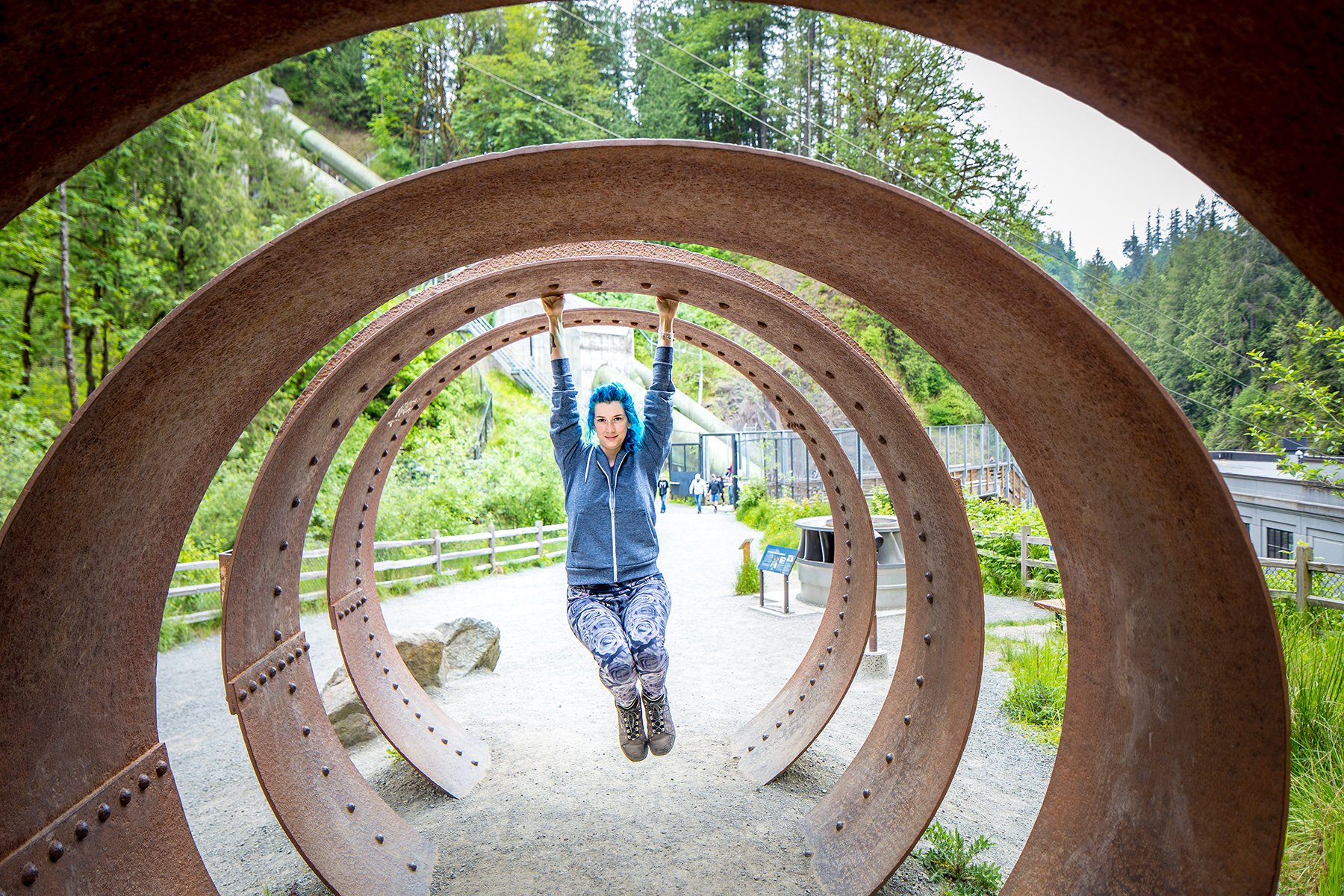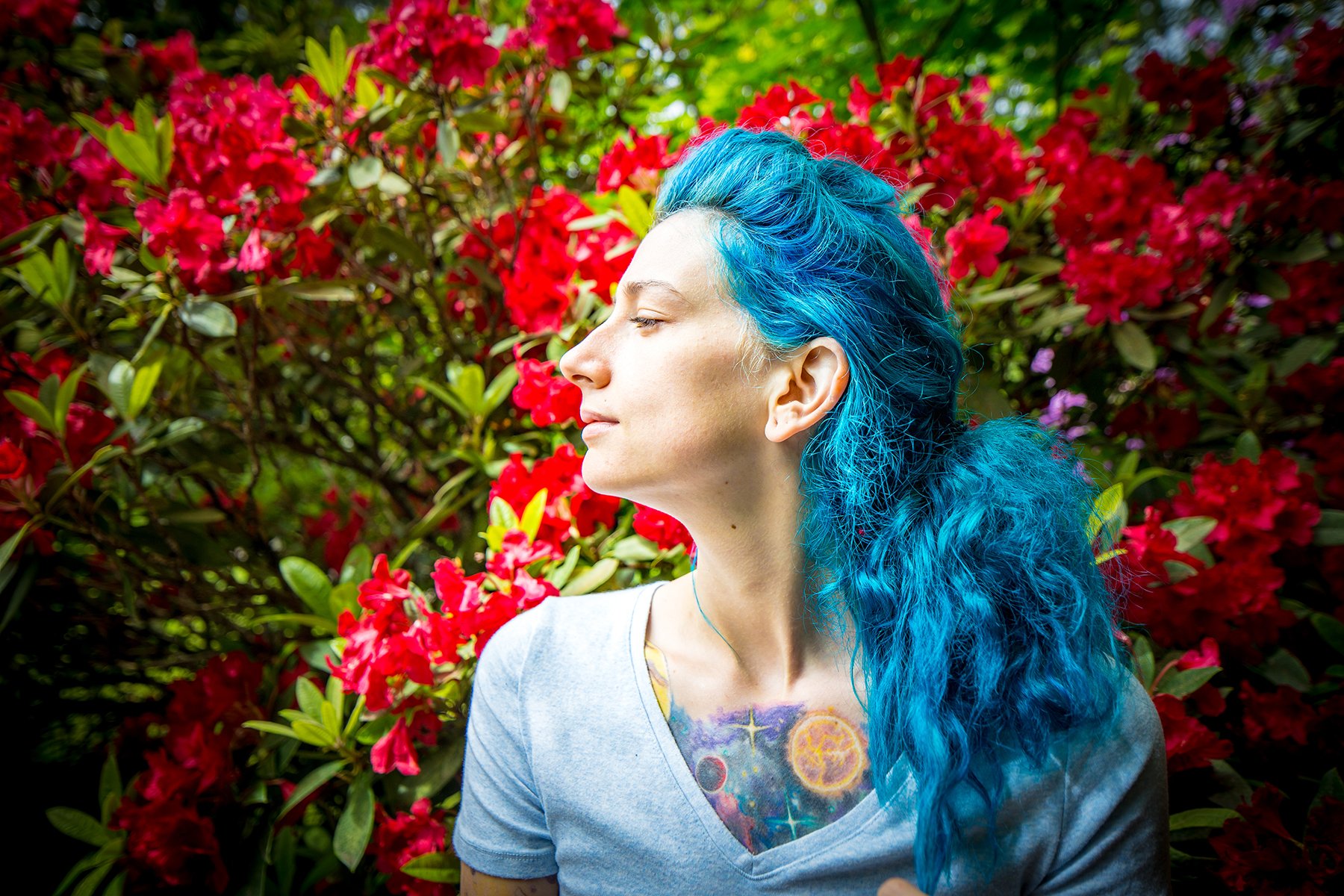 AT the top there were 3 different view points and Cody was adamant about seeing the falls from every angle even though I believe the best view was from the 3rd viewing area. So I amused him by walking up to the second viewing area which was a pretty good view of it and I am glad he talked me into coming back up to the top. We admired the beauty of the falls for a short time, until another rush of people came and bombarded the bit of peace and nature we were sharing, then we decided to pack up the camera and head back. Cody and I like to linger and enjoy the sounds of nature and its incredibly distracting to be crowded by so many people trying to take pictures when we just want to enjoy the sound of the water rushing and watch the endless crashing of the falls, without being interrupted, feeling in the way or just plain loud and annoying touristy people. It wasn't a failed adventure it was worth the trip, but in the future I will time visiting falls like this one better.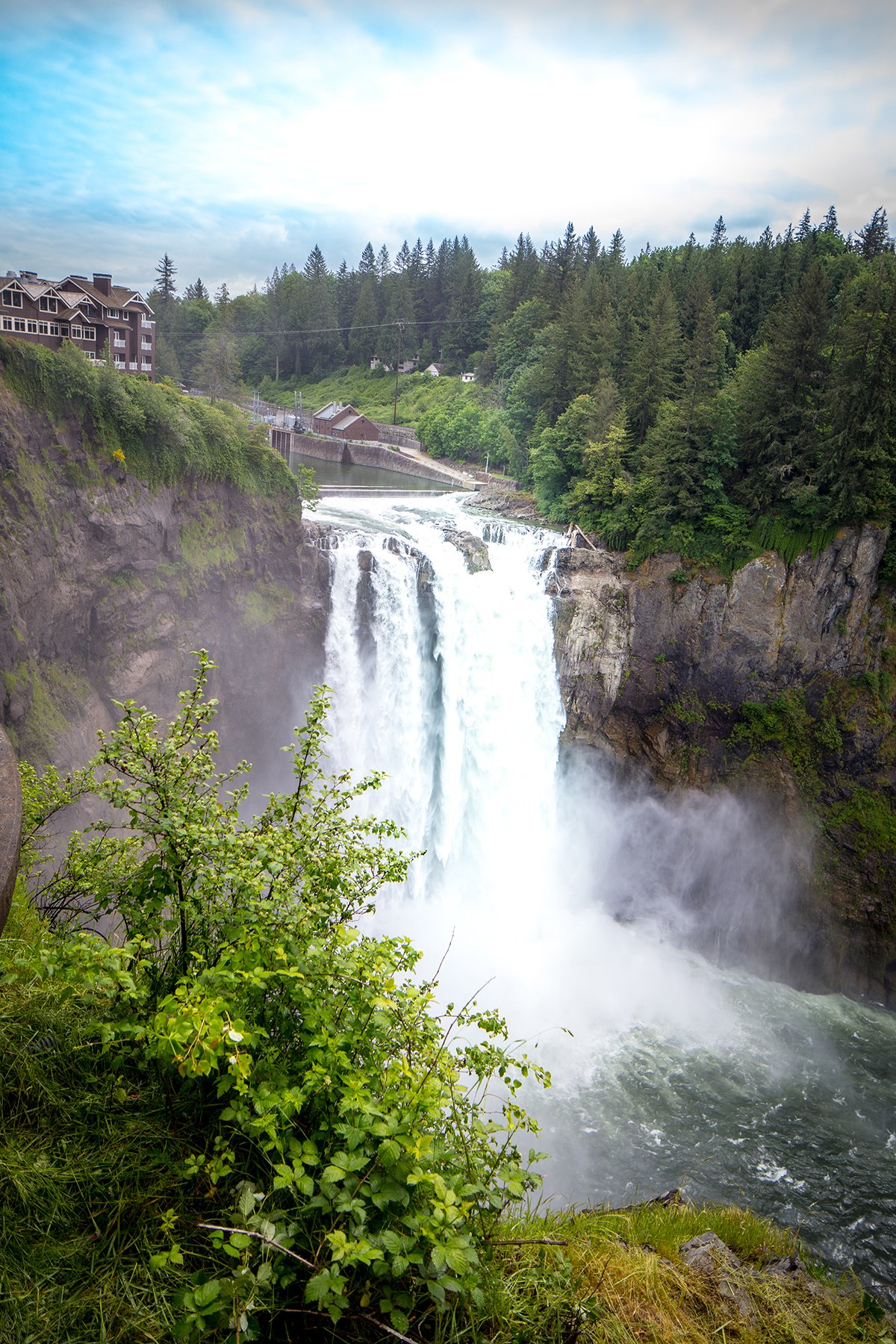 My suggestion would be to visit this falls on a weekday when its less crowded, it is a sight to see and well worth fighting the crowds but if you really want to enjoy the scenery then try to go early on a week day and beat the rush!